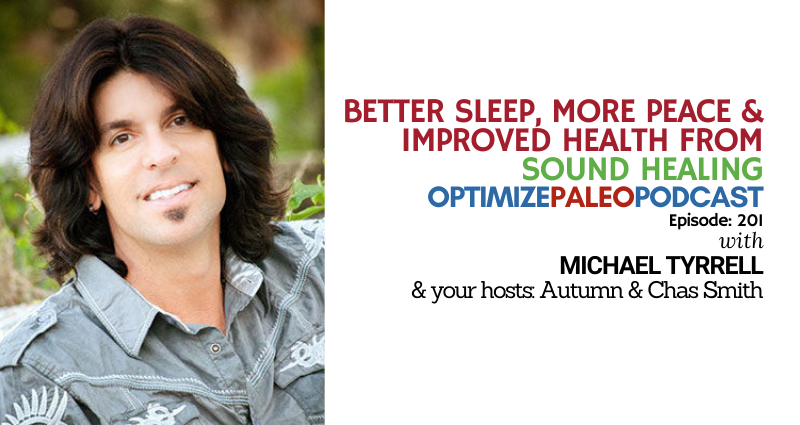 EP201: Better Sleep, More Peace & Improved Health from Sound Healing with Michael Tyrrell
IN THIS EPISODE:
Music and sound can be powerful healers. Certain frequencies have been empirically shown to:
Improve sleep
Promote peace
Evoke positive emotions
Calm pets
Heal
There's even a frequency (582) called the LOVE frequency which is believed to help you experience and attract love. Intriguing, right? Which is why in today's podcast with grammy-award winning musician and creator of Wholetones, Michael Tyrrell, you'll learn how to use sound to improve your (and your family's) health in truly impressive ways!
We even talk about frequencies and music that can promote peaceful familial interactions during holidays.
Who doesn't want that?
This was one of my favorite podcasts to date so don't miss out! And please share this important information with anyone you think might benefit.
Valuable Resources:
Get a special deal on Wholetones HERE! - use discount code: PALEO10 at checkout for an additional discount!
Bio:
Michael S. Tyrrell is the founder and president of Wholetones, Inc., a healing frequency music project that helps aid health, creativity, productivity and well being.
After recording seven songs at different frequency levels Michael had been studying for over 20 years, he released his album, Wholetones: The Healing Frequency Music Project, accompanied by his book titled Wholetones: The Sound of Healing in 2014. Passionate about musical healing, Michael travels nationally and internationally as a keynote and motivational speaker on the power of therapeutic music.
Since the release of the original Wholetones collection, Michael has released Wholetones: Calming Music for Dogs, Wholetones Christmas: Vol. 1, and his latest project, Wholetones 2Sleep. All of Michael's Wholetones recordings have reached the Top 10 on the Billboard music charts.
Always connected to music, Michael bought his first guitar at the age of 10, which later led him to study classical guitar with Joseph Lazarro, a protégé of the "Grandfather of the Classical Guitar," Andre Segovia.
In recent years, Michael has traveled and ministered with Christian singer-songwriter, Jason Upton, and toured and recorded with Rick Pino and Fire Rain ministries.
In 1987, Michael worked with Gospel Hall of Famer, Mylon Lefevre, and his band Mylon and Broken Heart, earning him a GMA Dove Award as well as a Grammy award.
Michael has been in full time ministry for the last 26 years and has toured and played with many well-known Christian and secular bands. His experience as a youth pastor, worship leader, accomplished musician, producer and itinerant speaker has allowed his music frequency project to transcend international borders.
Michael currently resides with his wife, Lillian, in Palm Beach County, Florida.
Thanks for listening!
Thanks so much for joining us this week. Have some feedback you'd like to share or a question you'd like to ask? Email us at [email protected]!
If you enjoyed this episode, please share it using the social media buttons you see in this post.
Also, we'd love it if you would leave an honest review for The Optimize Paleo Podcast on iTunes! Ratings and reviews are super helpful and greatly appreciated as it helps us expose this show to a wider audience and spread this information to more people who need to hear it. We read every review so we look forward to hearing from you!
And finally, don't forget to subscribe to the show on iTunes to get automatic updates…see you next time!
Click the button below to subscribe on iTunes: