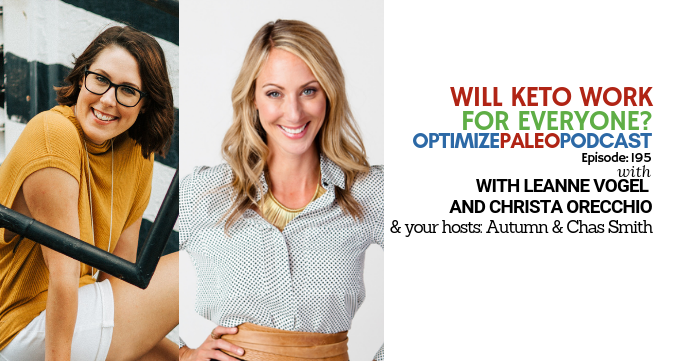 EP195: Will Keto Work for Everyone? with Leanne Vogel & Christa Orecchio
IN THIS EPISODE:
A few weeks ago on Instagram I made a lot of our followers angry.
I posted about a program called The Adrenal Recode designed for people suffering from HPA axis (adrenal) issues or nervous system balance that can sometimes be experienced by keto dieters.
Many of our keto followers were offended by the suggestion that keto is "dangerous," but as you'll learn in today's INCREDIBLE podcast with clinical nutritionist, Christa Orecchio, and keto expert, Leanne Vogel of Healthful Pursuit, some people just don't do well with keto.
Now I'll be the first to admit, I LOVE the keto diet.
It's worked well for me (I cycle in an out a few times each year) and the benefits for those who want to lose weight, reduce cravings and maybe even prevent or reverse diseases like epilepsy, certain cancers, mental health issues and maybe even Alzheimer's and cancer are undeniable.
BUT, that doesn't mean it's for everyone, all the time.
So if you want to learn…
Whether keto would be beneficial for you
The one mistake many women make when trying keto
How to tell when keto is not working (without expensive testing)
The one thing you MUST do to maintain health long term
The population that seems particularly vulnerable to nervous system imbalance
How to know you should stop listening to a "nutrition expert"
And how to strategically reintroduce whole food carbohydrates into your diet without weight gain and fatigue
​​​​THIS is the show for you.
It is easily one of my favorite podcasts ever and I know you will feel empowered by what these two wonderful and knowledgeable women have to share. <3
About Christa Orecchio:
Christa has been a clinical and holistic nutritionist for the last 15 years. She is dedicated to helping individuals use food as medicine to heal from the root cause through her company The Whole Journey. She specializes in digestive and hormonal health with her very popular online programs Kick Candida for Good, Gut Thrive in 5 and now with the groundbreaking Adrenal ReCode that resets the entire nervous system including the adrenals and thyroid. She also takes a mind, body, spirit approach to total health.
Christa and her clinical team have taken over 20,000 people through her paid programs with astounding success and have had the privilege to help millions more in a meaningful way with their free content. Christa is also the best-selling author of How to Conceive Naturally and Have a Healthy Pregnancy After 30, a sought after speaker and the host of three health and wellness TV shows.

About Leanne Vogel:
Leanne Vogel is the founder of Healthful Pursuit and Happy Keto Body™, best-selling author of over 12 health programs and international bestselling paperbacks, The Keto Diet, The Keto Diet Cookbook, and her recent title, Keto for Women, host of The Keto Diet Podcast, and the creator of Fat Fueled living - a holistic, paleo- friendly approach to a ketogenic, high-fat diet. She has been in the field of nutrition since receiving her holistic nutrition certification in 2007. Leanne shares keto-friendly resources for women on her website, HealthfulPursuit.com.

Show Notes:
Register for the FREE The Adrenal ReCode Mini-Course with Christa Orecchio!
Learn More About Leanne Vogel's Happy Keto Body 12-Week Program!
Thanks for listening!
Thanks so much for joining us this week. Have some feedback you'd like to share or a question you'd like to ask? Email us at [email protected]!
If you enjoyed this episode, please share it using the social media buttons you see in this post.
Also, we'd love it if you would leave an honest review for The Optimize Paleo Podcast on iTunes! Ratings and reviews are super helpful and greatly appreciated as it helps us expose this show to a wider audience and spread this information to more people who need to hear it. We read every review so we look forward to hearing from you!
And finally, don't forget to subscribe to the show on iTunes to get automatic updates…see you next time!
Click the button below to subscribe on iTunes: