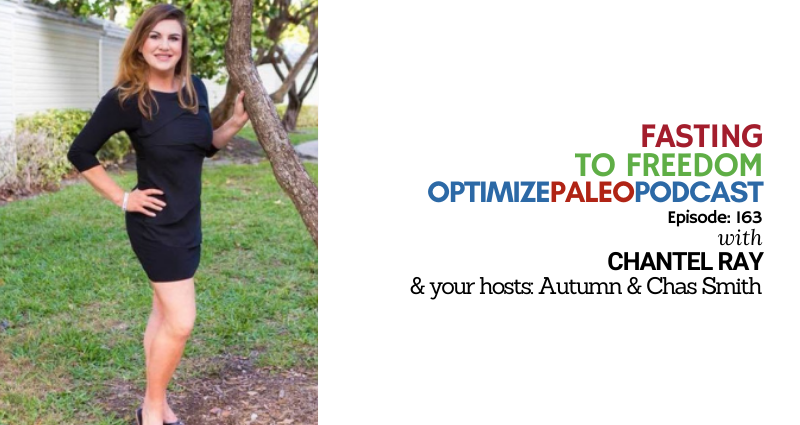 EP163: Fasting to Freedom with Chantel Ray
IN THIS EPISODE:
There are days when eating perfectly just isn't going to happen. Think holidays, travel days and "oneofthosedays" days. I know you know what I mean. There are also times when I want to lose a few pounds quickly or kick back, think less about what I'm eating AND still feel awesome.
It's during these instances that I LOVE intermittent fasting (IF).
In case you haven't heard, the benefits of IF are numerous. We're talking brain health, fat loss, craving reduction, and improved digestion and detox. So if you haven't tried it yet, I highly suggest listening to this week's podcast with the author of Waist Away the Chantel Ray Way (and awesome human!) Chantel Ray ASAP.
Chantel tried every diet under the sun to lose weight and it wasn't until she found IF that she kept the weight off effortlessly. All without feeling deprived!
So if you've been wondering what IF is all about and how to keep it simple, fun and effective, check out today's podcast immediately! And don't forget to comment "I love fasting" in the Facebook Live to be entered into our drawing for a free Waist Away the Chantel Ray Way book, audiobook, The 80-20 Cookbook and a free 30-minute consultation. Yay!
Go to the Facebook Live HERE and comment "I love fasting" to enter a drawing for:
80-20 Cookbook
Waist Away the Chantel Ray Way book
The Audiobook
And a 30-minute free consultation!
Chantel Ray is the President and Founder of Chantel Ray Real Estate, a Virginia-based company with 7 locations, the author of "Waist Away: the Chantel Ray Way" and the host of "Waist Away: The Intermittent Fasting Podcast". For much of her adult life, Chantel has struggled with her weight and autoimmune issues. Chantel has spent the past ten years interviewing over 1,000 women to crack the code to lasting weight loss. Her book is the result of these interviews, her countless hours spent studying the Bible on this topic, and her real-life journey. She believes she has discovered the secret sauce to weight loss and natural healing and can't wait to share it with you.
Thanks for listening!
Thanks so much for joining us this week. Have some feedback you'd like to share or a question you'd like to ask? Email us at [email protected]!
If you enjoyed this episode, please share it using the social media buttons you see in this post.
Also, we'd love it if you would leave an honest review for The Optimize Paleo Podcast on iTunes! Ratings and reviews are super helpful and greatly appreciated as it helps us expose this show to a wider audience and spread this information to more people who need to hear it. We read every review so we look forward to hearing from you!
And finally, don't forget to subscribe to the show on iTunes to get automatic updates…see you next time!
Click the button below to subscribe on iTunes: