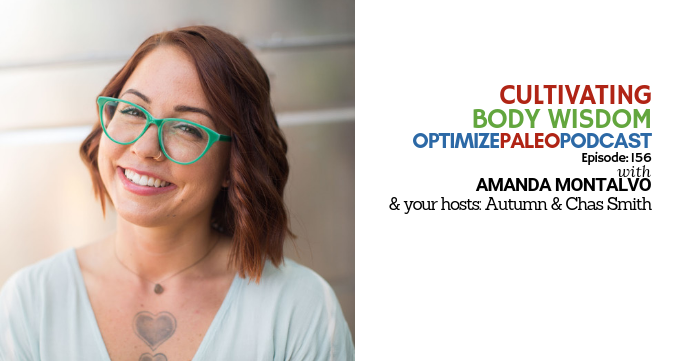 EP156: Cultivating Body Wisdom with Amanda Montalvo
IN THIS EPISODE:
Are you consuming a paleo diet yet still struggling with digestive issues or symptoms of hormonal imbalance such as stubborn weight gain, fatigue, skin breakouts, or PMS?
If so, you MUST listen to this week's podcast, Cultivating Body Wisdom with Registered Dietitian and FDN practitioner, Amanda Montalvo.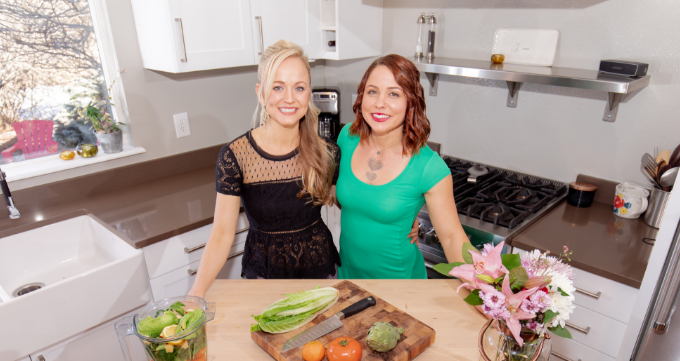 I met Amanda at Paleo f(x) last year and fell in love immediately. She was passionate, educated and as nerdy as I was about all things wellness.
As we got to know each other better, we realized that we were attracting the same type of clients: Motivated women who were eating a paleo diet, but were still stuck. Women who were tired, suffering from adult acne or mood issues, who couldn't lose those last 10 pounds or who dreaded their periods (or weren't having one) every month.
Basically, women who needed a guide to help them get to the root of their lingering health issues and cultivate the body wisdom that is the foundation of vibrant health.
Which is exactly why we created the Body Wisdom Method Program!
I know what you're thinking, "I can't possibly try ANOTHER wellness program." And I totally get it, I do. But believe me, The Body Wisdom Method is different than anything else on the market for 6 important reasons: It includes functional lab testing (cutting edge hormone and gut tests) and a Body Wisdom Audit that enables us to identify the root cause(s) of your unique problem (s), It includes a personalized protocol & tons of online support, it educates thoroughly yet succinctly around our "Core Four" Principles for lasting wellness so you learn exactly how to tweak your diet and lifestyle as your body and life change, It costs WAY less than most programs that include functional testing, it requires ONLY a 15 minute investment each day.
So if you're reading this saying…
"Yes! I want to finally identify what is keeping me stuck and cultivate the body wisdom that is the foundation of lifetime wellness"
….then do yourself a favor and listen to the podcast ASAP!
STOP feeling sluggish, or self-conscious due to skin breakouts, or out of control because your weight has plateaued, or dreading your period every month and START cultivating the vibrant health you truly deserve!
Boundless energy, clear skin, effortless weight management, and pain-free, regular periods ARE possible.
In fact, Amanda and I have spent over 15 years finding what works, so let us save you years of trial and error!
Listen in, and sign up to work with us, and change your life TODAY.
And please share this information with anyone you think it could help!
Show Notes:
Sign up to work with us here: www.paleovalley.com/wisdom
Bio:
Amanda is an Integrative Dietitian and Functional Nutrition Practitioner that helps women detoxify their minds and bodies and balance their hormones. Amanda started off her education in nutrition with the traditional route, but after dealing with her own health problems after getting off hormonal birth control she quickly realized the value of functional medicine. After healing her acne, balancing her hormones, and learning the value of her menstrual cycle, Amanda found her purpose—to help women create a body in balance and not settle for anything less.
Thanks for listening!
Thanks so much for joining us this week. Have some feedback you'd like to share or a question you'd like to ask? Email us at [email protected]!
If you enjoyed this episode, please share it using the social media buttons you see in this post.
Also, we'd love it if you would leave an honest review for The Optimize Paleo Podcast on iTunes! Ratings and reviews are super helpful and greatly appreciated as it helps us expose this show to a wider audience and spread this information to more people who need to hear it. We read every review so we look forward to hearing from you!
And finally, don't forget to subscribe to the show on iTunes to get automatic updates…see you next time!
Click the button below to subscribe on iTunes: