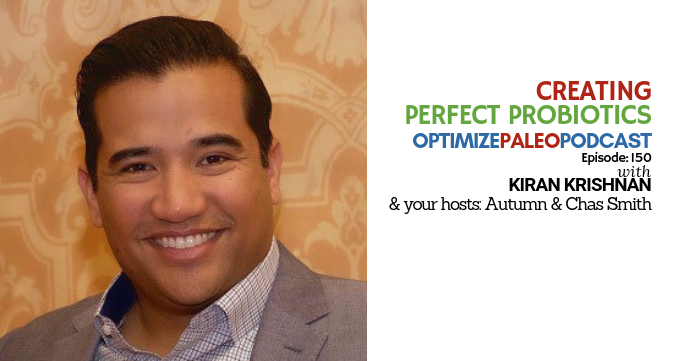 EP150: Creating Perfect Probiotics with Kiran Krishnan
IN THIS EPISODE:
Have you ever wanted to know which probiotic on the market was the best of the BEST? And by best, I'm talking...
Backed by clinical research.
Created by a microbiologist
Guaranteed to survive the trip through the digestive tract.
Empirically shown to heal leaky gut.
In other words, a probiotic NOT created by a marketer like most other supplements?! If so, look no further. The perfect probiotic has officially been created and you can learn all about it on today's podcast with the super-smart, witty and brilliant, Kiran Krishnan. Don't miss out! Taking this probiotic is like "putting your seatbelt on in a car," so it's pretty important stuff!
Tune in now and share this information with everyone you think it could benefit!
<3
Offer:

Learn More About Just Thrive Probiotics HERE!
(Get 15% OFF with Just Thrive Discount Code: PALEO15)
Thanks for listening!
Thanks so much for joining us this week. Have some feedback you'd like to share or a question you'd like to ask? Email us at [email protected]!
If you enjoyed this episode, please share it using the social media buttons you see in this post.
Also, we'd love it if you would leave an honest review for The Optimize Paleo Podcast on iTunes! Ratings and reviews are super helpful and greatly appreciated as it helps us expose this show to a wider audience and spread this information to more people who need to hear it. We read every review so we look forward to hearing from you!
And finally, don't forget to subscribe to the show on iTunes to get automatic updates…see you next time!
Click the button below to subscribe on iTunes: