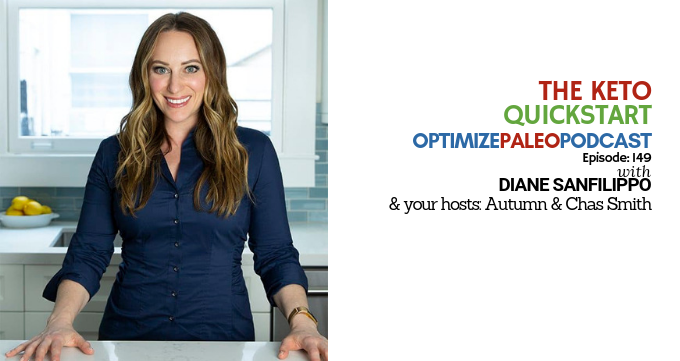 EP149: The Keto Quickstart with Diane Sanfilippo
IN THIS EPISODE:
Today almost everyone has heard about the keto diet and its appetite control, weight loss and neuroprotective benefits. But the other things people often associate with "keto"are
Crazy carb restriction
Constant macro tracking
Fortunately, in today's podcast you can learn all about how to experience the powerful benefits of the keto diet without WITHOUT feeling stressed or deprived from the best selling author of Practical Paleo & The Keto QuickStart, Diane Sanfilippo!
She calls it her SAAVY keto Approach and it's for anyone who wants the benefits of keto without the fuss. We also talk about a very common misconception that could be keeping you from losing weight.
Her new book also contains a suuuper clever way to track macros that doesn't involve counting at all. In fact, it feels a lot like playing Bingo. Pinky swear.
Diane has essentially created an approach to keto that's as fun as its benefits, so tune in now and don't forget to share it with everyone!
<3
Thanks for listening!
Thanks so much for joining us this week. Have some feedback you'd like to share or a question you'd like to ask? Email us at [email protected]!
If you enjoyed this episode, please share it using the social media buttons you see in this post.
Also, we'd love it if you would leave an honest review for The Optimize Paleo Podcast on iTunes! Ratings and reviews are super helpful and greatly appreciated as it helps us expose this show to a wider audience and spread this information to more people who need to hear it. We read every review so we look forward to hearing from you!
And finally, don't forget to subscribe to the show on iTunes to get automatic updates…see you next time!
Click the button below to subscribe on iTunes: