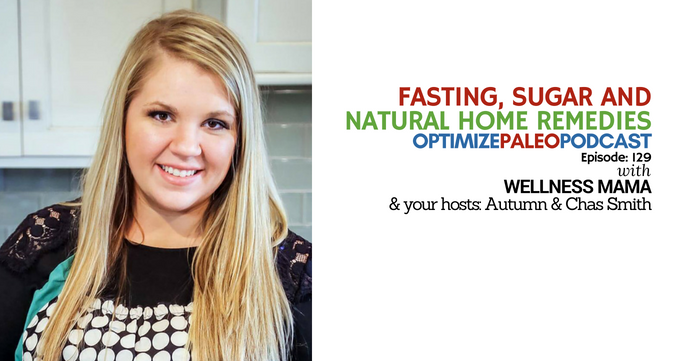 EP129: Fasting, Sugar and Natural Home Remedies with Wellness Mama
Wanting to take strides towards your Personal Wellness?
IN THIS EPISODE:
Katie, the "Wellness Mama" is a wife and mom of six, as well as an award-winning blogger, author, podcaster and real food crusader. Her mission with WellnessMama.com is to provide simple answers for healthier families through practical tips, real food recipes, natural beauty and cleaning tutorials, natural remedies and more. As a mom of six, Katie has developed systems and tips for living a Wellness Lifestyle™ with a family and on a budget and she was recently named by greatist.com as one of the 100 most influential people in health and wellness along with Dr. Oz, Dr. Mercola, Food Babe and Tim Ferriss. She writes at WellnessMama.com and can be found on Facebook, Twitter, Instagram, Google+, and Pinterest.
And like I said, this is a LIVE podcast, so when you watch it, you can actually ask questions in the comments and we will answer every single one!
Don't miss this one! Her knowledge base and strategies are impressive and life changing!
Oh and if you comment "vitamin C" in the comments, you might just win a free bottle of the most potent, organic food-based vitamin C on the market.
So what do you have to lose? Head on over and watch it now and don't' forget to share it with all your friends!
<3
I hope you love it as much as I did!
SHOW NOTES:
Find Wellness Mama on your favorite Social Media:
Thanks for listening!
Thanks so much for joining us this week. Have some feedback you'd like to share or a question you'd like to ask? Leave a note in the comment section below!
If you enjoyed this episode, please share it using the social media buttons you see in this post.
Also, we'd love it if you would leave an honest review for The Optimize Paleo Podcast on iTunes! Ratings and reviews are super helpful and greatly appreciated as it helps us expose this show to a wider audience and spread this information to more people who need to hear it. We read every review so we look forward to hearing from you!
And finally, don't forget to subscribe to the show on iTunes to get automatic updates…see you next time!
Click the button below to subscribe on iTunes: