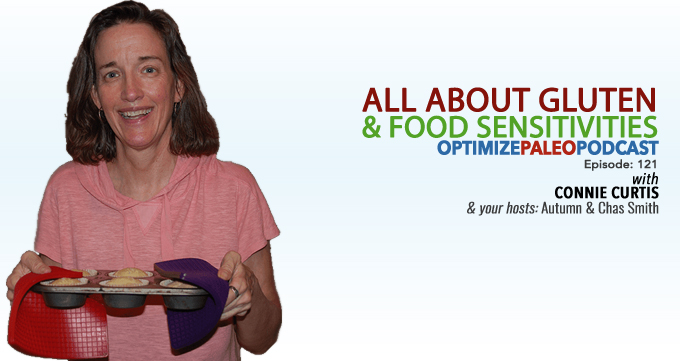 EP121: All About Gluten and Food Sensitivities with Connie Curtis
Gluten Got You Down?
IN THIS EPISODE:
On today's podcast with Connie Curtis, the founder of Gluten and Food Allergy Specialist.com! Connie is a women's empowerment leader, speaker, author and self-love expert who helps women transition to a true gluten-free lifestyle with ease by developing healthy, and sustainable habits. She turned her own diagnosis of gluten intolerance, food allergies, thyroid, and celiac disease around by shifting to a true gluten-free lifestyle. Aaaand even if you think you know how to avoid gluten already, what Connie has to say with surprise you!
(Spoiler alert: wheat, barley, and rye ARE not the only foods you should be eliminating to stay truly gluten-free!)
Here are some of the awesome tidbits you're in for:
Connie's story: 2:59
Is gluten sensitivity on the rise? 6:43
The sensitivity test that is better than the rest: 08:09
The difference between food allergies and food sensitivities: 15:49
3 surprising "health" foods that contain gluten: 17:37
Only barley, wheat, and rye contain gluten?: 17:37
How to navigate cross-contamination: 25:19
The truth about gluten-free certification: 27:52
Common gluten-containing ingredients to watch out for: 29:08
Gluten in baking products: 31:10
Gluten-free baking powders that don't spike your glucose: 33:25
Is quinoa gluten-free?: 35:48
The baking staples that contain gluten: 38:58
Can you be sensitive to refined sugars: 40:43
Common off the wall food sensitivities: 47:13
Connect with Connie: 48:28
And MUCH more!
SHOW NOTES:
Thanks for listening!
Thanks so much for joining us this week. Have some feedback you'd like to share or a question you'd like to ask? Leave a note in the comment section below!
If you enjoyed this episode, please share it using the social media buttons you see in this post.
Also, we'd love it if you would leave an honest review for The Optimize Paleo Podcast on iTunes! Ratings and reviews are super helpful and greatly appreciated as it helps us expose this show to a wider audience and spread this information to more people who need to hear it. We read every review so we look forward to hearing from you!
And finally, don't forget to subscribe to the show on iTunes to get automatic updates…see you next time!
Click the button below to subscribe on iTunes: