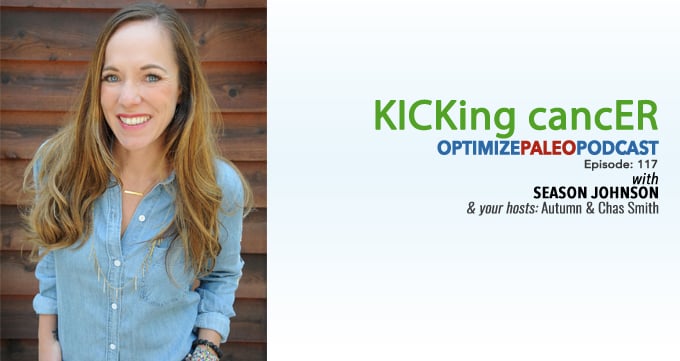 EP117: KICKing CancER with Season Johnson
All the Tools you Need to Kick Cancer
IN THIS EPISODE:
So on today's podcast, we're going to get allllll the juicy details from Season Johnson, a Nutritional Therapy Practitioner and founder of the KICK CancER movement about how she helped her son thrive through cancer when he was diagnosed with leukemia just shy of his 3rd birthday.
Here's what you'll learn:
Season's Story: 4:49
Words of Wisdom for cancer patients: 9:12
The foods she emphasized/avoided to help him feel his best through treatment: 14:48
Her thoughts on identifying food sensitivities and its role in cancer management: 20:23
The supplements she used daily to support his little body: 23:42
The essential oils she recommends to boost immunity: 27:25
What the daily detox bath is and why it's helpful: 29:56
What a castor oil pack is why it's useful: 32:33
How to talk gracefully to your oncologist: 34:28
Connect with Season: 38:20
And MUCH more!
SHOW NOTES:
Thanks for listening!
Thanks so much for joining us this week. Have some feedback you'd like to share or a question you'd like to ask? Leave a note in the comment section below!
If you enjoyed this episode, please share it using the social media buttons you see in this post.
Also, we'd love it if you would leave an honest review for The Optimize Paleo Podcast on iTunes! Ratings and reviews are super helpful and greatly appreciated as it helps us expose this show to a wider audience and spread this information to more people who need to hear it. We read every review so we look forward to hearing from you!
And finally, don't forget to subscribe to the show on iTunes to get automatic updates…see you next time!
Click the button below to subscribe on iTunes: