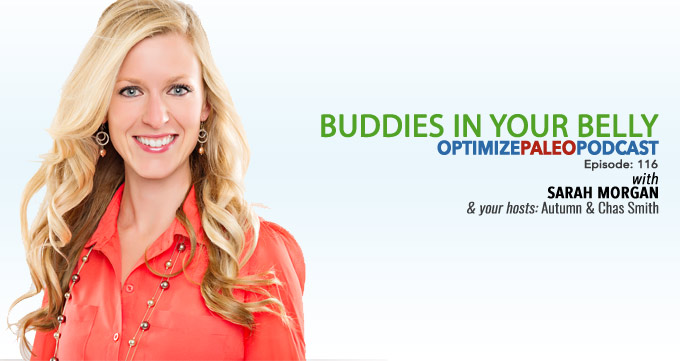 EP116: Buddies in Your Belly With Sarah Morgan
How healthy are YOUR Buddies?
IN THIS EPISODE:
Sarah is a functional medicine practitioner with over 10 years of experience. Her passion is helping families (especially our littles) understand the incredible importance of caring for their microbiomes. She's even developed a children's book called Buddies in My Belly that comes with plush toys like Lacti (lactobacillus) and Bifi (Bifidobacterium) and her super power is definitely taking complex topics and making them super simple.
Which is exactly why we had to have her on the podcast! (Aaaand just to be clear, even if you know a lot about the mircobiome, you can still learn a ton from today's chat! I learned SO much!
Here's what you're in for:
Fun fact about Sarah: 2:56
Sarah's story: 3:51
What is buddies in my belly: 5:33
The awesome things our buddies do for us: 11:53
Whether our buddies can make all the B12 we need: 17:48
How our buddies help with brain health: 21:00
A supplement that can help you feel calm: 25:32
Why our buddies are important for weight loss: 29:09
The 5 steps you and your children can take to care for your buddies: 33:33
The weekly goal that makes your buddies thrive: 37:47
Her favorite probiotics: 41:20
Connect with Sarah: 51:41
And much more!
SHOW NOTES:
Thanks for listening!
Thanks so much for joining us this week. Have some feedback you'd like to share or a question you'd like to ask? Leave a note in the comment section below!
If you enjoyed this episode, please share it using the social media buttons you see in this post.
Also, we'd love it if you would leave an honest review for The Optimize Paleo Podcast on iTunes! Ratings and reviews are super helpful and greatly appreciated as it helps us expose this show to a wider audience and spread this information to more people who need to hear it. We read every review so we look forward to hearing from you!
And finally, don't forget to subscribe to the show on iTunes to get automatic updates…see you next time!
Click the button below to subscribe on iTunes: