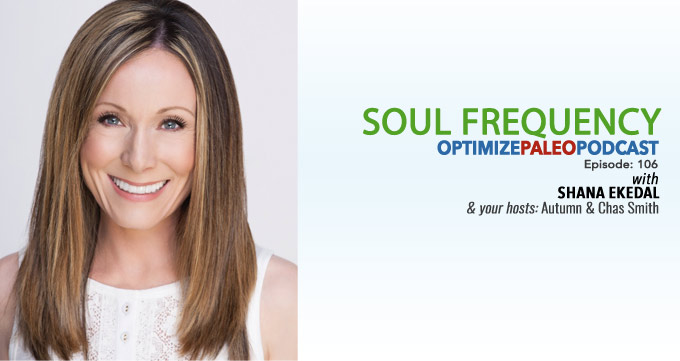 EP106: Soul Frequency with Shana Ekedal
How to Take Control of Your Life!
IN THIS EPISODE:
Shana Ekedal is a trailblazer in the area of mind, body, and spirit wellness. She is the creator of the Intuitive Frequency Coaching method, which blends intuitive insights with actionable steps to clear unconscious patterns, heals body and mind, accesses inner guidance and creates a powerful life. Shana is the host of Be Well Live, a show dedicated to empowering people to live authentically and The Soul Frequency Show podcast dedicated to helping people raise their vibrational frequency. Her guests include NYT bestselling authors, celebrities, and holistically minded visionaries.
Shana knows all about what it takes to get unstuck and this podcast will change your life!
Here are some of the nuggets you're in for:
Her "secret sauce" to finding happiness and lasting health
Why Albert Einstein says your "energy" matters
What the "creation equation" is and how you can use it to cultivate a beautiful life
How to know if you're due for a breakthrough
Her 4 step process for lasting health and happiness
How to find your truth and why it's imperative for lasting health
Why we often live out of alignment with our truth
How to begin living your truth
What to do when uncomfortable emotions arise
The difference between release and letting go
What to do when you've hit rock bottom
Why ALIGNMENT (her final step) is critical even though most people skip it
What to say to the people in your life who are trying to keep you down
And SO much more!
SHOW NOTES:
Thanks for listening!
Thanks so much for joining us this week. Have some feedback you'd like to share or a question you'd like to ask? Leave a note in the comment section below!
If you enjoyed this episode, please share it using the social media buttons you see in this post.
Also, we'd love it if you would leave an honest review for The Optimize Paleo Podcast on iTunes! Ratings and reviews are super helpful and greatly appreciated as it helps us expose this show to a wider audience and spread this information to more people who need to hear it. We read every review so we look forward to hearing from you!
And finally, don't forget to subscribe to the show on iTunes to get automatic updates…see you next time!
Click the button below to subscribe on iTunes: