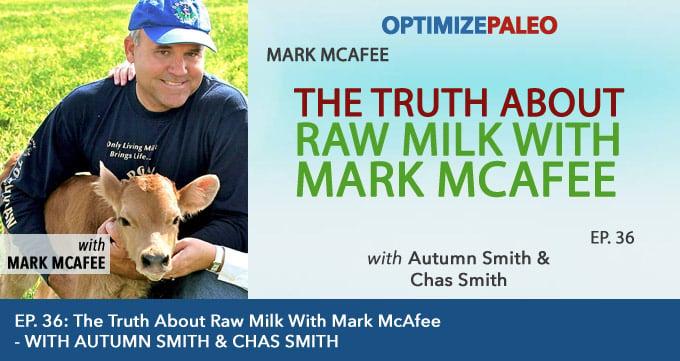 EP. 36: The Truth About Raw Milk
Everything You Need To Know About Milk
;
IN THIS EPISODE:
Mark is the founder and CEO of McAfee Farms and Organic Pastures Dairy Company. He is pre-med trained, a retired Paramedic and a Health Department medical educator. Mark has lectured on Raw Milk production, food safety, and nutrition at Stanford Medical School, Rutgers University, 30 different states and internationally. He is certified in HACCP management from Chapman University and has developed and implemented award winning Food Safety Plans including Raw Milk Risk Analysis & Management Plans ("RAMP") and the 1997 Odwalla Apple Juice "Field HACCP".
As you can see, food safety is one of Mark's specialties which made for a truly enlightening conversation. Here are some of the juicy tidbits you'll walk away with:
Why Mark became a dairy farmer
How a raw milk company became the #4 best selling organic brand in America
Why raw, grass fed milk is VERY different than conventional milk
How pasteurization creates an allergic product
What pasteurization kills besides bad bugs
Whether or not raw, grass fed milk IS safe
How we know our ancestors consumed milk and cheese
The profound, research-based benefits of raw grass fed dairy
And much more
SHOW NOTES:
Email Mark:
[email protected]
Check out Organic Pastures here:
http://www.organicpastures.com/
Find raw milk in your area here:
http://www.realmilk.com/
Thanks for listening!
Thanks so much for joining us this week. Have some feedback you'd like to share or a question you'd like to ask? Leave a note in the comment section below!
If you enjoyed this episode, please share it using the social media buttons you see in this post.
Also, we'd love it if you would leave an honest review for The Optimize Paleo Podcast on iTunes! Ratings and reviews are super helpful and greatly appreciated as it helps us expose this show to a wider audience and spread this information to more people who need to hear it. We read every review so we look forward to hearing from you!
And finally, don't forget to subscribe to the show on iTunes to get automatic updates…see you next time!
Click the button below to subscribe on iTunes: