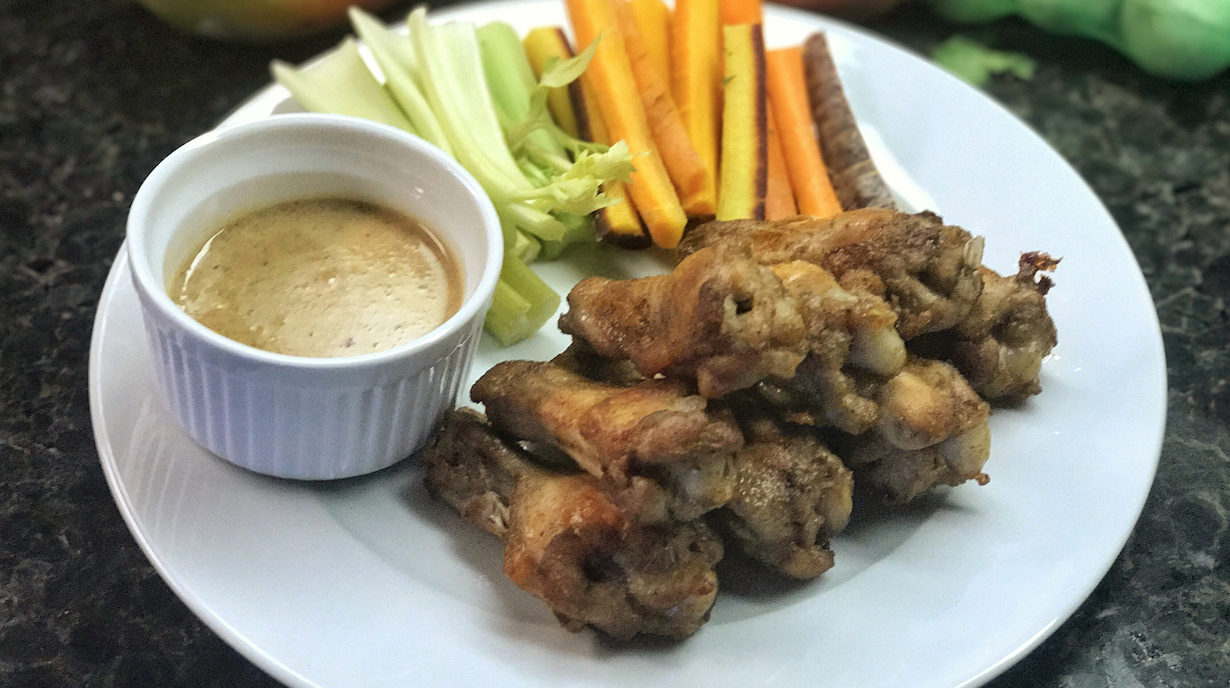 5-Spice Chicken Wings with Almond Ginger Dipping Sauce
Bring These to Your Next Party!
5-Spice Chicken Wings with Almond Ginger Dipping Sauce
Servings: 3-4 servings
Prep Time: 10 minutes
Cooking Time: 50 minutes
Ingredients
2-3 dozen chicken wings
3 Tbsp. avocado oil
2 tsp. Chinese five-spice
1 tsp. coriander
1 tsp. garlic powder
1 tsp. onion powder
2 cups broccoli florets
2 carrots, cut into long dipping sticks
2 stalks celery, cut into dipping sticks
1 bunch scallions, chopped
Sea salt (this is my favorite brand!) and ground pepper to taste
Almond Ginger Dipping Sauce
1 lime, juiced
1 tsp. sesame oil
2 Tbsp. coconut aminos
1⁄4 tsp. fish sauce
1 Tbsp. almond butter
1⁄2-inch knob ginger, peeled & minced
1 clove garlic, minced
pinch red pepper flakes
pinch salt & pepper
Equipment:
Directions:
Preheat oven to 400° F.
Add chicken wings to a large bowl & sprinkle with salt & pepper. In a medium bowl, whisk together avocado oil, five spice, coriander, garlic powder & onion powder. Pour over chicken wings & toss to combine. Let marinate at least 30 minutes.
Make almond ginger dipping sauce. Whisk all ingredients together in a medium bowl & set aside.
Spread chicken wings evenly on a large baking sheet. Bake for 45-50 minutes until cooked through. Flip halfway through to get crispy on all sides too.
Top chicken wings with scallions. Serve wings & fresh cut veggies with almond ginger dipping sauce.
***Always opt for organic for any of the ingredients whenever possible and always 100% grass fed/grass finished for the meat, wild caught for fish, and pasture raised for pork and poultry.