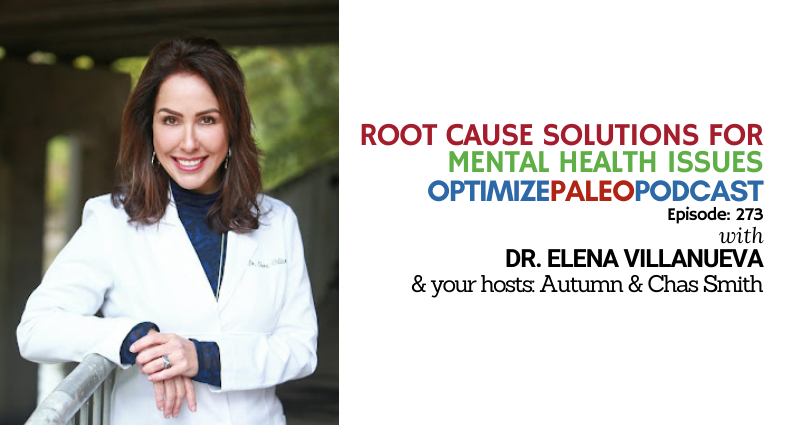 EP273: Root Cause Solutions for Mental Health Issues with Dr. Elena Villanueva
A 2010 study published in Plos One found that 5 of the 10 most violence-inducing drugs were antidepressants.
Alongside antidepressants, 6 sedatives/hypnotics and 3 medications for attentional issues were also associated with increased violence.
And while pharmaceutical therapies can work for certain individuals, they clearly cause (sometimes scary) side effects, do not work for everyone, and most importantly, do not address the root cause.
Tune in to this week's fascinating podcast with Dr. Villanueva, Creator of the Healthy Body Restoration System and Balance your Brain Program, as we discuss the true causes of mental health issues, the limitations of conventional therapies and holistic strategies for better mental health. Here are some of the gems you'll learn:
The limitations of mental health conventional treatments
The true causes of mental health issues
Commonly used meds that cause violence
The link between antidepressants and school shootings
How antidepressants alter brain function
Her #1 strategy for better mental health
The top 5 food triggers of mental health issues
Why breathing deeply is not a solution
Her powerful transformation out of anxiety and depression
And so much more!
Please tag someone you know and love who might benefit from this information! And also don't forget to tune in to Dr. Villanueva's Masterclass for more in-depth information and healing.
Valuable Resources:

Dr. Villanueva's 5-Part Mental Health Masterclass
>>> Click HERE to Register + Attend the Virtual Masterclass for FREE!

Paleovalley Turmeric Complex
>>> Click HERE to support Brain Health with Paleovalley's Turmeric Complex!
Bio:
Dr. Villanueva is the Founder and Chief Health Coach of Modern Holistic Health and the Creator of the Healthy Body Restoration System and Balance your Brain Program.
Dr. V is known for her work in the field of epigenetics and has studied under leading methylation and genetic doctors including Dr. Kendal Stewart and has been featured in numerous documentaries and summits so that she can share knowledge that is helping people overcome their chronic health struggles.
She is no stranger to debilitating health struggles. In her mid 30's she struggled with severe debilitating anxiety, depression, and memory loss and was told by doctors that
the only solution is a lifetime of medications.
After over 3 years of searching for answers and failed attempts to find solutions to heal herself, she started uncovering the many root causes of what had made her ill and how to fix them. Dr. Villanueva became an expert in chronic illnesses and brain chemistry imbalances, healing gut issues, epigenetics, and holistic medicine.
Her passion is empowering men and women to understand how they can heal truly their bodies.

Thanks for Listening!
Thanks so much for joining us this week. Have some feedback you'd like to share or a question you'd like to ask? Email us at [email protected]!
If you enjoyed this episode, please share it using the social media buttons you see in this post.
Also, we'd love it if you would leave an honest review for The Optimize Paleo Podcast on iTunes! Ratings and reviews are super helpful and greatly appreciated as it helps us expose this show to a wider audience and spread this information to more people who need to hear it. We read every review so we look forward to hearing from you!
And finally, don't forget to subscribe to the show on iTunes to get automatic updates…see you next time!
Click the button below to subscribe on iTunes: