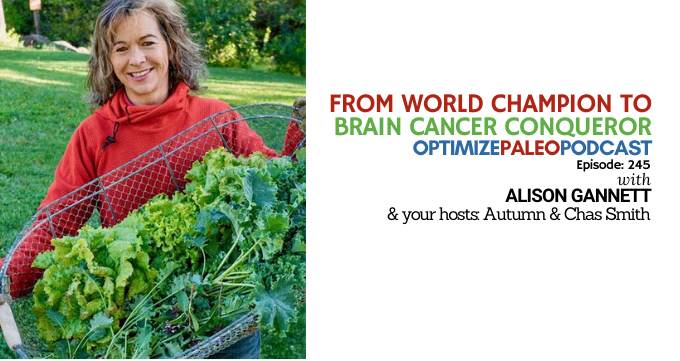 EP245: From World Champion to Brain Cancer Conqueror with Alison Gannett
IN THIS EPISODE:
Imagine being a world champion skier, growing all of your own food and then being diagnosed with terminal malignant BRAIN CANCER and given 6 months to live.
That's what happened to today's podcast guest, oncology nutrition expert, Alison Gannett.
Fortunately, today (7 years later) she is healthy and teaching others how to conquer and prevent cancer using targeted diet and lifestyle strategies.
Cancer takes over 600,000 American lives each year and approximately 1 in 3 Americans will develop cancer.
It seems to touch all of us in some way.
So do yourself a favor and listen in for Alison's incredible story, the steps she took to conquer cancer and steps you can take to possibly prevent cancer. Here are some of the fascinating topics we cover:
How many hours a day she fasts (and the specific changes she sees in her labs)
Why her vitamin C was poisoning her
The common food that can drive cancer growth
3 simple steps that may prevent cancer
The personality type associated with cancer
Why the carnivore diet scares her
The 3 main factors she thinks led to her cancer diagnosis
The "healthy" dietary strategy she believes caused her cancer
How to know if you need less protein
The 5 minute daily practice that has helped her heal
Why she doesn't drink smoothies
The paleo-approved flour that can be high in carbs
Why keto can work for cancer
The % of cancer cases negatively impacted by excess carbs (this will shock you!)
Her favorite keto-approved sweetener
The link between over exercise and cancer
Why muscle soreness is not always a good thing
Why training for a marathon isn't always healthy
The 5 labs to track to prevent cancer
And so much more!
Please SHARE this podcast with everyone you think may benefit!
Valuable Resources:
Learn More About Alison's Cancer Program HERE!
Get up to 24% OFF Keto-Friendly Grass Fed Beef Sticks HERE!
Bio:
Alison Gannett was diagnosed with terminal malignant brain cancer in 2013, and given 6.8 months to live with standard of care. After a partially successful surgery, she found Dr. Nasha Winters, utilizing her metabolic approach and new treatments to reverse the root causes of her cancer. The radical changes to her diet and lifestyle, produced stunning results that confounded her doctors.
Alison specializes in customized oncology nutrition – adjunct support to prevent, manage, or conquer cancer. She is a keynote speaker around the globe on the topic of overcoming her terminal cancer and how others can reverse or prevent the root causes of the cancering process. Alison will complete her Ketogenic Nutrition Specialist course with American Nutrition Association in 2020. From 2014 onwards, she consults frequently with Dr. Nasha Winters, enabling continuous training in customized oncology nutrition. In 2014, she completed a year-long training with the Integrative Cancer Advocacy Network (ICAN), taught by In 2014, she completed a year-long training with the Integrative Cancer Advocacy Network (ICAN) program in 2014, taught by Dr. Nasha Winters. Formerly, she graduated Summa Cum Laude with Honors in 1987 with a Batchelor of Science from University of Vermont. She is currently one of only a handful of people that can book a consult on a client's behalf with Dr. Nasha Winters for customized treatment protocols.
Thanks for listening!
Thanks so much for joining us this week. Have some feedback you'd like to share or a question you'd like to ask? Email us at [email protected]!
If you enjoyed this episode, please share it using the social media buttons you see in this post.
Also, we'd love it if you would leave an honest review for The Optimize Paleo Podcast on iTunes! Ratings and reviews are super helpful and greatly appreciated as it helps us expose this show to a wider audience and spread this information to more people who need to hear it. We read every review so we look forward to hearing from you!
And finally, don't forget to subscribe to the show on iTunes to get automatic updates…see you next time!
Click the button below to subscribe on iTunes: