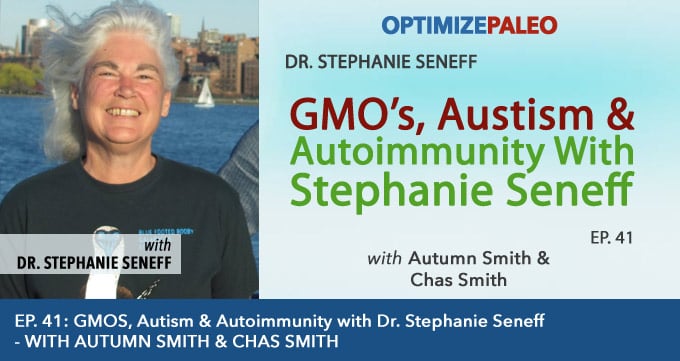 EP. 41: GMOS, autism & autoimmunity with Dr. Stephanie Seneff
Dr. Seneff tackles vaccines, GMO's and their link with autism!
IN THIS EPISODE:
Today's show is all about the connection between Glyphosate, Autism and Autoimmunity!
And you don't want to miss it because autoimmune conditions and autism are both rising at alarming rates. In fact, heart disease and certain cancers are now believed to have an autoimmune component which makes autoimmune conditions America's deadliest diseases.
Dr. Seneff also believes autism may have an autoimmune component. And if her theory is correct, avoiding Glyphosate may be one of the most important things you can do to improve your health and add years to your life.
So don't miss this one!
It's truly a fascinating discussion and we did our very best to keep the information as simple as possible. Which was a tough job because Dr. Seneff is SO smart, but I think you'll be impressed.
Here's what you'll learn:
How Dr. Seneff knew Glyphosate was playing a role in autism

What Glyphosate is and where its found

What common crops are sprayed with Glyphosate other than GMOs

Why the allowable levels of Glyphosate used keeps rising

What hidden long term studies reveal about the safety of Glyphosate

Why roundup may actually be MORE dangerous than studies suggest

Why Glyphosate exposure may be contributing to the development of autoimmunity

How Glyphosate damages your gut

Why Glyphosate contributes to antibiotic resistance

The link between Glyphosate and autism

Why Glyphosate may be making our vaccines toxic

And much more!
SHOW NOTES:
Check out Dr. Stephanie Seneff's website here:
https://people.csail.mit.edu/seneff/​
Thanks for listening!
Thanks so much for joining us this week. Have some feedback you'd like to share or a question you'd like to ask? Leave a note in the comment section below!
If you enjoyed this episode, please share it using the social media buttons you see in this post.
Also, we'd love it if you would leave an honest review for The Optimize Paleo Podcast on iTunes! Ratings and reviews are super helpful and greatly appreciated as it helps us expose this show to a wider audience and spread this information to more people who need to hear it. We read every review so we look forward to hearing from you!
And finally, don't forget to subscribe to the show on iTunes to get automatic updates…see you next time!
Click the button below to subscribe on iTunes: