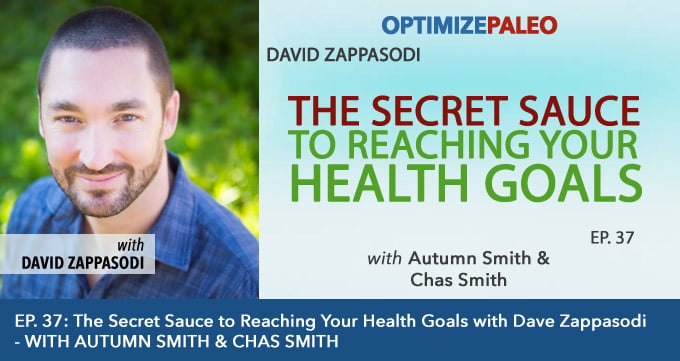 EP. 37: The Secret Sauce to Reaching Your Health Goals with Dave Zappasodi
The Motivation You Need To Reach Your Health Goals!
IN THIS EPISODE:

David Zappasodi is a motivational speaker, fitness training professional, and international best-selling author of the book Immovable Heart ~ Unstoppable Mind. For the past twenty years, his innovative approach to health and fitness has helped many people transform their lives.

In today's illuminating podcast we highlight some of Dave's remarkable insights that helped me cultivate better health, deeper relationships and more effective coaching strategies. We also talk about practical ways to start changing the behavioral patterns that may be keeping you from the health you've always imagined TODAY.

Here are some of the juicy tidbits you'll learn:
The personal challenges that inspired his international best-selling book
A simple mindshift that can make you feel empowered regardless of the circumstance
Why Dave is convinced that mindset is one of the most important elements for reaching your health goals
What you're actually looking for when you set health goals! (This will surprise you!)
How to set goals that will help you get long term results
Why Dave says we ALL have a problem with obesity
What generosity, integrity and patience have to do with weight loss and health
The one thing thing Dave would change about his past
And much more!
SHOW NOTES:
Get David's Book 'Immovable Heart, Unstoppable Mind ' for 50% OFF Here:
https://immovableheart.com/sales​
Thanks for listening!
Thanks so much for joining us this week. Have some feedback you'd like to share or a question you'd like to ask? Leave a note in the comment section below!
If you enjoyed this episode, please share it using the social media buttons you see in this post.
Also, we'd love it if you would leave an honest review for The Optimize Paleo Podcast on iTunes! Ratings and reviews are super helpful and greatly appreciated as it helps us expose this show to a wider audience and spread this information to more people who need to hear it. We read every review so we look forward to hearing from you!
And finally, don't forget to subscribe to the show on iTunes to get automatic updates…see you next time!
Click the button below to subscribe on iTunes: