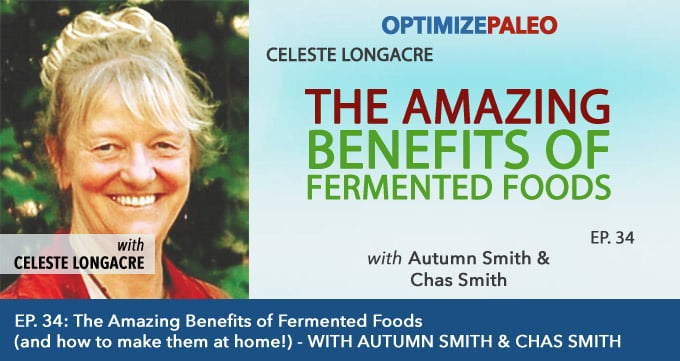 EP. 34: The Amazing Benefits of Fermented Foods (and how to make them at home!)
Fermented Recipes You Won't Want To Miss!
IN THIS EPISODE:
Celeste Longacre is the author of Celeste's Garden Delights: Discover the many ways a garden can nurture you. She's also an accomplished gardener who has been growing most of her family's vegetables for over 35 years. Celeste preserves the garden's bounty by canning, freezing, drying, and fermenting it as well as storing her produce in a root cellar. She and her husband, Bob, live sustainably in a handmade octagonal home.
How to live sustainably and self-efficiently in the 21st century
The benefits of fermented foods
How to make probiotic-rich versions of 2 common condiments
How to make a fermented drink that is anti-inflammatory and lowest systolic blood pressure with one glass!
SHOW NOTES:
Check out Celeste Longacre's site:
http://celestelongacre.com/
Grab Celeste's Book on Amazon here:
http://amzn.to/1trCf6R
Check out Celeste's Fermented Ketchup Recipe:
Ingredients:
3 Tbsp maple syrup or raw honey
1/4 cup Tbsp liquid whey + 2 Tbsp whey
2 Tbsp apple cider vinegar
1 Tbsp sea salt
1/4 tsp cumin
1/4 tsp turmeric
Preparation:
Mix together and then top with the top of the 2 Tbsp of whey, cover and let sit on the kitchen counter for 4-5 days. Then take the lid off and mix again and store.
Check out Celeste's Fermented Mayonnaise Recipe:
Ingredients:
3 raw egg yolks
1 Tbsp liquid whey
1 Tbsp fresh squeezed lemon juice
Blend the ingredients above first then add
1/4 tsp paprika
1/4 tsp cumin
generous pinch of sea salt
take 3/4 cup avocado oil
Preparation:
Mix in the first batch of ingredients into a food processor and mix. Add in the last of the ingredients (avocado oil last). Very slowly add in the avocado oil into the food processor to emulsify. Place into a jar, put the cap on and leave overnight to ferment. Then refrigerator to keep for weeks.
Thanks for listening!
Thanks so much for joining us this week. Have some feedback you'd like to share or a question you'd like to ask? Leave a note in the comment section below!
If you enjoyed this episode, please share it using the social media buttons you see in this post.
Also, we'd love it if you would leave an honest review for The Optimize Paleo Podcast on iTunes! Ratings and reviews are super helpful and greatly appreciated as it helps us expose this show to a wider audience and spread this information to more people who need to hear it. We read every review so we look forward to hearing from you!
And finally, don't forget to subscribe to the show on iTunes to get automatic updates…see you next time!
Click the button below to subscribe on iTunes: