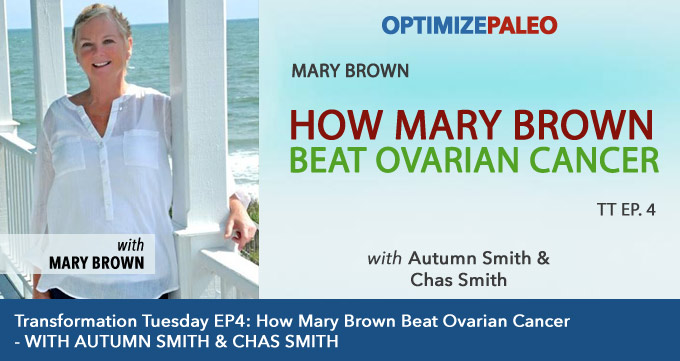 Transformation Tuesday EP4: How Mary Brown Beat Ovarian Cancer
Here's How She Battled Cancer!
IN THIS EPISODE:
In this episode you'll discover the more I study and talk to people who have had cancer, the more I learn that there is hope for a healthy, happy, and fulfilling life post diagnosis. And no matter how you choose to approach treatment (conventional or alternative or a combination!) diet can play a profound role in supporting your body's ability to recover.
Which is why I couldn't be more excited to share my little chat with one of our own subscribers, Mary Brown! Mary was origianlly diagnosed with ovarian cancer in August of 2011. Following conventional therapy, Mary was then diagnosed a second time a few years later.
Clearly, Mary has had quite a journey but today she is healthy and CANCER-FREE!
And given the fact that ovarian cancer kills 15,000 women each year and is the most lethal gynecological cancer, Mary's story is truly remarkable. Fortunately for you, Mary shares the diet and lifestyle strategies she believes were instrumental in her recovery in today's transformational podcast.
You'll hear about her incredible story, her dietary approach, the practitioner she thinks EVERYONE diagnosed with cancer should know about and her favorite recipe! All packed into a delightful, powerful and inspiring 30 minute chat!
SHOW NOTES:
Email Mary Brown here:
(Put Paleovalley Podcast in the subject line)
[email protected]
DISCLAIMER FROM MARY: "I usually say I am stable NOT cured because there is no cure for ovarian cancer! It may never come back or it could next week, I live with that every day! But every day is a blessing and I am doing everything I can to stay healthy, and if it does my body will be better able to fight because of my healthy lifestyle!"
Read all about Mary's Story here!
Winter Kale Salad: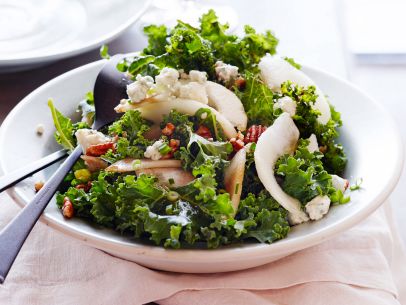 (Check out Mary's favorite recipe adapted from Food Network Chef Melissa D'Arabian)

Total Time: 15 min
Prep Time: 15 min
Ingredients:
1 small bunch of organic kale, stems removed, cut or torn into small pieces
1/4 cup almonds, toasted and chopped
1 organic vine-ripe tomato
1 organic green onion, chopped
1 organic Granny Smith apple, peeled and sliced
1/4 organic cucumber, diced
Sea salt and freshly ground black pepper
2 tablespoons balsamic vinegar
3 tablespoons extra-virgin olive oil
Crumbled feta cheese or goat cheese (optional)
Preparation:
Toss cut up vegetables into a medium-sized bowl.
In a separate bowl whisk the balsamic vinegar and olive oil then pour over salad to taste.
Toss and top with salt and pepper and add cheeses if using.
Extra Tips from Mary about her Kale Salad:
I think one of my favorite go to recipes is a raw kale salad, but I substitute a granny smith apple for the pear. But I also make a simple kale salad by using fresh kale, chopping very small-helps to tenderize-add tomatoes, onions, cucumber, almonds, and sprinkle with feta cheese (optional) and serve with flavored quality olive oil (I used orange flavored) and quality balsamic vinegar (I used fig), and it was delish!!! And by the way, be adventurous by using fresh herbs, and adding any veggies that you like!
Thanks for listening!
Thanks so much for joining us this week. Have some feedback you'd like to share or a question you'd like to ask? Leave a note in the comment section below!
If you enjoyed this episode, please share it using the social media buttons you see in this post.
Also, we'd love it if you would leave an honest review for The Optimize Paleo Podcast on iTunes! Ratings and reviews are super helpful and greatly appreciated as it helps us expose this show to a wider audience and spread this information to more people who need to hear it. We read every review so we look forward to hearing from you!
And finally, don't forget to subscribe to the show on iTunes to get automatic updates…see you next time!
Click the button below to subscribe on iTunes: