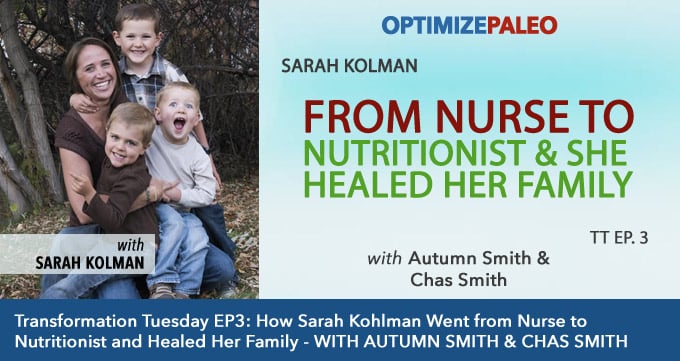 Transformation Tuesday EP3: How Sarah Kohlman Went from Nurse to Nutritionist and Healed Her Family
A Must Listen For Any Parent...
IN THIS EPISODE:
Sarah Kolman RN, MA, CHPN, INHC is a Registered Nurse, Integrative Nutrition Health Coach, Contemplative Psychotherapist, wife, and mom of three boys. Sarah offers unique one-on-one health coaching that blends her nursing and psychotherapy experience with holistic and nutrition-based health concepts. Learn more about Sarah's coaching services by visiting her website, www.this-one-life.com. She is the author of Full Plate: Nourishing Your Family's Whole Health in a Busy World and writes for several health-focused companies and blogs like Seventh Generation, Autoimmune Paleo, The Paleo Mom, and Paleo Parents--read her articles here. You can follow Sarah on Facebook, Instagram, or Twitter.
Why she stopped being a nurse and became a health coach
Why mainstream doctors made her feel like a "hypersensitive mother."
Why she started to feel angry when she learned about the healing power of food
What nursing school taught her about nutrition
How she got to the root of her son's skin and digestive issues
Which 3 foods her son had to avoid in order to thrive
How her son's food sensitivities healed her entire family
What 2 types of testing helped identify her child's sensitivities
The 2 different types of "food" and why they're both important
How she gets her kids excited about nutrition
What parents should do if their child has to take antibiotics
How she makes paleo meals work with her busy schedule
The #1 piece of advice she would give to parents
And much more!
SHOW NOTES:
Check out Sarah Kolman's Website here:
http://www.this-one-life.com/
Thanks for listening!
Thanks so much for joining us this week. Have some feedback you'd like to share or a question you'd like to ask? Leave a note in the comment section below!
If you enjoyed this episode, please share it using the social media buttons you see in this post.
Also, we'd love it if you would leave an honest review for The Optimize Paleo Podcast on iTunes! Ratings and reviews are super helpful and greatly appreciated as it helps us expose this show to a wider audience and spread this information to more people who need to hear it. We read every review so we look forward to hearing from you!
And finally, don't forget to subscribe to the show on iTunes to get automatic updates…see you next time!
Click the button below to subscribe on iTunes: