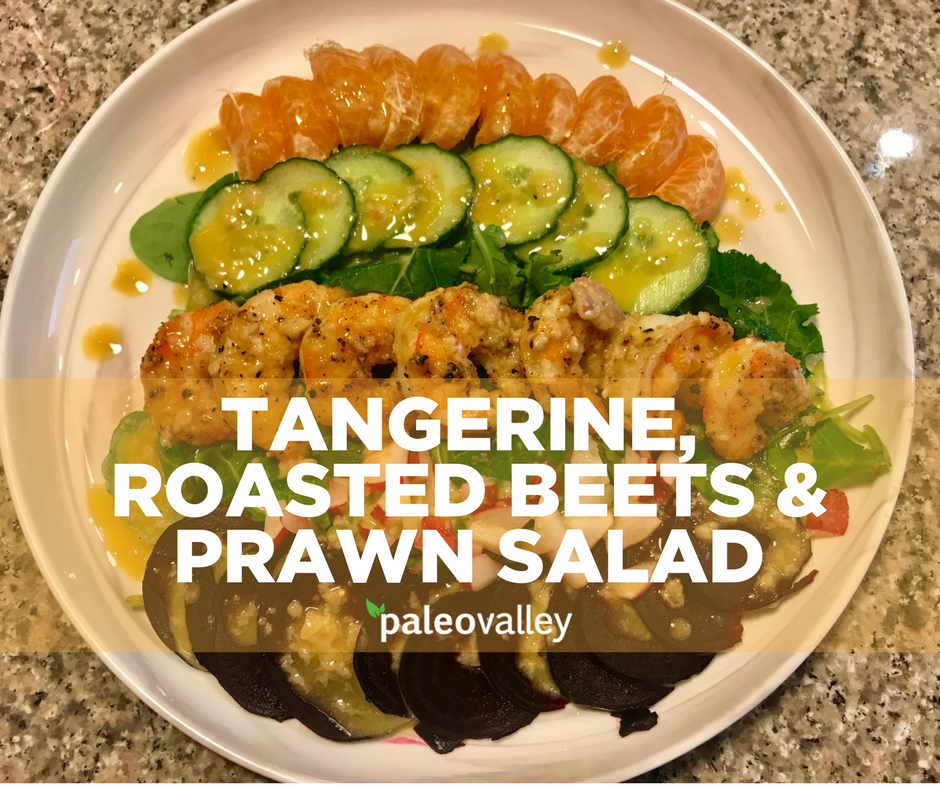 Tangerine, Roasted Beets & Prawn Salad
A salad that is truly unforgettable!
If you hate salads for some reason, you'll absolutely want to check out this recipe because the flavors are outstanding. And if you're like me and you love salads, well you're in for a real treat here! This champagne-dijon vinaigrette is truly to die for and really brings out the bold flavors of the roasted beets and the perfectly sauteed prawns! Check out the full recipe below and try your hand at this delicious tangerine, roasted beets and prawn salad.
Tangerine, Roasted Beets & Prawn Salad
Servings: 4
Cooking Time: 5 minutes
Ingredients:
1 - 2 lbs. wild caught prawns
4 - 6 cups baby salad greens, baby kale, or arugula
1 bunches of radishes
4 Persian cucumbers
2 medium-sized beets
4 tangerines
¼ tsp. sea salt
¼ tsp. fresh ground pepper
¼ tsp. garlic powder
dash of cayenne (if you like spicy, optional)
1 - 2 Tbsp. avocado oil or other high heat fat for searing shrimp
For The Dressing:
2 small shallots, skin removed, roughly chopped
¼ cup champagne vinegar (or red wine vinegar)
2 tsp. dijon mustard
⅔ cup extra virgin olive oil
Sea salt and pepper to taste
Equipment: High-speed blender or Vitamix
Directions:
Preheat oven to 400° F.
Peel the skin off the beets, rinse, and cover each in foil. Roast for about 30 - 45 minutes, until easily pierced with a fork. Remove and let cool, then slice into circles or wedges. Set aside.
Defrost the shrimp either in the fridge overnight, or in cold water. If using fresh shrimp, peel and devein them. Pat dry with a paper towel. In a bowl, add the dried shrimp and salt, pepper, garlic powder, (and cayenne if using), then toss to coat the shrimp. Heat the avocado oil in a large skillet, and when hot toss the shrimp in and sauté until pink and opaque about 2-3 minutes per side, (shrimp cook quick!)
In a blender, combine all of the dressing ingredients and blend on high until fully combined.
Chop the cucumbers, slice the radishes, and peel and divide the tangerine into wedges.
Assemble the salads layering the greens topping with cucumbers, radishes, beets, tangerines and the prawns in the center. Drizzle the dressing on the salad and serve.
When I first tried this recipe, I had no idea it was going to taste so incredible. Now it's one of my favorite recipes to make because it's so quick and simple.
Give it a shot and let me know what you think. And if you love it, go to our site and share it with your friends on social media! 😊