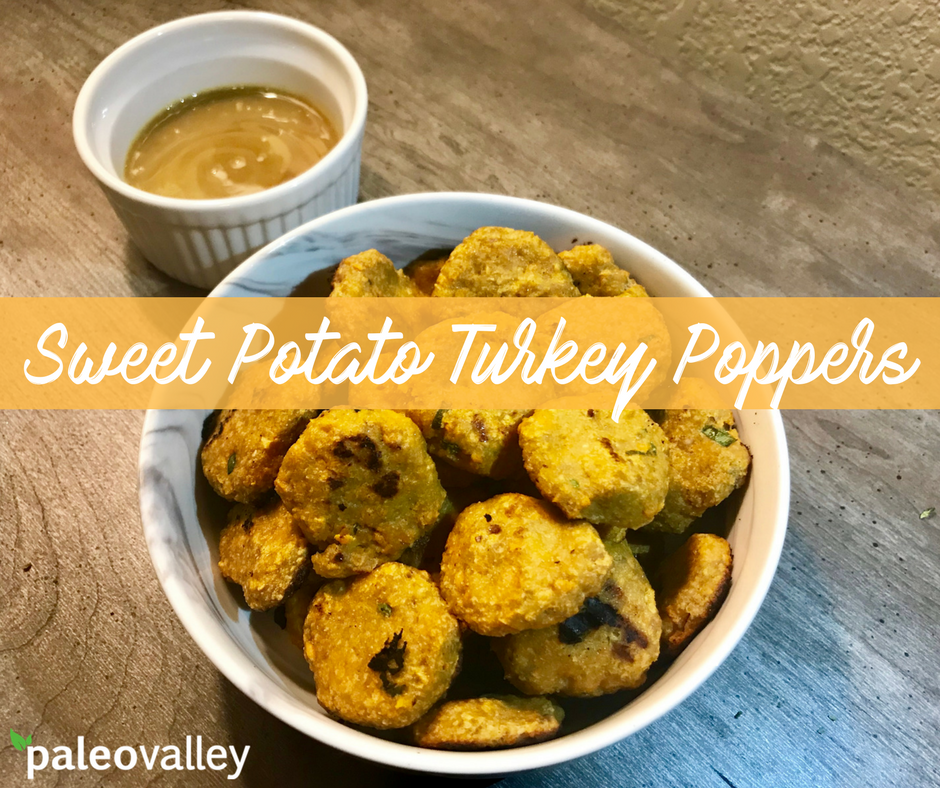 Sweet Potato Turkey Poppers Recipe
These Turkey Poppers a great excuse to find some new snacks to add to your recipe Rolodex.
I can guarantee, when you try these Sweet Potato Turkey Poppers (that taste just like nuggets), you'll be in food heaven!!
Sweet Potato Turkey Poppers
Yields Approximately 25 Poppers
Cooking Time: 30 mins
Ingredients:
1 lb ground turkey (you can use ground chicken too)
2 cups raw (not cooked) sweet potato, finely grated or put in a food processor
2 Tbsp coconut oil + 1 tsp for greasing the baking sheet
2 Tbsp coconut flour
2-3 sprigs green onion, chopped fine
1 Tbsp garlic powder
1 Tbsp onion powder
1 tsp sea salt
Optional: 1 tsp paprika or chili powder for a little spicy kick!
Equipment:
Directions:
Preheat the oven to 400°F and lightly grease a lined baking sheet with coconut oil.
Take the raw sweet potato and squeeze it with a paper towel or cheesecloth to remove any excess liquid.
Add all of the ingredients in a large mixing bowl and mix well.
Begin rolling the mixture into small, slightly flattened poppers about one inch in diameter (you'll have about 20-25 poppers) and place them on the cooking sheet.
Place in the oven for 25-28 minutes, flipping halfway through.
Crisp further in a pan or place under the broiler if desired for 1-2 minutes to crisp further.
Remove from the oven and allow them to cool. Serve with your favorite sauce like Paleo ketchup, mustard or honey mustard etc.
For the dipping sauce, I choose a honey dijon mustard that is equal parts honey and dijon mustard. It's super simple but absolutely delicious. Get creative with your dips the possibilities are endless!