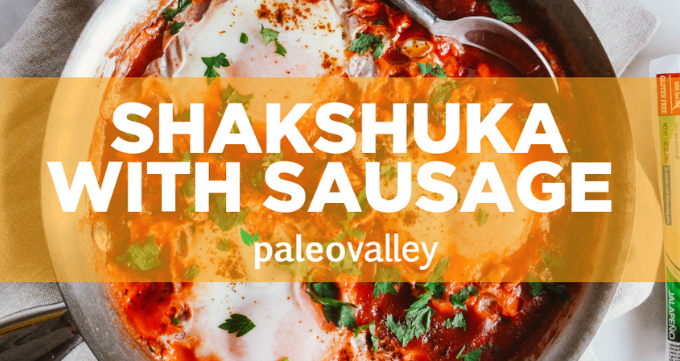 Shakshuka with Sausage Recipe
Have you ever considered dunking your eggs into a pot of tomato sauce? Us neither.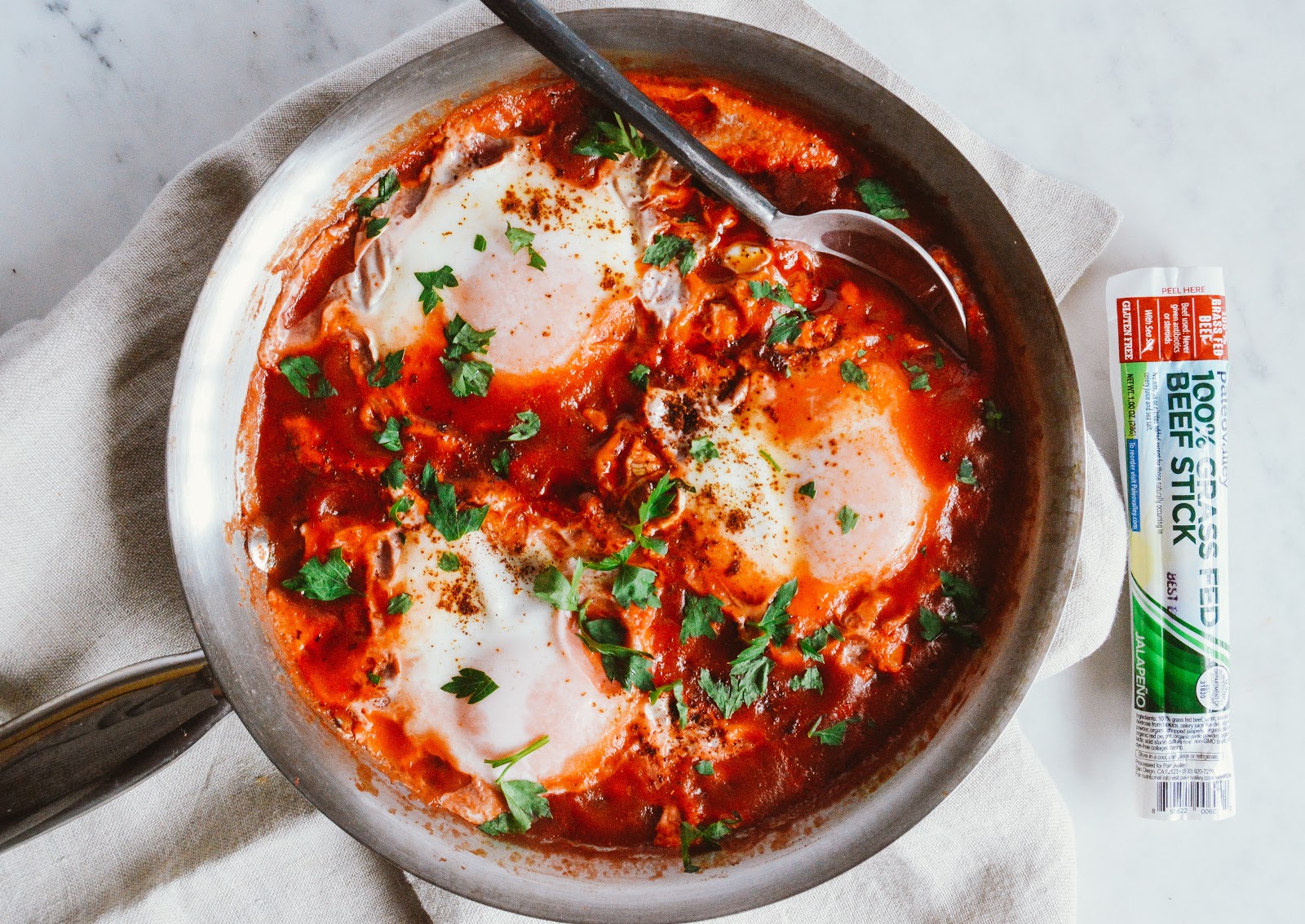 However, after trying Shakshuka, a tomato and poached-egg dish hailing from Israel, we're convinced eggs are actually better in tomatoes!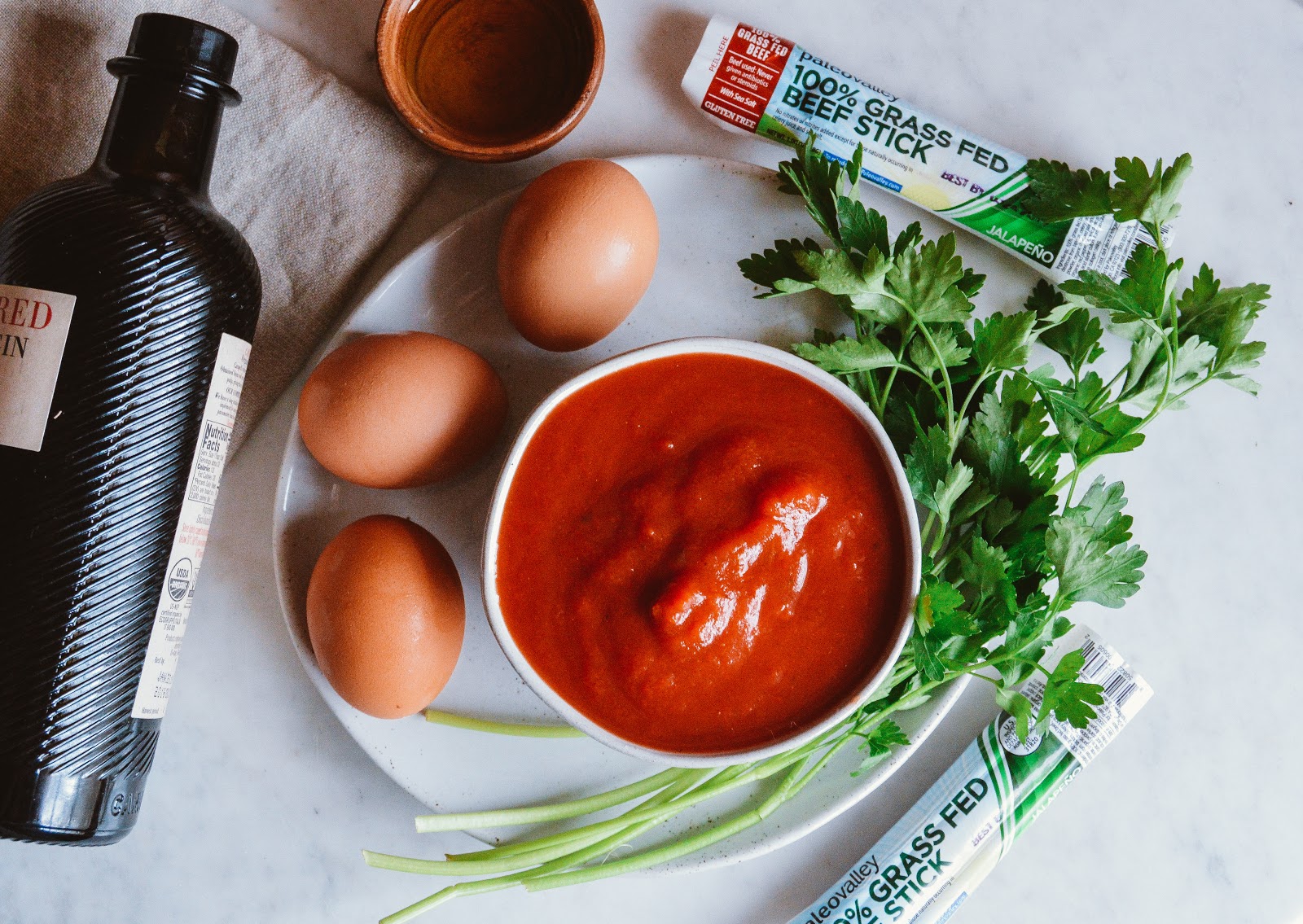 In this recipe, we make traditional Shakshuka, complete with Middle Eastern spices like cumin and paprika, high quality olive oil, and add an extra ingredient in the form of "quick" sausage: our 100% Grass Fed Beef Sticks.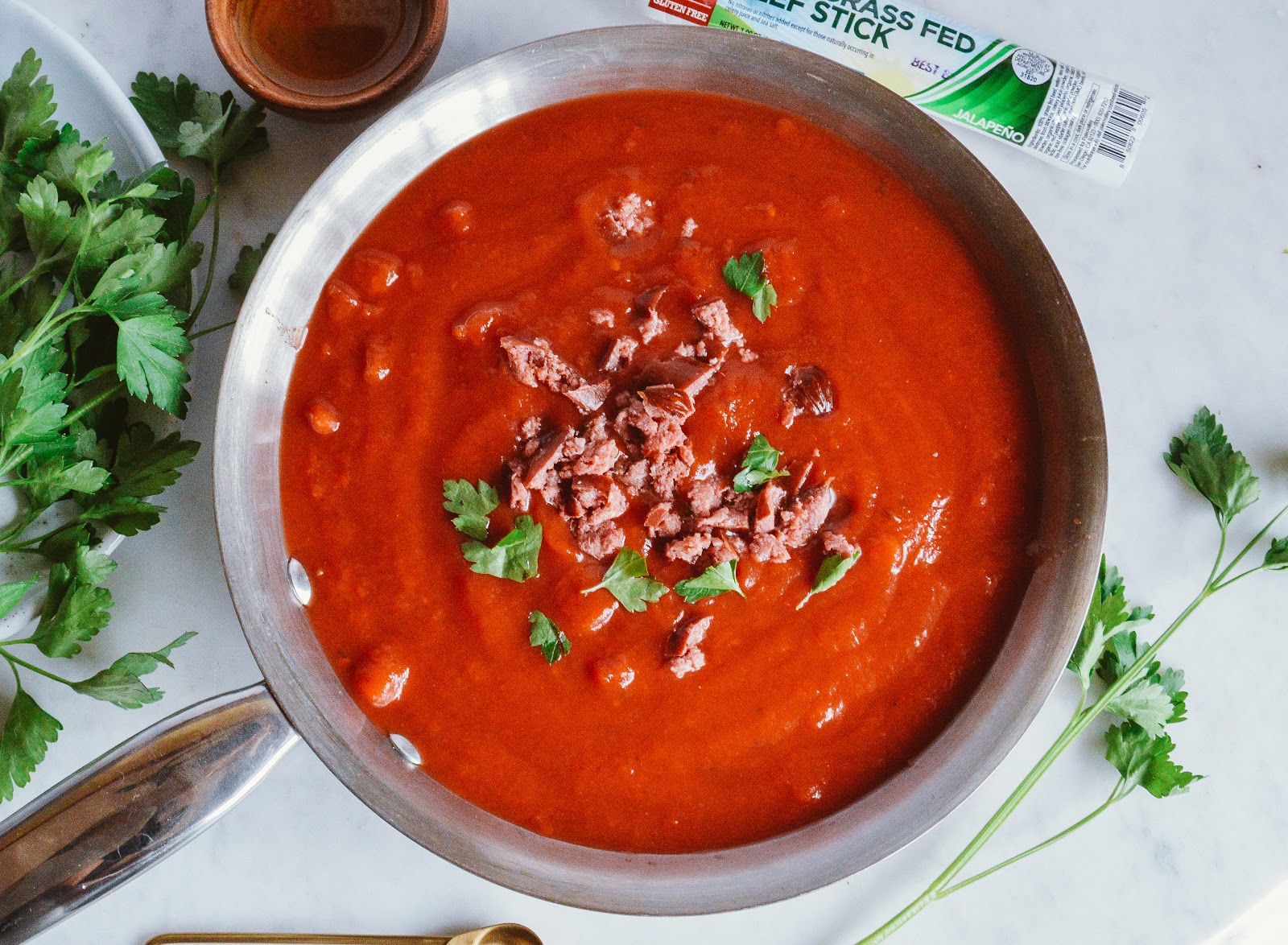 This adds a smoky flavor profile to your Shakshuka and makes it even more filling.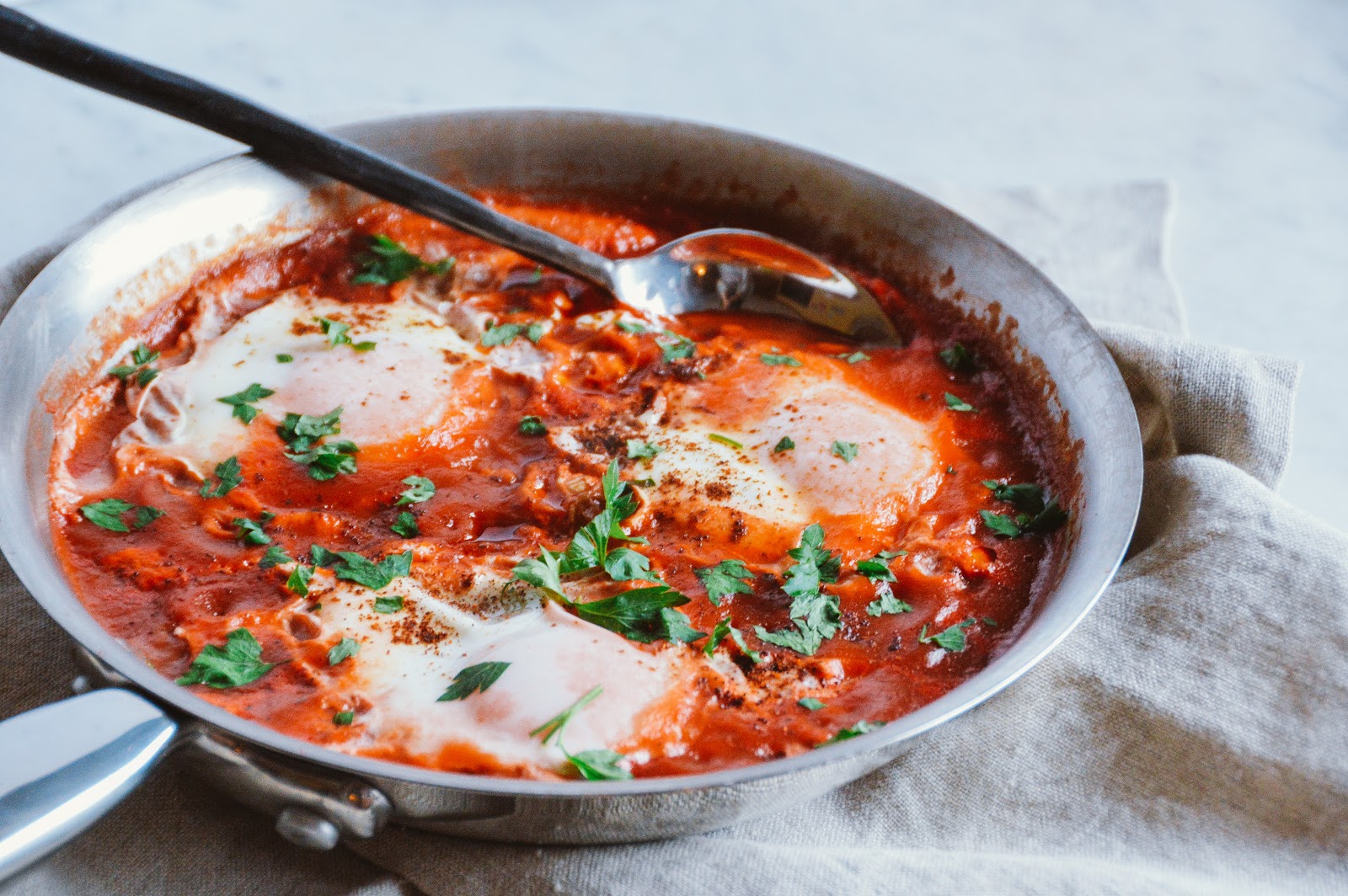 Also, don't worry: this dish may look fancy and like it will take a lot of time and effort to prepare, but we assure you: all it takes is a deep skillet and about 30 minutes. Enjoy!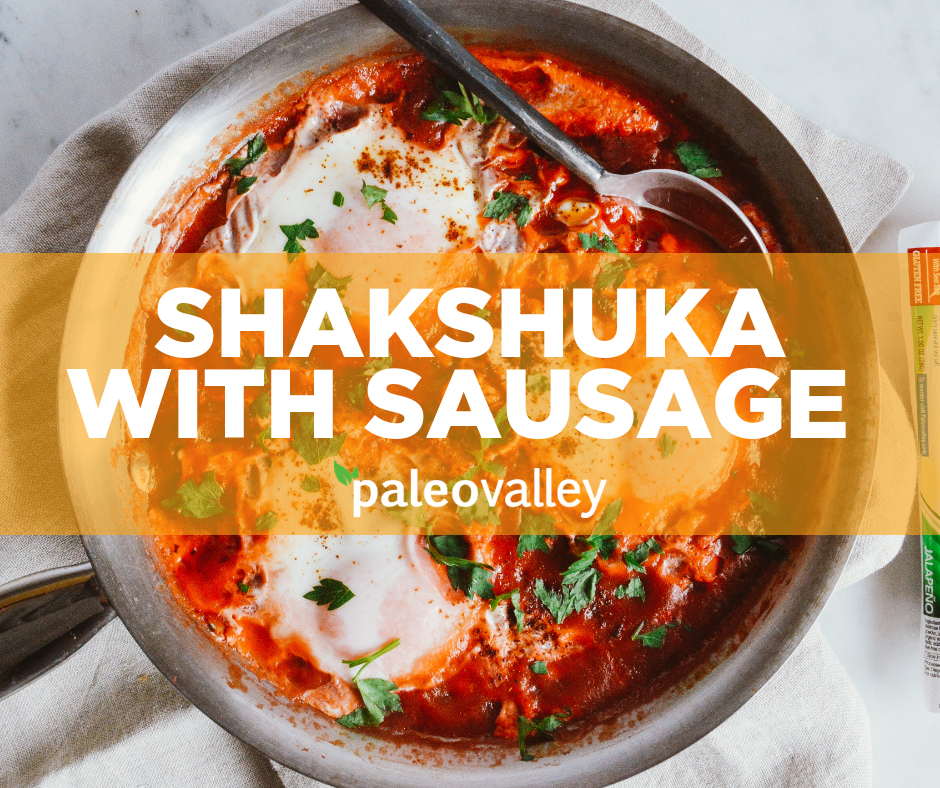 Shakshuka with Sausage Recipe
Prep time: 5 minutes
Total time: 30 minutes
Serves: 2-4
Ingredients:
1 28-ounce can diced tomatoes
2 Tbsp olive oil*
½ onion, chopped
3-4 eggs
1-2 Paleovalley 100% Grass Fed Beef Sticks, chopped
2 Tbsp chopped parsley
1 teaspoon cumin
1 teaspoon smoked paprika
1/2 teaspoon dried oregano
1/2 teaspoon salt
1/4 teaspoon freshly ground black pepper
Equipment:
Directions:
In your skillet, heat olive oil over medium-high heat. Add chopped onion and cook until translucent and beginning to brown, roughly 5 minutes. Chop your beef sticks into bite-sized crumbles.
Add the tomato sauce, spices, and sausage to the skillet and let simmer for 15-20 minutes or until thickened.
Crack your eggs over the top of the sauce, spacing them evenly apart. Cover and cook for 6 to 8 minutes.
Remove from heat and sprinkle with parsley. Serve!
* IMPORTANT note about Olive Oil - Food quality is so important - and it's really critical when it comes to the fats & oils you use. Beware of any olive oil that's: priced too good to be true (it's probably diluted with other inferior oils), comes in a clear or plastic bottle (dark bottles protect the oil from light, plastic bottles can leach harmful chemicals into the oil), or says the words "pure" or "light" (signs it didn't meet the criteria for Extra Virgin). I only use EVOO from the Fresh Pressed Olive Oil Club. It's sourced from the top Olive Farms around the world and 3rd party lab tested for purity. Learn more about why I love it and how you can try a bottle for just $1 here.