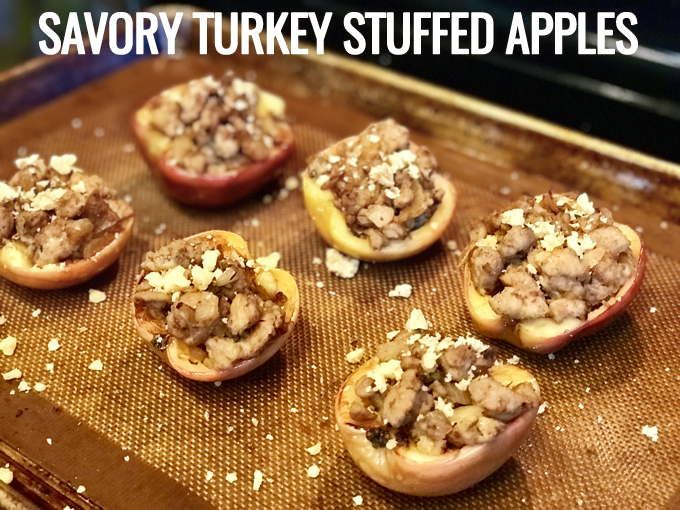 Savory Turkey Stuffed Apples
Wow YOUR Family with this Holiday Inspired Dish
Savory Turkey Stuffed Apples
Yields 4 servings
Cooking Time: 25-30 minutes
Ingredients:
6 large Fuji or other baking appropriate apples
1½ lb ground turkey
1 Tbsp. ghee or coconut oil
4 - 6 cups baby kale or arugula
½ cup diced onion
4 garlic cloves, minced
3 sprigs fresh thyme chopped, or about 1 tsp. dried
5 leaves fresh sage chopped, or about ½ tsp. dried
10 splashes Red Boat fish sauce
¼ cup walnut chopped for garnish
½ lemon
Equipment:
Directions:
Preheat oven to 350° F.
Halve apples and use a melon baller or spoon to remove core and hollow out the halves to make room for the filling.
Heat the ghee/coconut oil in a large skillet, sear the apples face down on high heat until just browned on the edges. Remove apples, set aside to cool.
In the same skillet, add extra fat if needed and cook the onions and garlic until translucent. Add ground turkey, breaking apart into small pieces. Add fish sauce (trust me), add the rest of the herbs and spices.
Once turkey is just browned, remove from heat and once cool enough stuff into the seared apple halves and bake in the oven for 8 - 10 minutes.
Serve over a bed of baby kale/arugula, dress the greens with oil, lemon juice, etc. (optional) Garnish turkey stuffed apples with walnuts on top.
With the holiday season in full swing, junk food inevitably tends to find us right? More often than not we gain a bunch of weight, feel bad and the cycle continues. It's my goal that if this is a pattern for you, we break that this year! 😊
The two sure-fire ways to keep yourself healthy over the holiday season are to follow simple, Paleo recipes (like this one) that are full of nutrient-rich, whole foods and contain zero refined sugars and carbs.
The second is to understand HOW and WHICH problematic foods can really be affecting your body and how to correct that quickly.
One of the greatest resources I've found (although she's far too humble to admit it) is Autumn's Radiate in 28 Quickstart Guide. It's having a profound impact on hundreds of people lives, including myself. It's helped eradicate my digestive issues I've had for the last 15 years AND I lost 12 pounds too, which was such an added bonus!
So don't let the holidays wreck your health this year! Instead, let's be prepared and intentional. Here's a link if you want to pick up a copy of Autumn's Radiate in 28 Quickstart Guide now - it's even free, we just kindly ask you cover the small S/H cost. Here's to looking and feeling your best ever!