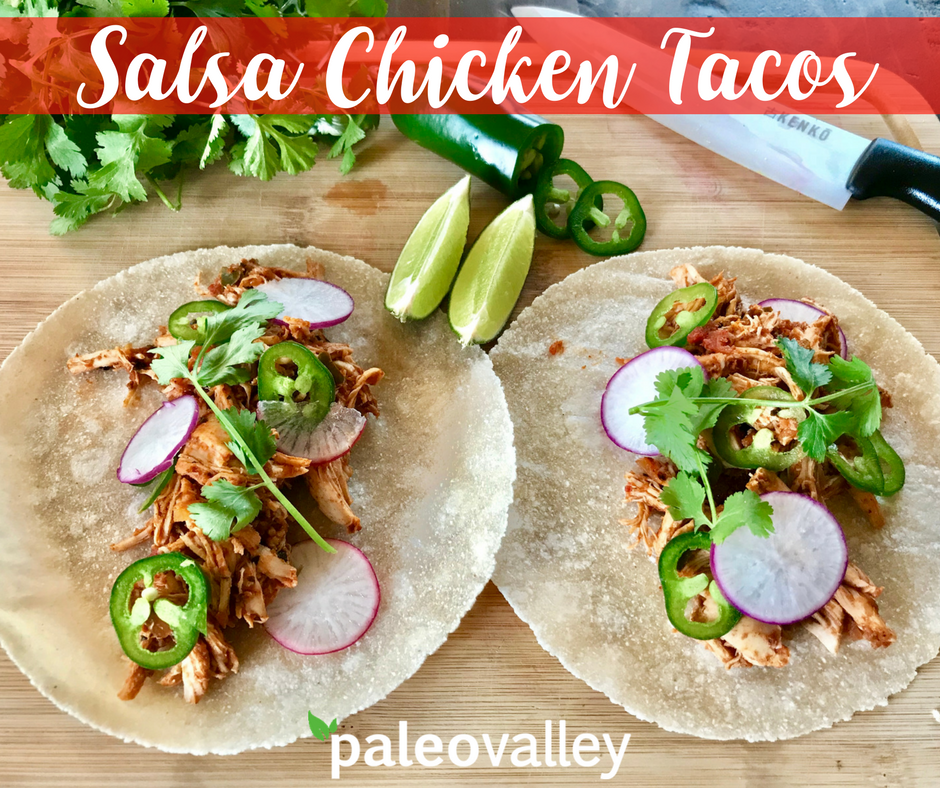 Salsa Chicken Tacos
Legitimately, the BEST Tacos I've Ever had!
Maybe you already have an instant pot and are ready to roll with this chicken taco recipe, but if not here's a link to grab one from Amazon. It'll save you so much time, that you'll wish you had one year's ago. I know I do!
Salsa Chicken Tacos
Yields 4 servings
Cooking Time: 7-10 minutes
Ingredients:
2 pounds boneless, skinless chicken breasts or thighs
1½ tsp chili powder
1 cup roasted tomato salsa
Sea salt to taste (my favorite brand)
Ground pepper to taste
Grain-free tortillas (I used coconut tortillas). If you can't find them just use lettuce wraps (Romaine or Bibb lettuce)
Optional garnishes: avocado, lime, cilantro, jalepeños, radishes
Equipment:
Instant Pot Pressure Cooker
Directions:
Arrange the chicken in a single layer in your pressure cooker.
Sprinkle the seasoning on both sides of the chicken, making sure to rearrange the pieces in a single layer on the bottom.
Pour the salsa evenly over the chicken pieces.
Lock the lid on the pressure cooker. If you're using an Instant Pot, press the "Manual" or "Pressure Cook" button and the "—" button until the "30" on the display decreases to 7 minutes for chicken breasts and 10 minutes for thighs. If you're using bone-in thighs, you should increase the cooking time to 15 minutes. (For those of you using a stovetop pressure cooker, crank the heat to high to bring the contents to high pressure. Once high pressure is reached, reduce the heat to low, or just enough to maintain high pressure. Set a timer for 6 minutes for breasts and 9 minutes for thighs.)
When the chicken is finished cooking, immediately release the pressure manually. *Be careful not to burn yourself with the extremely hot steam coming out!
After all the steam is released, remove the lid right away and transfer the chicken to a bowl to prevent overcooking.
Use two forks to shred the chicken and adjust with salt and pepper if necessary.
Pour the cooking liquid on top of the chicken and toss well to coat.
Serve on top of your favorite grain-free tortillas or lettuce wraps. Garnish with your favorite taco toppings and dig in!
Well, I hope you give this recipe a shot soon because I think you're going to love it! Trust me - taco night's just got waaaay better!
Feel free to get creative with your toppings too and grab some ingredients you know your friends and family will love!