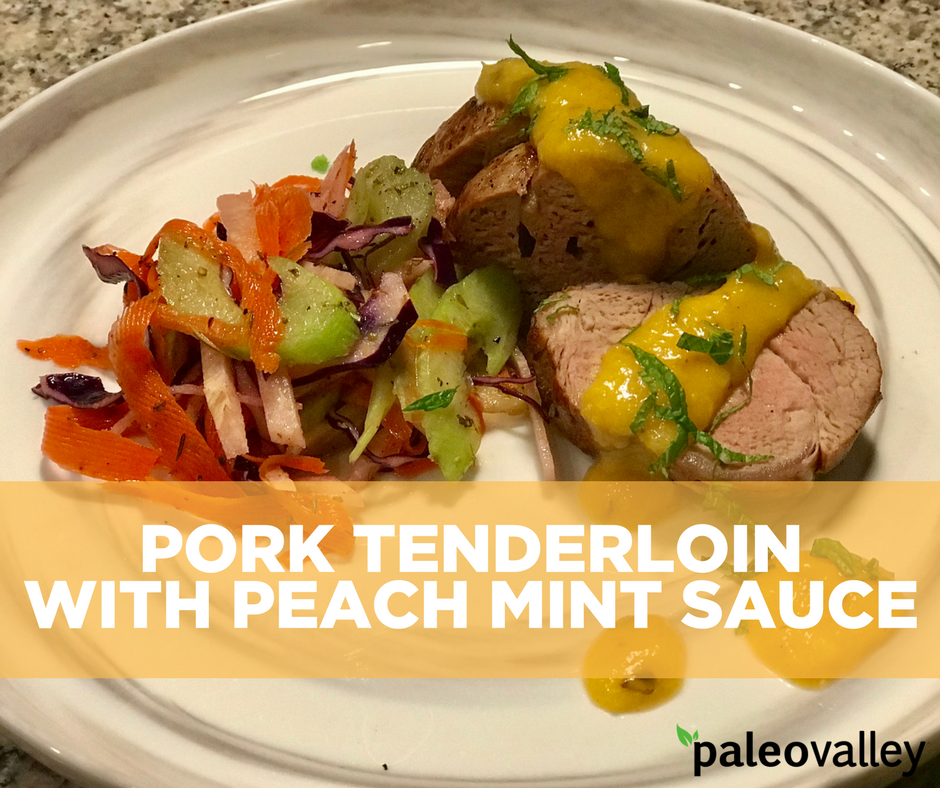 Pork Tenderloin With Peach Mint Sauce
Pork like you've never had it before!
Pork Tenderloin w/ Peach Mint Sauce
Yields 4 servings
Cooking Time: 30-35 minutes
Ingredients:
4-5 lb pork tenderloin
2 whole peaches, skins removed, and diced
1 sprig mint leaves, chopped
1/2 tsp lemon juice
1/4 tsp ground cinnamon
1 Tbsp of coconut oil
Slaw Ingredients:
2 carrots, sliced thin
2 celery stalks sliced thin
2 Tbsp of avocado oil
1 Tbsp of red wine vinegar
Italian Seasoning to taste
Sea salt and ground pepper to taste
Equipment:
Directions:
Preheat oven to 400°F. Preheat a sauté pan over medium heat and add coconut oil. Season pork tenderloin on each side with salt and pepper. When the pan is hot, add the coconut oil and sear each side of the tenderloin until brown. Once properly seared, remove from the pan and place onto the baking dish. Place in the oven and bake for 25 mins, or until internal temperature reaches 150 degrees.
While tenderloin is cooking, add the peaches, mint, lemon juice, cinnamon and sea salt to a small food processor and blend until smooth.
When the tenderloin is finished cooking, let it rest for 5-10 minutes on a cutting board. Once rested, cut and serve with the sauce.
While tenderloin is resting, add all the slaw ingredients into a bowl and mix well. Serve alongside the pork tenderloin.
P.S Are you running low on energy? If you haven't had a chance yet, check out our renown Grass Fed Organ Complex to boost your natural energy and fight nutrient deficiency.
Here's what one of our happy customers had to say...
"Just placed an order for 4 more organ meat complexes after really seeing a difference in my energy level after taking half of my first bottle. (I am in nutritional ketosis & have been for about 6 months. That dietary lifestyle plus crossfit plus the organ complex is an awesome combo!) Thanks for making such a great product available." Drue Anderson - Verified Buyer
Grab a bottle of our Grass Fed Organ Complex and receive a full spectrum of traditional superfoods, loaded with nutrients, into your body faster, easier, and without having to tolerate the taste (or cooking for that matter).