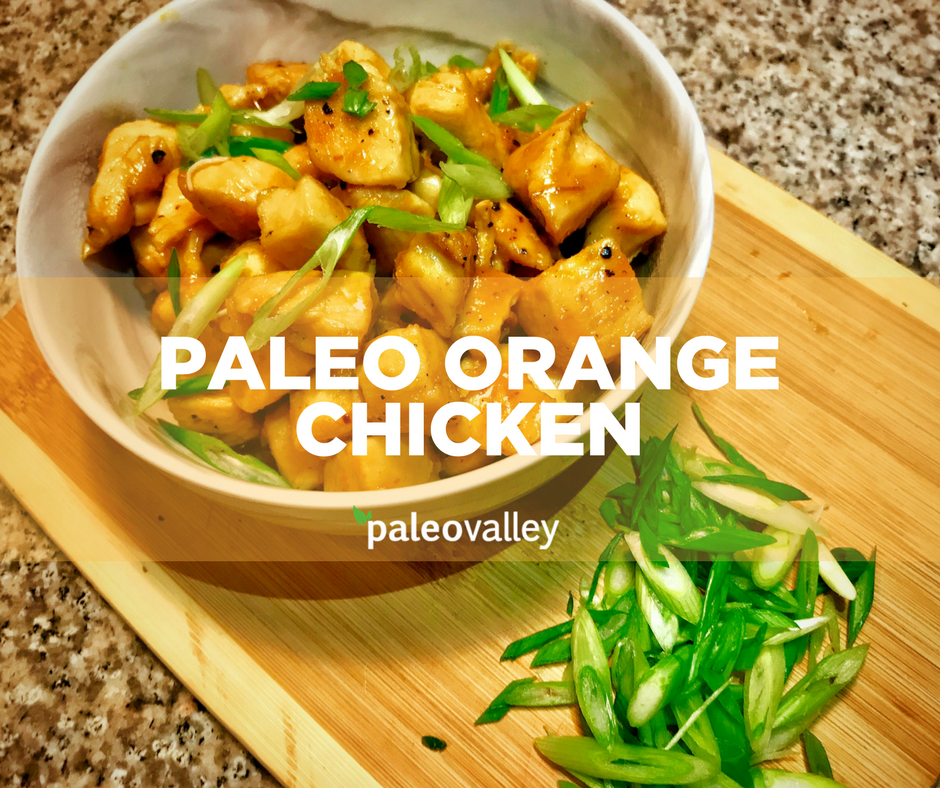 Paleo Orange Chicken
Paleo Orange Chicken
Yields 4 Servings
Cooking Time: 15-20 minutes
Ingredients:
2 lbs. boneless skinless chicken breasts, cut into 1-inch pieces
3 scallions, sliced
Sea salt and pepper
2 Tbsp coconut oil
1 tsp arrowroot powder, optional
Sauce Ingredients:
1/2 cup fresh orange juice
Zest of 1 orange
1/2-inch piece fresh ginger, grated
2 cloves garlic, minced
1/4 cup chicken stock
3 Tbsp honey
1 Tbsp coconut aminos
1 Tbsp apple cider vinegar
Pinch of sea salt
Pinch of red pepper flakes (optional)
Directions:
In a small bowl, add the sauce ingredients together and mix well. Set aside.
Generously season the chicken with salt and pepper. Melt the coconut oil in a skillet over medium heat. Add the chicken and sauté for 8-10 minutes, until browned and nearly cooked through.
Pour in the orange sauce and stir to combine. Bring the sauce to a boil and simmer for 5-7 minutes until slightly thick.
(Optional) What I did to make a thicker sauce, was to mix and dissolve the arrowroot powder with 1-2 Tbsp of water and stir it into the pan. The sauce should be thick enough to coat the back of a spoon. Serve immediately, and garnish with green onion.
There you have it! A delicious and guilt-free Paleo orange chicken recipe that I guarantee your whole family will love!
P.S. - Have you heard about one of our NEWEST products yet? I'm so excited to share this with you!
Our Paleovalley Essential C Complex is here and it's truly phenomenal! (I make sure to take mine every single day)
Go here and check out why our Vitamin C supplement is touted as the most potent and effective on the market today.
In fact, our Essential C Complex is made from whole foods AND is 750% your Recommended Daily Intake (RDI) of Vitamin C.
So do not miss out on this immune-boosting, flu eradicating supplement today. Grab yours now and save!