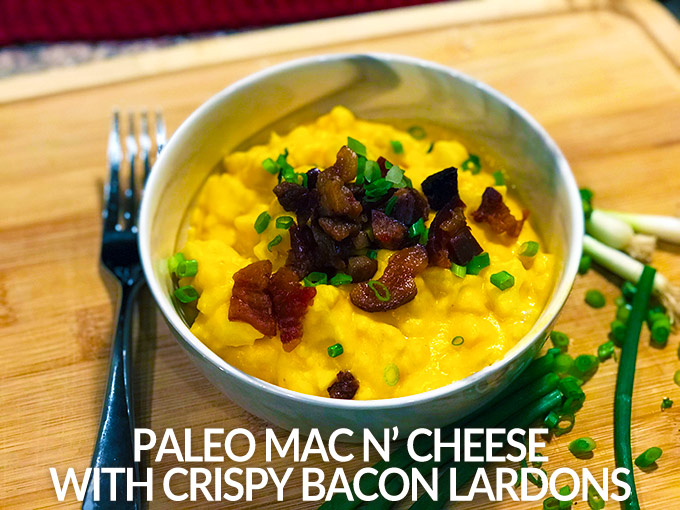 Paleo Mac n' Cheese with Crispy Lardons
A healthy mac n cheese recipe? Yes, please!
Here's a healthy, dairy-free, delicious mac n cheese recipe that is guaranteed to satisfy all your cheesy needs.
Paleo Mac n Cheese with Crispy Lardons
Yields 4 Servings
Cooking Time: 15-20 mins
For the cauliflower ingredients:
2 cauliflower stalks
2 Tbsp coconut oil
½ cup water
½ tsp of sea salt
Cheese sauce ingredients:
2 Tbsp coconut oil
1 small butternut squash, cut into small cubes
1 small carrot peeled and diced
½ small sweet onion, diced
½ tsp garlic powder
¾ tsp ground mustard
1 can coconut milk, full fat
Ground pepper, to taste
1 tsp sea salt
Chives or scallions for garnish
For the crispy lardons:
4 pieces of bacon, sliced thin
Equipment:
Vitamix or blender (***note: please avoid using a Magic Bullet or any device where you screw the top on before blending something hot). When you turn it on it'll build pressure (thermodynamics) and you may have HOT liquid explode everywhere. Better to be safe than sorry!
Directions:
In a saute pan over medium heat, cook the bacon lardons until desired crispiness and set aside for garnish.
To begin making the cheese sauce, heat the coconut oil in a large saucepan over medium/high heat. Add the squash, carrot, onion, garlic powder, mustard, and sea salt.
Sauté for 5 minutes, or until onion is translucent. Add the can of coconut milk to the saucepan and bring to a simmer. Allow to simmer for about 10 minutes, or until the vegetables are tender and the coconut milk has reduced by 2/3 and is thick. While this simmers begin making the cauliflower mac.
To make the cauliflower mac, cut the stalks and leaves off and break it into small pieces (the size of pasta shells). Add the cauliflower to a large sauté pan the coconut oil, water and sea salt. Place on medium/high heat and cover with a lid. Let the cauliflower steam inside the pan for about 5 minutes, until mostly tender. Check the water levels every few minutes to make sure that it doesn't all evaporate. When almost tender, remove the lid and let the cauliflower sauté for a minute or two, or until lightly caramelized in spots. Turn heat off, cover, and keep warm until ready to toss with the cheese sauce.
Once the cheese sauce has simmered and reduced, pour the vegetables and coconut milk into a Vitamix or blender and puree until very, very smooth.
Check seasonings and add more salt or pepper to taste.
Pour over the hot cauliflower, toss to coat and add bacon lardons or any other preferred garnishes. Serve and enjoy.
The holidays are upon us so grab some kid-friendly, mother-approved 100% Grass Fed Beef Sticks that make for the PERFECT stocking stuffers.
And, be sure to grab a Discounted Copy of Autumn's Radiate in 28 Program. It's a 28-day body reset that will not only have you losing weight but feeling your best.
Personally, I have had over 15 years of debilitating digestive issues and after going through the Radiate in 28, I can say with utter joy, those issues are completely gone. I also lost 12 pounds, have more energy and am feeling the best I've felt in decades, so I truly stand by it!
Here are just a few more reasons to grab a copy before they're gone!
Fight nutrient deficiency - Discover which foods you should eat to flood your body with vital nutrients and lose weight naturally.

Which 7 "Health" Foods To Avoid - Learn which foods actually pull essential nutrients out of your body and can be the cause of nutrient-deficiencies.
Improve digestion - 80% of your immune system is found in the gut. And if you can't efficiently absorb your nutrients then deficiencies are sure to follow. Learn the simple strategies to heal your gut and improve digestion.