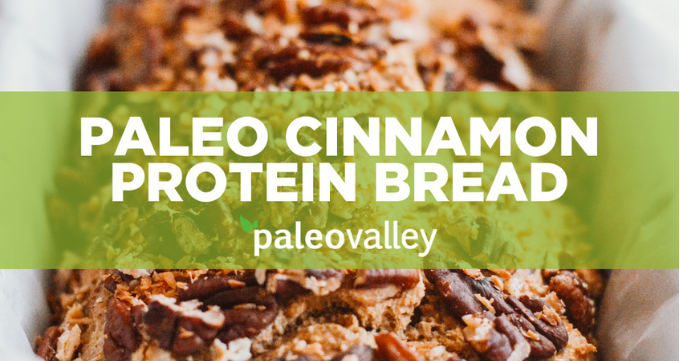 Paleo Cinnamon Protein Bread Recipe
You heard it right. Bread is on the menu again this Fall.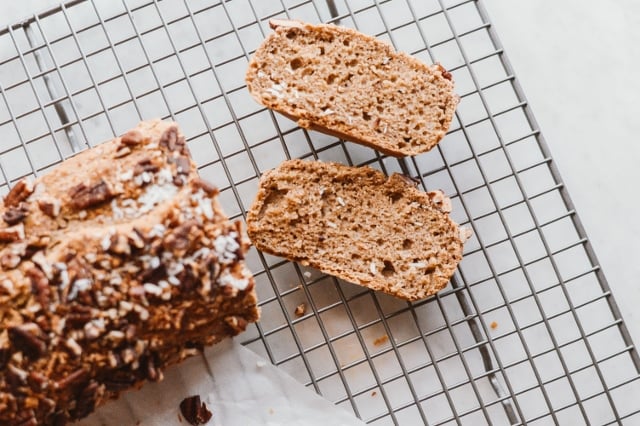 Okay well, we confess, this isn't your typical bread (whew). This Cinnamon Protein loaf nixes the gluten, dairy, yeast, and other typical ingredients found in standard bread, replacing them with paleo flours and nutrient-dense Bone Broth Protein! (Don't worry, it doesn't taste like broth!)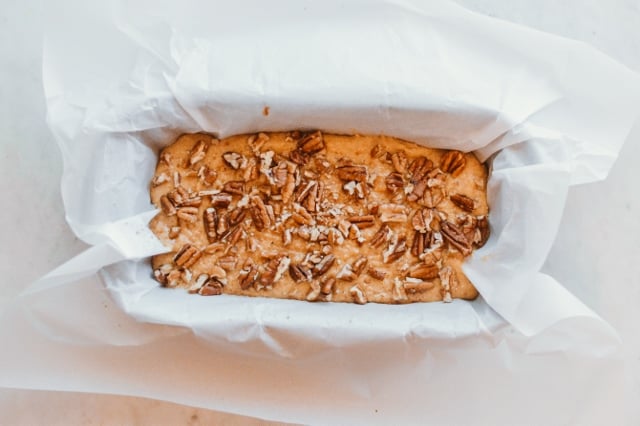 Our Bone Broth powder not only gives this fragrant loaf a dose of protein, but also infuses it with anti-aging and anti-inflammatory collagen, so you can rest assured you're also technically consuming a superfood.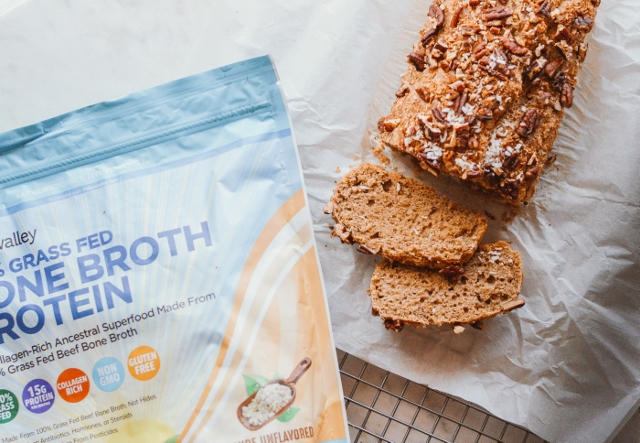 This bread is the perfect way to start your day for a quick breakfast (plus it also smells amazing while it's heating up) or as an afternoon snack with coffee or tea.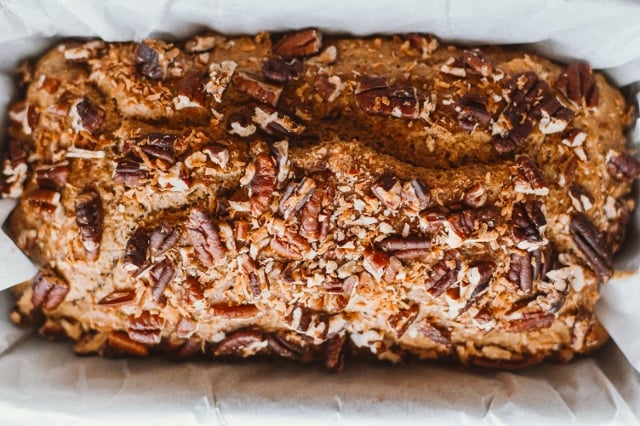 Whip it up in under an hour and slip into all the Fall feels with each bite.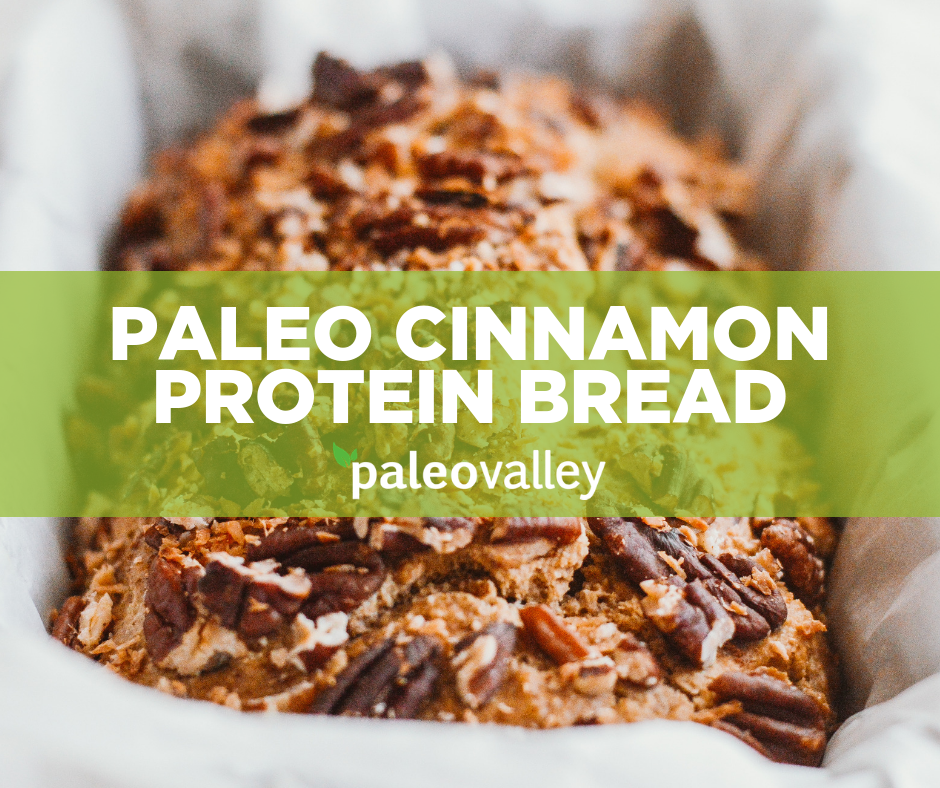 Paleo Cinnamon Protein Bread
Prep time: 10 minutes
Total time: 40 minutes
Serves: 8-10 slices
Ingredients
2 cups blanched almond flour
 (not almond meal)
2 Tbsp coconut flour
1 scoop Paleovalley Bone Broth Protein
½ tsp sea salt
1 tsp baking soda
¼ cup flaxseed meal
5 eggs and 1 egg white whisked 

together
1½ tsp apple cider vinegar or lemon juice
2 Tbsp maple syrup
2 Tbsp coconut oil (extra to grease pan)
1 Tbsp cinnamon
⅓ cup crushed pecans or walnuts
Optional addition: 1 tsp maca powder
Equipment
8 x 4 loaf pan
Parchment paper
Two mixing bowls
Directions
Preheat oven to 350ºF, grease loaf pan with coconut oil, and line with parchment paper.
In a mixing bowl, combine almond flour, coconut flour, Bone Broth Protein, sea salt, baking soda, flaxseed, and cinnamon.
In another mixing bowl, whisk together eggs and egg white. Add in maple syrup, apple cider vinegar, and coconut oil.
Add wet ingredients to dry, stirring to remove any lumps.
Pour batter into your prepared loaf pan and top with crushed pecans.
Bake for 30-35 minutes, or until a toothpick inserted into center of loaf comes out clean.
Once done, remove from oven and let cool for 5 minutes before serving.
To store for later, wrap in parchment paper and store in the refrigerator for up to a week.
Paleovalley Bone Broth Protein can be added to all types of goodies, including smoothies, paleo cookies, and muffins, and even added to soup for a quick, hassle-free broth.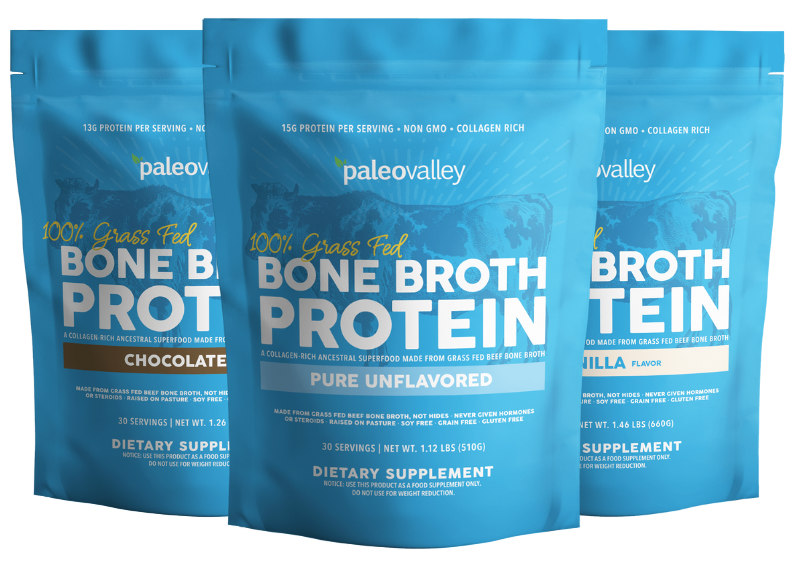 >>> Click HERE to Try Grass Fed Bone Broth Protein Powder RISK-FREE + Get up to 20% Off TODAY!