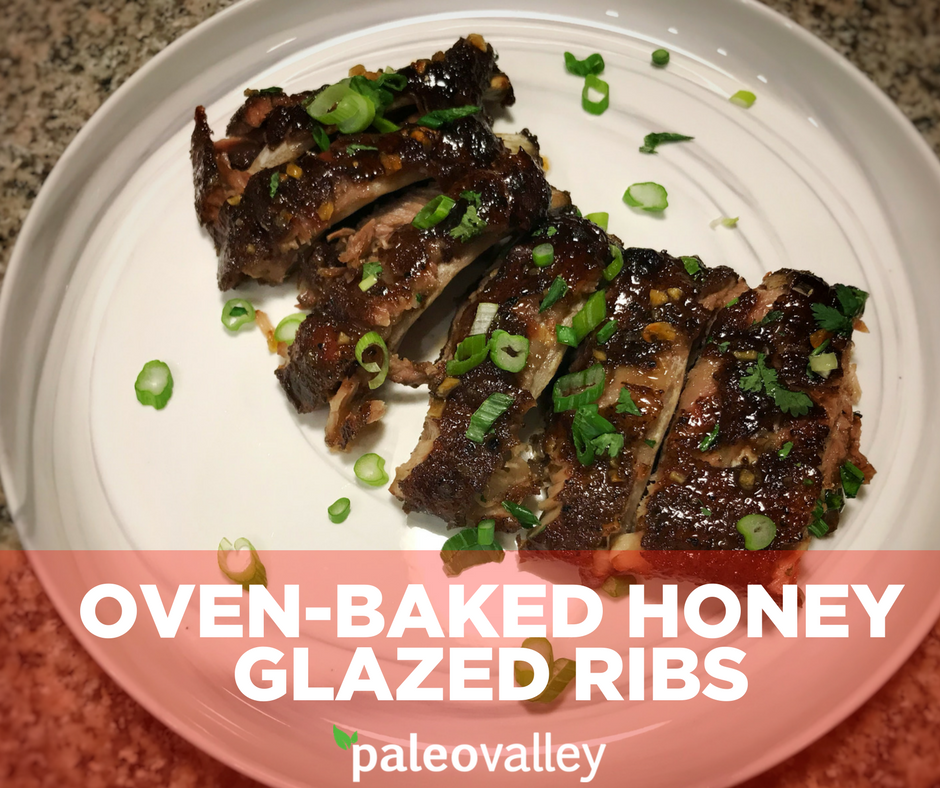 Oven-Baked Honey Glazed Ribs
Fall off the bone good!
Oven-Baked Honey Glazed Ribs
Yields 2 Servings
Cooking Time: 3 Hours 15 mins
Rib Ingredients:
1 rack of Pork Loin Back Ribs
4 Tbsps Chinese 5 spice
Sea salt and ground pepper to taste
Sauce:
1/2 cup raw honey
1/4 cup + 2 Tbsp Chicken Broth
1 tsp white vinegar
1 Tbsp + 2 tsp coconut aminos
1/2 tsp sesame oil
2 tsp ginger diced
1 Tbsp garlic minced
Diced scallions for garnish
Equipment:
A large baking tray or roasting dish.
Directions:
Place ribs on a tinfoil sheet and rub generously with the Chinese 5 spice, sea salt, and ground pepper. Wrap tightly in the foil and refrigerate overnight.
Remove from the fridge and let come to room temperature for 20-30 minutes.
Preheat oven to 250 degrees F.
Place the ribs, bone-side up, into the roasting pan and cover the pan tightly with tinfoil. Roast until the ribs are tender and fall off the bone, about 3 hours.
While the ribs cook, combine all of the sauce ingredients (minus the green onion) in a large saucepan and bring to a boil over high heat. Continue to boil the sauce, stirring constantly, until it just begins to reduce, about 5 minutes. Remove from the heat, cover and let come to room temperature.
Once the ribs are cooked, remove them from the oven and preheat your broiler for 5 minutes. Once the broiler is heated, flip the ribs over so that the meaty side is up, and brush generously with half of the cooled glaze.
Place the ribs under the broiler and cook until a perfect crust forms, about 5 minutes.
Remove the ribs from the oven and brush again with remaining glaze. Cover the pan with tinfoil, and let the ribs rest for 10 minutes. Serve and garnish with the scallions.
Lastly, if you skimmed ahead just remember for better flavor I recommend marinating the ribs overnight but if you only have an hour or two that will be just fine!
P.S. - Are you letting snacks ruin your overall health?
If you're constantly on the go and running out of healthy, Paleo snack foods, then definitely give our Paleovalley snacks a try!
Here are 3 snacks you can add to your daily routine (I eat these every single day) for a healthy, satiating pick me up. 😊
Paleovalley 100% Grass Fed Beef Sticks
Paleovalley Pasture-Raised Turkey Sticks
Paleovalley Superfood Bars with Grass Fed Collagen
Don't let snacks get the best of you! Most times, it as simple as just being prepared and having them around, that can be a real life-saver for when hunger unexpectedly strikes. Enjoy!