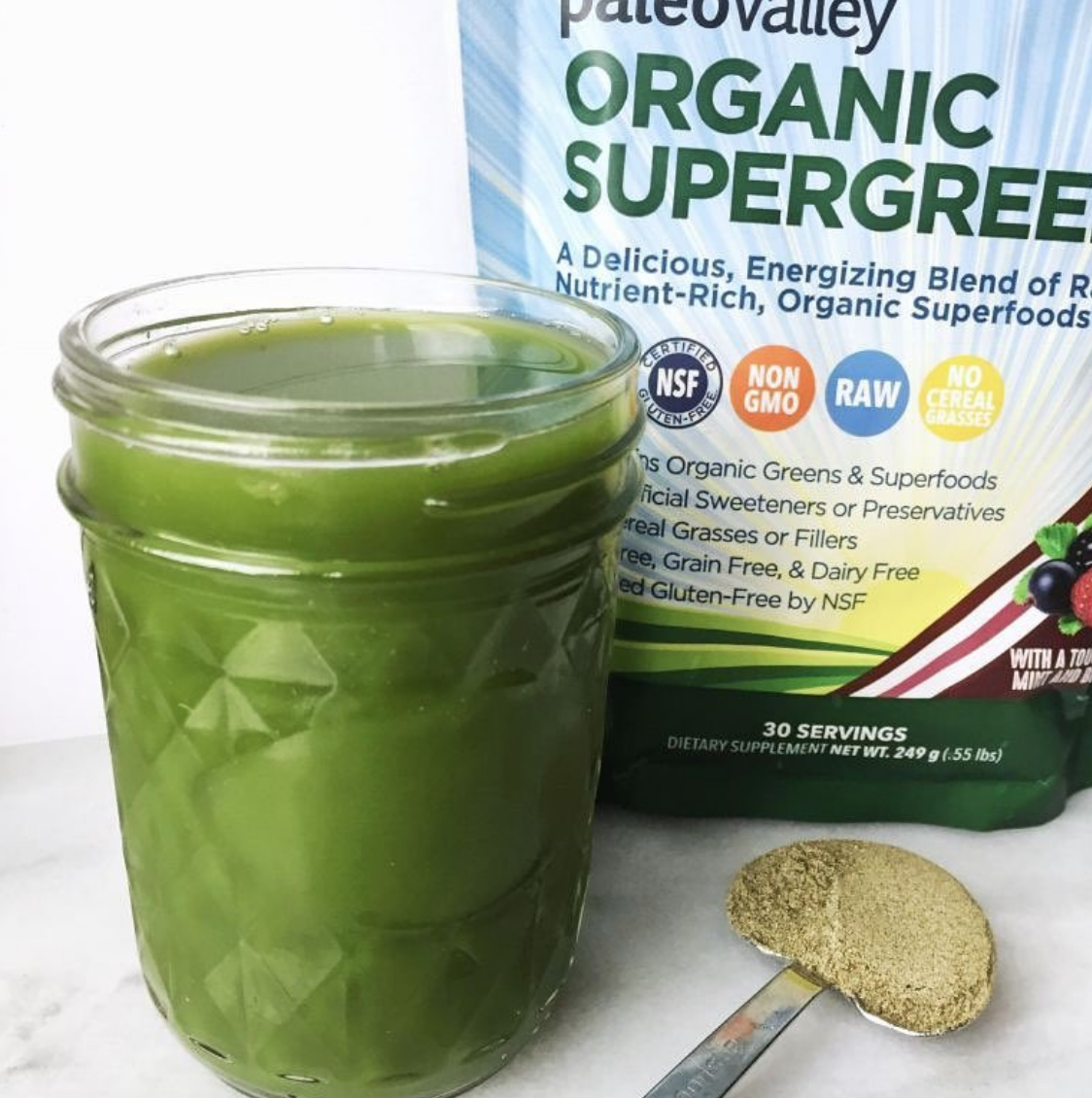 How to Consume 19 Superfoods in 30 Seconds
The BEST Green Drink Around!
Let's talk about greens. You know - the kale, spinach, broccoli kind?
Living the Paleo lifestyle, you know all about the vitamins, minerals & other nutrients they provide. But if you've been "eating green" for long, you also know all about this lifestyle's 2 major downfalls:
Fresh organic foods can be expensive, and the time it takes to prep everything can be overwhelming. I want to feed my family well, but I have a budget to stick to & I need to get my kids to school on time…know what I mean?
Today I want to share how I manage to consume 19 greens & superfoods in just 30 seconds every. single. day.
It's the Paleovalley Organic Supergreens Powder.
Now before you brush this off as just another greens powder, hear me out. This product is different, and I'm about to tell you why.
Most greens supplements contain an abundance of cereal grasses like barley, oat & wheatgrass. The problem with that? We're humans – we can't digest grass properly! Those nutrients don't get absorbed by our bodies, so they wind up getting flushed down the toilet – along with all the money you spend on the powder.
But PaleoValley Organic Supergreens takes that digestive issue a step further. They added premium digestive enzymes to help break down food, allowing your body to properly absorb every immune-boosting, energizing nutrient! And did I mention it tastes amazing? That part's just a bonus really, but it sure is a delicious one! It's something you can sip and savor as opposed to holding your nose and gulping it down as fast as possible.
So, what does it have in it? Here's a quick peek at some of the ingredients:
Sea kelp
Kale
Chlorella
Aloe vera leaf
Broccoli sprout
Spinach
In addition to nutrient-rich greens, it also contains a powerful antioxidant blend including acerola, turmeric, reishi mushroom, blueberry & more.
So you see, it's not just an average greens blend. It's a specially formulated, cereal grass-free greens complex AND antioxidant-rich superfood – plus 43mg worth of digestive enzymes. All in a delicious powder you mix into a glass a water.
Ready to try it? Head over to Paleovalley now & see for yourself how it's different from all the rest! You'll be glad you did!
Ohhhh and I almost forgot to mention - WE offer a 60-day, money-back guarantee on ALL of our products for ANY reason. That's a full 2 months to try it & get your money back if you don't absolutely love it. (But who are we kidding? You will!)