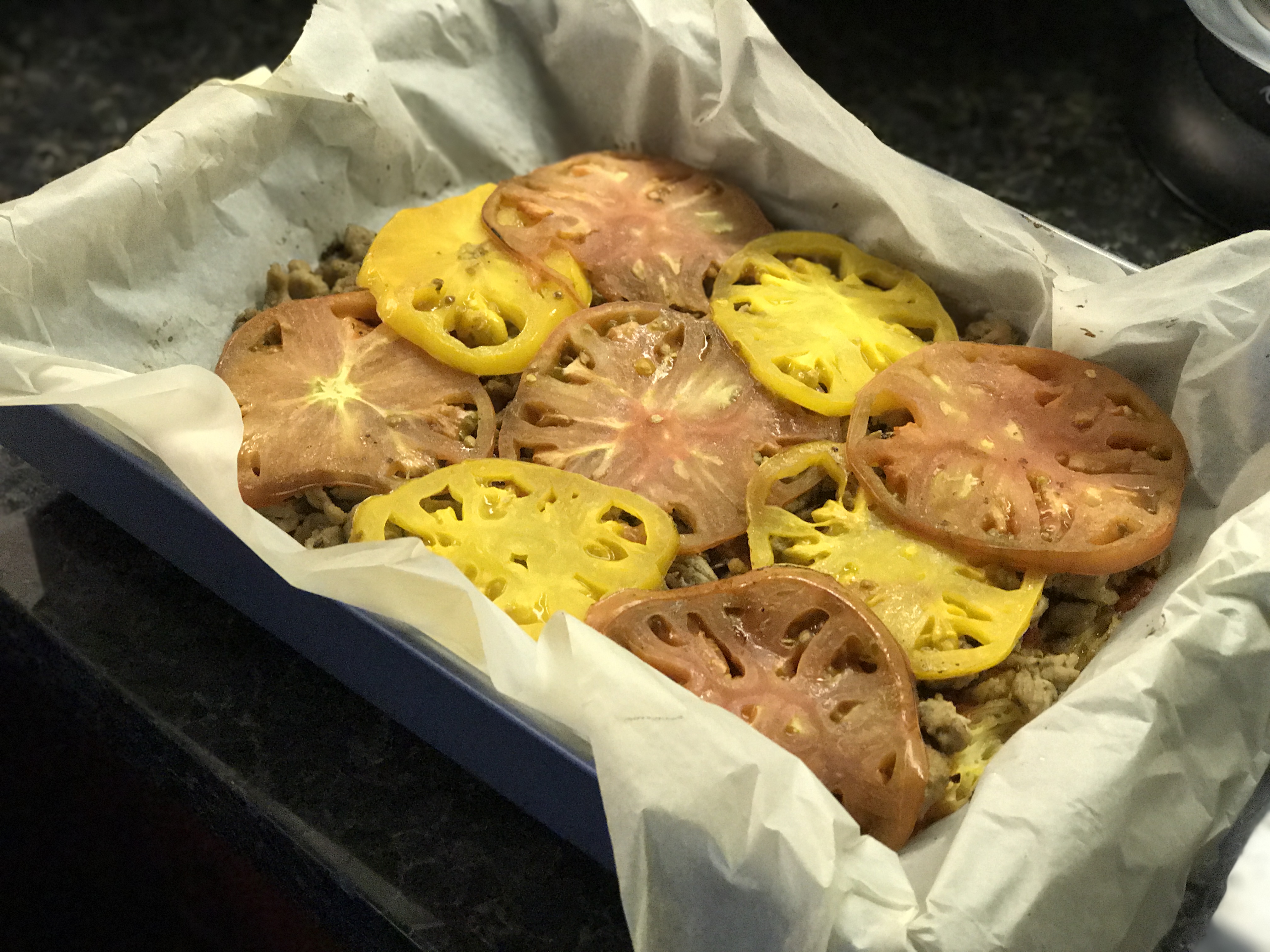 Heirloom Tomato & Italian Turkey Sausage Pizzettes
The best Twist on an Italian Favorite!
While the colorful tomatoes and rich sauces look bright and beautiful to the eye, they are nothing compared to the smell of this dish as it bakes in the oven. The aromas smell like that of a classic Italian restaurant. It's incredible! However, none of that is to be outdone by the flavors that work together to create this perfect Italian recipe.
So without further ado, here's your fantastic recipe!
Heirloom Tomato & Italian Turkey Sausage Pizzettes
Makes 3-4 servings
Cooking Time: 1 hour
Ingredients:
1 large spaghetti squash
1 egg, whisked
1 tsp onion powder
1 tsp garlic powder
1 tsp fennel seeds
2 cloves garlic, minced
1 lb ground dark turkey
1 tsp onion powder
¼ tsp red pepper flakes
½ tsp cracked pepper
½ - 1 cup prepared tomato pizza sauce
2-3 large heirloom tomatoes, sliced thick
Aged Balsamic vinegar
¼ cup fresh basil, chopped
Equipment:
9-inch cast iron skillet or a 9-inch baking dish
Directions:
Preheat oven to 375° F.
Cut off the stem of the spaghetti squash, then cut in half lengthwise. Scoop out seeds with a large spoon. Place face-down right on the oven rack. Bake for 30 minutes, or you can pierce the skin with a fork.
Grease a seasoned 9-inch cast iron skillet or a 9-inch baking dish lined with parchment paper.
Once spaghetti squash is cooled, use a fork to remove into a medium bowl, making "noodles." Add egg, onion powder, garlic powder, salt & pepper. Stir to combine. Add to prepared cast-iron skillet or baking dish. Bake for 13-18 minutes, or until golden-brown.
Heat a medium skillet over medium heat. Add fennel seeds & cook a minute until toasty & fragrant. Add olive oil and let heat about 30 seconds before adding garlic, ground turkey, onion powder, salt & pepper. Cook, stirring, until turkey is browned & crumbled.
Top baked spaghetti squash crust with pizza sauce, turkey sausage, & heirloom tomatoes. Bake for 12-15 minutes until tomatoes are roasted.
Top with a drizzle of balsamic & fresh basil.
While I didn't think of it at the time, you could kick this recipe up a notch by adding some slices of our Paleovalley 100% Grass Fed Beef Sticks too! Yum! Here's a link for up to 30% OFF.
And if you wanna step it up even more then do we have a treat for you! More often than not we gain a bunch of weight, feel bad and the cycle continues. It's my goal that if this is a pattern for you, we break that this year! 😊
The two sure-fire ways to keep yourself healthy long after the holiday season are to follow simple, Paleo recipes (like this one) that are full of nutrient-rich, whole foods and contain zero refined sugars and carbs.
The second is to understand HOW and WHICH problematic foods can really be affecting your body and how to correct that quickly.
One of the greatest resources I've found (although she's far too humble to admit it) is Autumn's Radiate in 28 Quickstart Guide. It's having a profound impact on hundreds of people lives, including myself. It's helped eradicate my digestive issues I've had for the last 15 years AND I lost 12 pounds too, which was such an added bonus!
So don't let the holidays wreck your health this year! Instead, let's be prepared and intentional. Here's a link if you want to pick up a copy of Autumn's Radiate in 28 Quickstart Guide now - it's even free, we just kindly ask you cover the small S/H cost. Here's to looking and feeling your best ever!