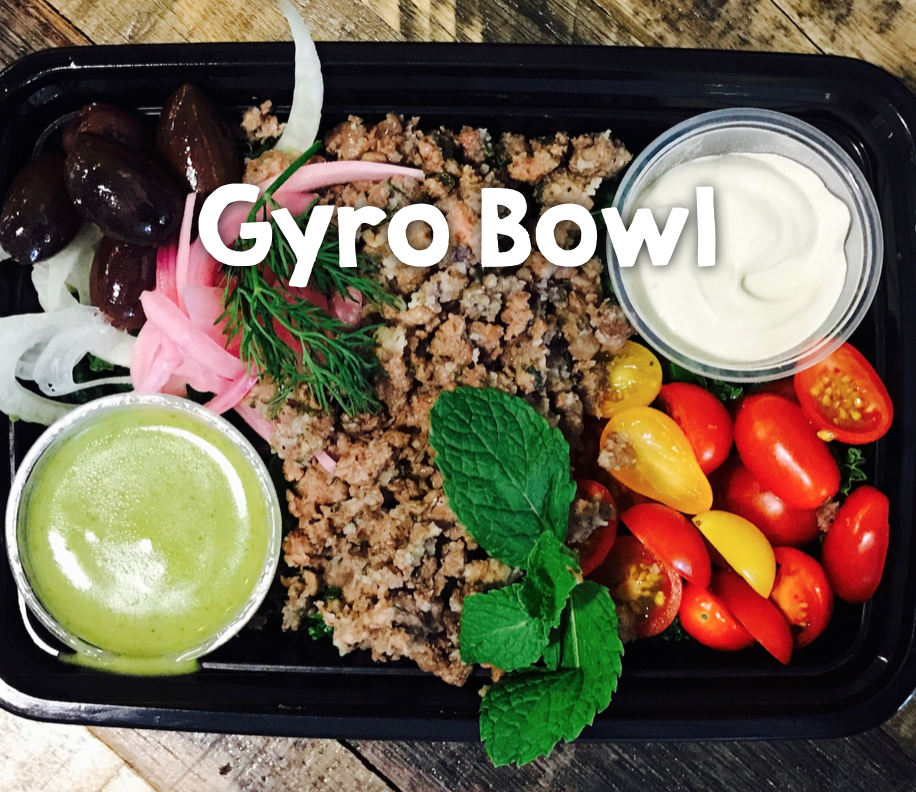 Gyro Bowl
Are you a Lamb Lover or Do you Still Need a Little Convincing?
Gyro Bowl
Makes 4 servings
Cooking Time: 25 minutes
Ingredients:
And if you just can't make it happen don't worry! Just substitute it for some 100% grass-fed ground beef or even slice up some of our 100% Grass Fed Beef Sticks.
1½ lbs. ground lamb
4 cups cauliflower florets/rice
1 bulb fennel
¼ cup kalamata olives
2 cups cherry/sugar grape tomatoes
¼ tsp. garlic
¼ tsp. basil
¼ tsp. oregano
¼ tsp. parsley
¼ tsp. dill
¼ tsp. thyme
¼ tsp. cinnamon
Pinch of nutmeg
Lemon wedges, fresh dill or other herbs for garnish optional
Cashew Hummus:
½ cup soaked cashews**
2 Tbsp. water
2 tsp. olive oil
1 Tbsp. tahini
2 tsp. lemon juice
½ tsp. sea salt
Directions:
**Soak cashews for at least a few hours beforehand.
Preheat oven to 450° F and roast cauliflower rice until golden, about 16 minutes. Remove from oven, stir well, and spread out again. Return to oven and roast for 6 minutes. Remove from oven, stir well, and spread out again. Continue roasting until browned, about 3-5 minutes more.
Shave or thinly slice fennel.
For the hummus add all ingredients (liquids first) to a high-speed blender and blend until smooth adding a little more water, lemon or EVOO as needed. Adjust seasonings to taste, set aside.
Heat a skillet and add the lamb, garlic, basil, oregano, parsley, dill, salt, thyme, cinnamon and a pinch of nutmeg. Break apart and sauté until browned.
Assemble bowls by adding cauli. rice, then veggies (tomatoes, olives, fennel) and lamb. Serve with cashew hummus on the side, lemon wedges.
I hope you enjoy the recipe!