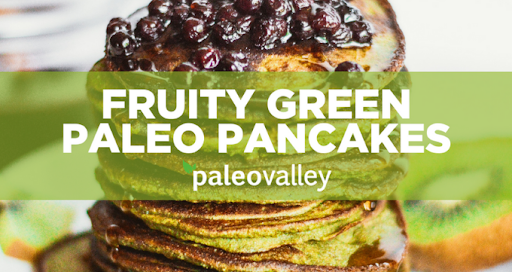 Fruity Green Paleo Pancake Recipe
We have yet to meet anyone that doesn't love pancakes. But… healthy, gluten-free pancakes that give you several servings of greens and fruits that ACTUALLY taste great?
That's a whole other level of love.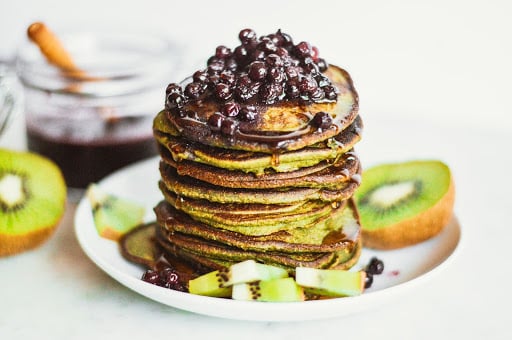 These gluten-free, dairy-free, paleo-friendly pancakes are infused with Organic Supergreens powder, which is packed with raw, freeze-dried whole fruits and veggies.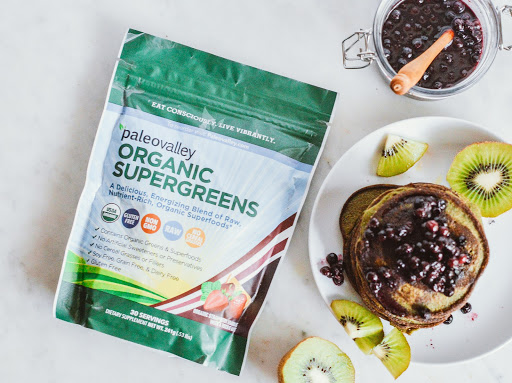 And before you think the bitter taste of a greens powder will ruin your pancake batch, know this powder is different from the rest: the taste is purely fruity, with none of that bitter earth flavor many powders have.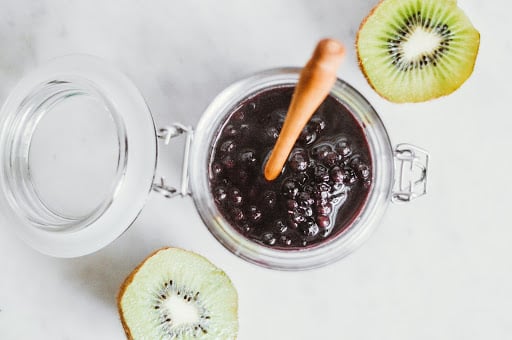 This recipe is perfect for a summer breakfast, considering the bright colors and ripe fruits as toppings.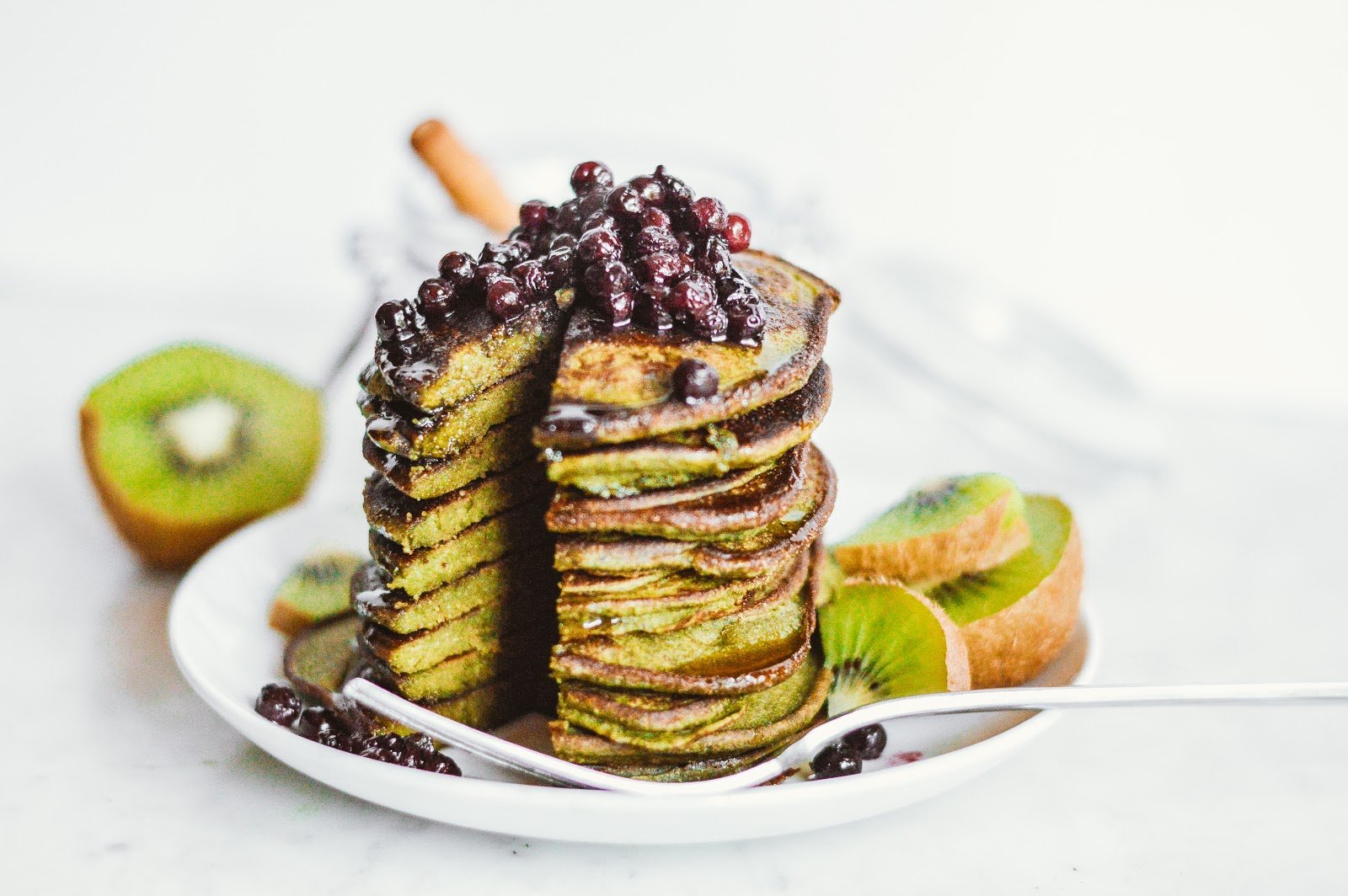 Serve them up with maple syrup, or even get fancy and top them with some coconut whipped cream, all while getting in a dose of high-antioxidant greens and veggies.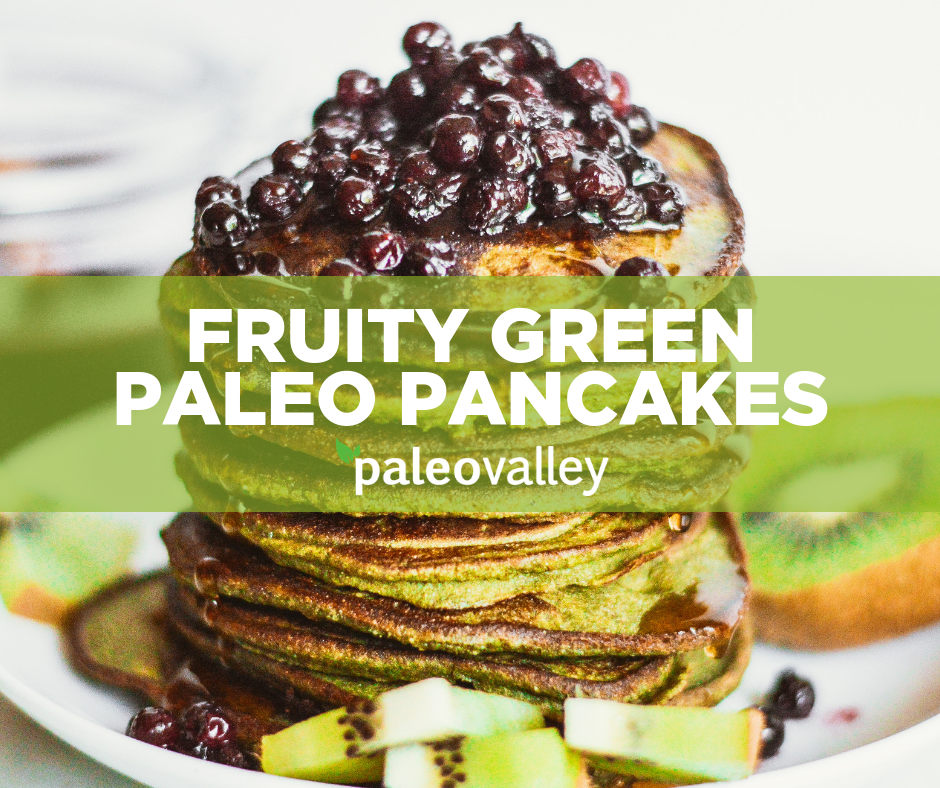 Fruity Green Paleo Pancakes
Total time: 25-30 minutes
Serves: 8 pancakes
Ingredients
½ cup almond flour
⅓ cup tapioca flour
¼ cup coconut flour
4 large eggs
¼ cup almond or coconut milk
1 tsp pure organic vanilla extract
½ tsp baking soda
¼ tsp sea salt
Coconut oil to coat frying pan
Toppings
1-2 kiwis, sliced
2 cups blueberries
1 Tbsp maple syrup
Additional maple syrup for serving (optional)
Equipment
Frying and saucepan
Blender or bowl and whisk
Directions
Place almond (or coconut) milk, eggs, and vanilla in a blender or large bowl. Add Paleovalley Organic Supergreens and pulse or whisk until blended. Add remaining dry ingredients and blend/whisk until smooth (you may have to scrape down flours from sticking to the side of the blender).
Heat saucepan on medium heat and add 1 Tbsp maple syrup with blueberries. Stir frequently until the blueberries begin to break down. Gently press on some of the berries to release the juice, then continue to cook for 4-5 minutes until the juices have thickened. Remove from heat.
Heat frying pan on medium-high and add coconut oil.
Add dollops of batter roughly 3 inches in diameter. Cook for 2-3 minutes on one side, then 1-2 minutes after flipping.
Top with sliced kiwi, smashed blueberries sauce, and additional maple syrup if desired.
Serve immediately.
Packed with raw, whole fruits and veggies, Supergreens can be added to anything from smoothies to, well, pancakes! There's absolutely NO bitter taste like other green powders. Just a fruity flavor that pairs well with anything sweet.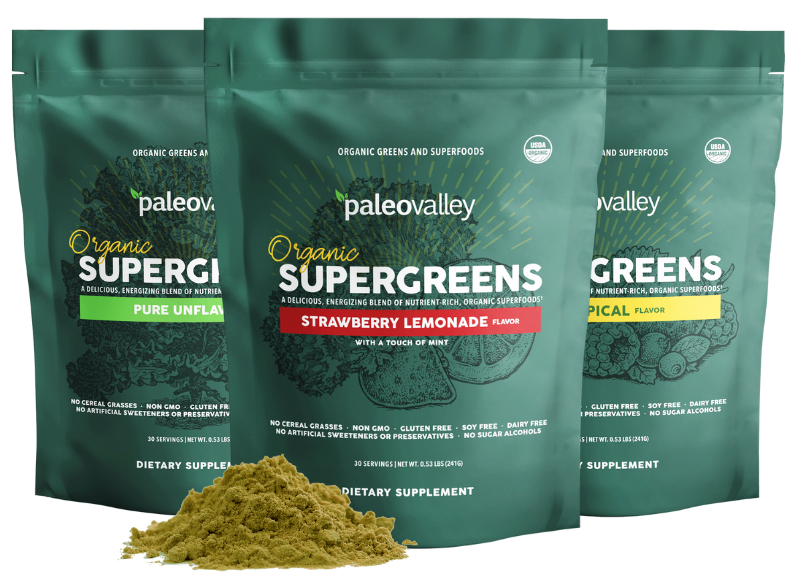 Try Organic Supergreens RISK-FREE + Get up to 20% Off TODAY!