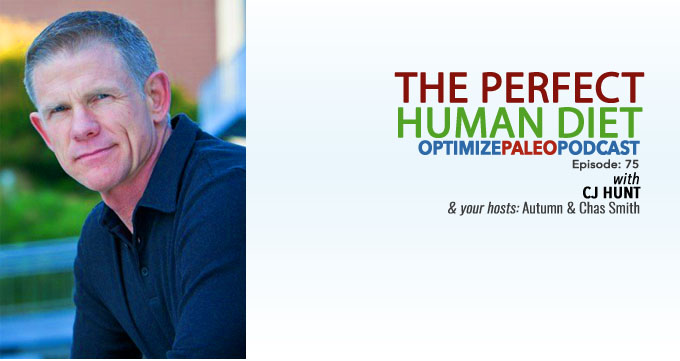 EP75: The Perfect Human Diet with CJ Hunt
Is there truly a Perfect Human Diet?
IN THIS EPISODE:
CJ HUNT traveled all around the world and spoke with various scientists and experts whose job it is to identify exactly what our ancestors consumed on his quest for the perfect human diet.
Thankfully these experts weren't nearly as confused about what we should be eating as we are in America today.
So in today's podcast we're going to talk alllll about what the evolutionary experts and archaeological record indicate is the perfect human diet.Here's some of the fun facts you'll learn:
Here's what you'll learn:
Why CJ dropped dead at 24
Who saved his life
Why he adopted a vegan diet
How he knew a vegan diet was not for him
How we know our ancestors ate meat
Why eating meat made us smarter
Why our digestive tracts shrunk and what this means
How we know our digestive tracts are designed for animal products
Which animals our ancestors preferred
His biggest "aha" moment while filming the documentary
The new technology that allows scientists to identify exactly what our ancestors were eating
What the introduction of agriculture did (or didn't do!) for our ancestors
How we know our ancestors preferred animal products rather than vegetables
Two foods Paleo adherents might be eating that can hinder their results
Why he thinks potatoes should NOT be Paleo approved
Why too much of a certain Paleo STAPLE is actually dangerous
How you can eat Paleo easily and avoid these foods
The one food most Americans eat that is very harmful
What he thinks we need to do to reclaim the Paleo movement
The 2 categories that sum up pretty much all food
Exactly we should and should not be eating according to archaeological records
Why the advisor to the president of the Robert Wood Johnson Foundation would not read Good Calories Bad Calories (this is disheartening)
What it's going to take to get our policy makers to take Paleo seriously
Why there is still a lot of hope for Paleo
And much more!
SHOW NOTES:
Visit CJ's website here:
http://cjhuntreports.com/

Thanks for listening!
Thanks so much for joining us this week. Have some feedback you'd like to share or a question you'd like to ask? Leave a note in the comment section below!
If you enjoyed this episode, please share it using the social media buttons you see in this post.
Also, we'd love it if you would leave an honest review for The Optimize Paleo Podcast on iTunes! Ratings and reviews are super helpful and greatly appreciated as it helps us expose this show to a wider audience and spread this information to more people who need to hear it. We read every review so we look forward to hearing from you!
And finally, don't forget to subscribe to the show on iTunes to get automatic updates…see you next time!
Click the button below to subscribe on iTunes: