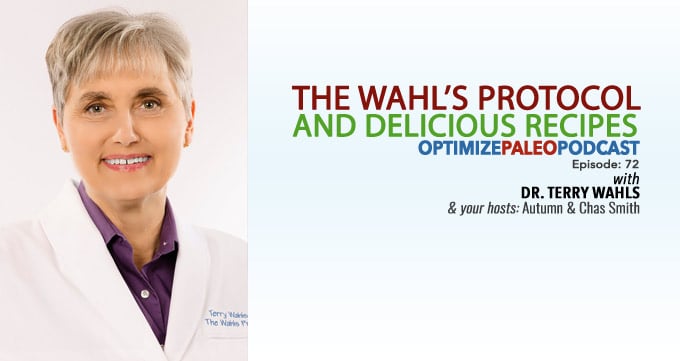 EP72: The Wahl's Protocol and Delicious Recipes
Have you listened to this yet?
IN THIS EPISODE:
If you haven't seen her epic TED talk, Dr. Wahls is an Institute for Functional Medicine Certified Practitioner. She's also a clinical researcher and has published over 60 peer-reviewed scientific abstracts, posters, and papers.
The best part about Dr. Wahl's, however, is that In addition to being a doctor, she's also a patient with a chronic, progressive disease.
Diagnosed with relapsing remitting multiple sclerosis in 2000, she underwent traditional forms of therapy to no avail. She was once confined to a zero gravity chair.
Instead of accepting her fate, she bravely designed a revolutionary dietary protocol based on the 30+ nutrients our brains require and today she is healthy, happy and on a mission to empower others to take back their health.
Here's what you'll learn:
How she put her Multiple Sclerosis (M.S.) into remission using food
Why she feels BLESSED to have had M.S.
What she did to teach her kids that anything is possible
How she created her protocol
Why it's different (and more effective) then the paleo diet
Why you won't feel restricted on her protocol
The AWESOME side effects of her protocol
Why her protocol is different than the Autoimmune Protocol
Who her Protocol can help (spoiler alert: it's probably YOU!)
What her clinical research is revealing
Why she recommends MCT oil to help keep you in ketosis
Whether or not vegetarians can use her protocol
Why some ketogenic diets can be harmful
One supplement that most everyone will benefit from
Why organ meats are so critical for vibrant health
What mitochondria are and why they matter
Why her cookbook makes healthy eating effortless
Her very favorite recipes
How to get your kids to eat organ meats (and other nutrient dense foods) effortlessly
Whether or not the medical community is embracing her research
How to learn more about her research
How to work with her personally
Whether or not she recommends giving my son (and other kids) gluten
And much more!
SHOW NOTES:
Grab a copy of The Wahl's Protocol book here:
http://amzn.to/2rgdXPY

Check out, The Wahls Protocol Cooking for Life: The Revolutionary Modern Paleo Plan to Treat All Chronic Autoimmune Conditions
http://amzn.to/2rrZEF8

Thanks for listening!
Thanks so much for joining us this week. Have some feedback you'd like to share or a question you'd like to ask? Leave a note in the comment section below!
If you enjoyed this episode, please share it using the social media buttons you see in this post.
Also, we'd love it if you would leave an honest review for The Optimize Paleo Podcast on iTunes! Ratings and reviews are super helpful and greatly appreciated as it helps us expose this show to a wider audience and spread this information to more people who need to hear it. We read every review so we look forward to hearing from you!
And finally, don't forget to subscribe to the show on iTunes to get automatic updates…see you next time!
Click the button below to subscribe on iTunes: