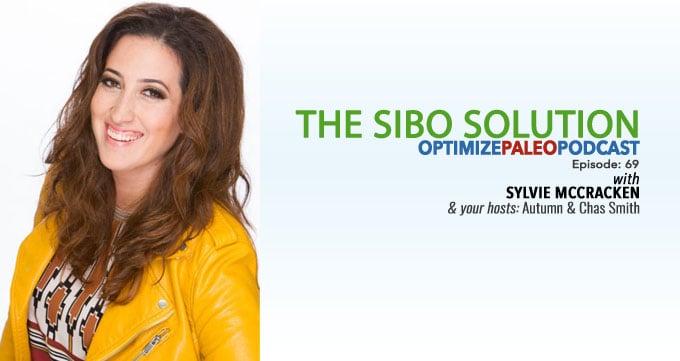 EP69: The Sibo Solution with Sylvie McCracken
Tips for SIBO treatment and prevention
IN THIS EPISODE:
Have you diligently adopted the paleo diet yet still suffer from gas, bloating, diarrhea, constipation or heartburn? If so, you're going to LOVE today's podcast. Sylvie is a former SIBO sufferer and the witty creator of the uber-popular blog, Hollywood Homestead. After antibiotic treatment failed her (twice!) she took it upon herself to become educated and experiment. She literally attacked her SIBO guns blazing and even though SIBO is traditionally a VERY difficult condition to treat, today she is symptom-free and thriving!
Here's what you'll learn:
Why she had to become her own health advocate
What SIBO is
The 4 main symptoms of SIBO
The 2 different types of SIBO
Whether or not you might have SIBO even if you don't have digestive issues
The 3 main causes of SIBO (including one you've probably NEVER heard about!)
Other conditions often associated with SIBO
SIBOs link with nutrient deficiency
The consequences of unaddressed SIBO
Why SIBO is so difficult to diagnose
Which test you MUST have to properly diagnose SIBO
Why other tests are inadequate
The link between SIBO and leaky gut
Why most SIBO treatments fail long term
Why antibiotics alone aren't enough for long-term remission
Why herbal antibiotics are often more effective than antibiotics
The 3 herbal antibiotics she used to kick her SIBO
The 2 best diets SIBO
The diet that finally beat her SIBO and how to do it healthfully
The often unaddressed reason for many SIBO remissions
A supplement many people forget but NEED to treat SIBO successfully
The 4 things you need to do to successfully treat SIBO for GOOD
Her favorite protein powder for treating SIBO
And much more!
SHOW NOTES:
Check out Sylvie's Website here:
www.hollywoodhomestead.com
Check out Sylvia's book:
http://www.hollywoodhomestead.com/sibo-solution/
Connect with Sylvia on Facebook:
https://www.facebook.com/hollywoodhomestead/
​
Thanks for listening!
Thanks so much for joining us this week. Have some feedback you'd like to share or a question you'd like to ask? Leave a note in the comment section below!
If you enjoyed this episode, please share it using the social media buttons you see in this post.
Also, we'd love it if you would leave an honest review for The Optimize Paleo Podcast on iTunes! Ratings and reviews are super helpful and greatly appreciated as it helps us expose this show to a wider audience and spread this information to more people who need to hear it. We read every review so we look forward to hearing from you!
And finally, don't forget to subscribe to the show on iTunes to get automatic updates…see you next time!
Click the button below to subscribe on iTunes: