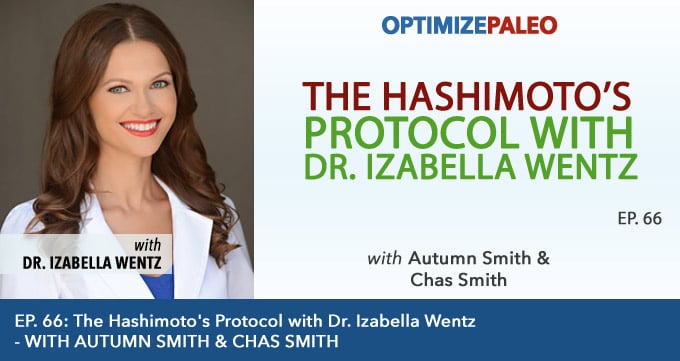 EP66: The Hashimoto's Protocol with Dr. Izabella Wentz
Listen to the 5 Stages of Hashimoto's
IN THIS EPISODE:
Dr. Izabella Wentz, Pharm.D., FASCP is a passionate, innovative and solution focused clinical pharmacist. She has had a passion for health care from a very early age, inspired by her mother, Dr. Marta Nowosadzka, MD.
As a result of extensive research and experimentation, Izabella has a new lease on life and created THE Hashimoto's Protocol. So far, her protocol has helped THOUSANDS of people reduce their symptoms and achieve remission.
So if you're suffering from Hashimoto's or hypothyroidism symptoms (cold hands and feet, thinning hair and eyebrows, constipation, lethargy) and an inability to lose weight, please be sure to listen to today's podcast! Dr. Wentz is literally one of the most knowledgeable experts on Hashimoto's in the WORLD and we cover tons of interesting topics that we didn't in our first podcast with her, episode 66.
Here are some of the juicy tidbits you'll hear:
Why she's on a mission to heal the world of Hashimoto's
The 5 stages of Hashimoto's
When conventional doctors begin treating Hashimoto's and why that's an issue
How to catch Hashimoto's in the early stages
How many people are able to stop taking medication
An exciting new way to regenerate damaged thyroid tissue
The symptom many people have that means you should be tested for autoimmunity
The exact test you need to have to ascertain your risk
Issues with thyroid medications
Her favorite thyroid medications
Why you need to have your thyroid antibodies tested if you are pregnant
The one thing that raises your child's risk of autism by 80%
Whether or not thyroid medications are okay during pregnancy
Why the standard TSH ranges are outdated
The optimal TSH range
The root causes of Hashimoto's that almost no one hears about (this will shock you!)
The most common nutrient deficiencies associated with Hashimoto's Her favorite supplemental ways to correct these deficiencies
The common parasite that's been linked to IBS, Hashimoto's and hives and how to treat it
Why carbohydrate sensitivity can be a sign of a deeper issue
What low ferritin levels can tell you (pretty amazing!)
What ideal ferritin levels look like
*The BEST diet for Hashimoto's
The most problematic foods for those with Hashimoto's
The uncommon food sensitivities commonly seen in Hashimoto's
A great way to get your organs if you HATE the taste
Whether or not raw milk is problematic
*The one (super affordable) supplement that increased her energy levels the most
Whether or not a low carb diet harms thyroid function
The one piece of advice she'd give you for vibrant health
And much more!
SHOW NOTES:
Grab Izabella's FREE gift for you here!
(Get Your Free Book Chapter, Thyroid Diet Quick Start Guide And Ten Nutrient Dense Thyroid Friendly Recipes)

Thyroid Medication she recommends to check out: https://www.tirosint.com/

Find out her other favorite thyroid medications on her website here.
***Please consult your Doctor or Physician before making a decision on supplements.
Thanks for listening!
Thanks so much for joining us this week. Have some feedback you'd like to share or a question you'd like to ask? Leave a note in the comment section below!
If you enjoyed this episode, please share it using the social media buttons you see in this post.
Also, we'd love it if you would leave an honest review for The Optimize Paleo Podcast on iTunes! Ratings and reviews are super helpful and greatly appreciated as it helps us expose this show to a wider audience and spread this information to more people who need to hear it. We read every review so we look forward to hearing from you!
And finally, don't forget to subscribe to the show on iTunes to get automatic updates…see you next time!
Click the button below to subscribe on iTunes: