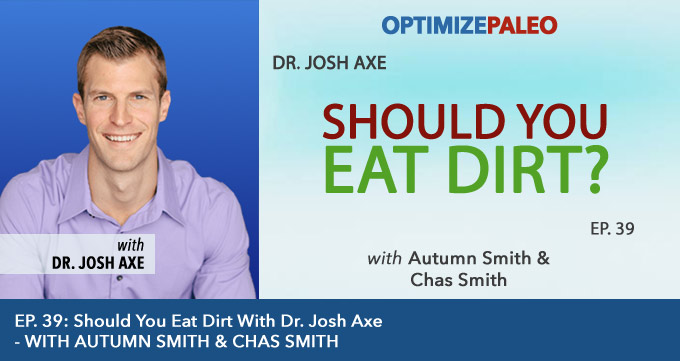 EP. 39: Should You Eat Dirt?
The Bizarre Truth About Eating Dirt...
IN THIS EPISODE:
Today, Dr. Josh Axe, the guest of our 40th podcast, talks all about our war on bacteria, the importance of healthy bacterial exposure and his new book, appropriately entitled, Eat Dirt.
And in case you're a little skeptical and freaked out by the thought of eating a daily fistful of dirt in the name of health, just know, that is NOT what he's suggesting.
(I'm not even sure I would do that, and I'm game for pretty much anything that could improve health)!
Turns out there are far more sophisticated (and sneaky!) ways to get your daily dose of healthy bacteria without the awful taste and ridicule from your loved ones.
Trust me, it's worth listening to and your immune system will THANK YOU.
Here's what you'll learn:
Why Dr. Axe was inspired to teach people about the healing power of food
Why leaky gut is the most important health issue today
The 6 main factors driving the leaky gut epidemic
The #1 cause of leaky gut today
Why leaky gut may be the cause of your autoimmune condition
Why he believes grains are not ALL evil
Why your gallbladder can help prevent leaky gut
What a "Type A"'personality has to do with a leaky gut
What you must know if you're taking medication
Why local honey helps fight allergies
3 Not-so scary ways you can "eat dirt"
The devastating effects of 10 days of fast food on your microbiome
Foods to eat and eliminate for optimal gut health
Which 2 gut healing supplements Dr. Axe recommends for most people
A gut friendly at-home cleanser you can make in 2 minutes!
And much more!
SHOW NOTES:
Check out Dr. Axe's Website here:
www.draxe.com​
Take the Free Leaky Gut Quiz:
www.isyourgutleaking.com
Get Dr. Axe's Best-Selling Book, 'Eat Dirt' on Amazon:
http://amzn.to/2ayy1mJ
Thanks for listening!
Thanks so much for joining us this week. Have some feedback you'd like to share or a question you'd like to ask? Leave a note in the comment section below!
If you enjoyed this episode, please share it using the social media buttons you see in this post.
Also, we'd love it if you would leave an honest review for The Optimize Paleo Podcast on iTunes! Ratings and reviews are super helpful and greatly appreciated as it helps us expose this show to a wider audience and spread this information to more people who need to hear it. We read every review so we look forward to hearing from you!
And finally, don't forget to subscribe to the show on iTunes to get automatic updates…see you next time!
Click the button below to subscribe on iTunes: