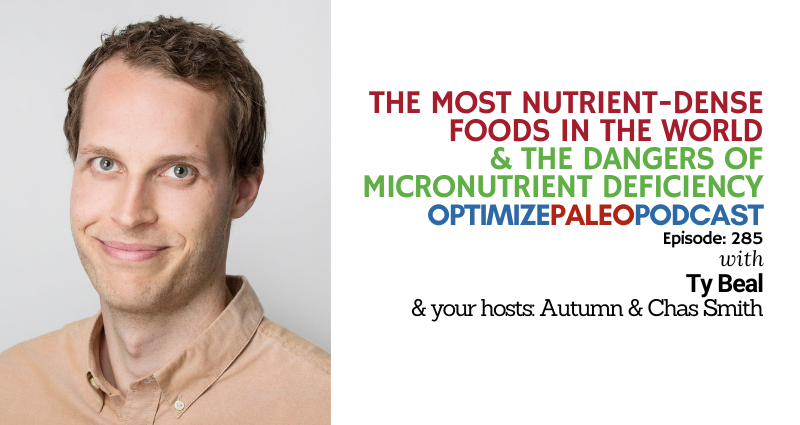 EP285: The Most Nutrient-Dense Foods in the World & The Dangers of Micronutrient Deficiency with Ty Beal
Approximately 1 out of 3 women of reproductive age in America are suffering from a nutrient deficiency that can lead to fatigue, immune dysfunction, rapid aging and an increased risk of disease.
And while we're often told a plant-based diet is the best diet for health - Dr. Beal, the guest of this week's podcast and a global nutrition researcher, found that animal foods (organ meats specifically) are actually the richest sources of nutrients that most people are deficient in.
His research also found that refined grains, which most Americans consume copious amounts of, are the least nutrient dense.
Which is clearly one reason nutrient deficiencies are rampant even in developed countries.
Tune into this week's podcast to learn:
✔︎ The nutrients many of us are deficient in
✔︎ The prevalence, consequences and causes of nutrient deficiency
✔︎ The most nutrient-dense foods in the world
✔︎ Why fortified nutrients are different than whole food versions
✔︎ The problems with most nutrient density rating systems (Food Compass)
✔︎ The dangers of vegan diets for kids
✔︎ And so much more!
I hope you love this podcast as much as I did and please share this important information with anyone you think may benefit.
Valuable Resources:

Paleovalley Organ Complex
>>> Click HERE to Fight Nutrient Deficiency and SAVE 10% with Paleovalley Organ Complex!
Bio:
Ty is a global nutrition researcher focused on helping to achieve healthy and sustainable diets for all. His research seeks to understand what people eat and how it impacts their health and the planet. He has led quantitative global analyses on diets and nutrient density and context-specific studies on nutrient gaps and the complex determinants of child growth and obesity. He works across the food system to help identify strategies for how to transform food systems for human and planetary health. He is currently a Research Advisor on the Knowledge Leadership team at the Global Alliance for Improved Nutrition (GAIN) where he generates evidence to guide programs and mobilize knowledge related to global nutrition and food systems. He holds a PhD from the University of California, Davis, where he was a National Science Foundation Graduate Research Fellow.
Thanks for Listening!
Thanks so much for joining us this week. Have some feedback you'd like to share or a question you'd like to ask? Email us at [email protected]!
If you enjoyed this episode, please share it using the social media buttons you see in this post.
Also, we'd love it if you would leave an honest review for The Optimize Paleo Podcast on iTunes! Ratings and reviews are super helpful and greatly appreciated as it helps us expose this show to a wider audience and spread this information to more people who need to hear it. We read every review so we look forward to hearing from you!
And finally, don't forget to subscribe to the show on iTunes to get automatic updates…see you next time!
Click the button below to subscribe on iTunes: