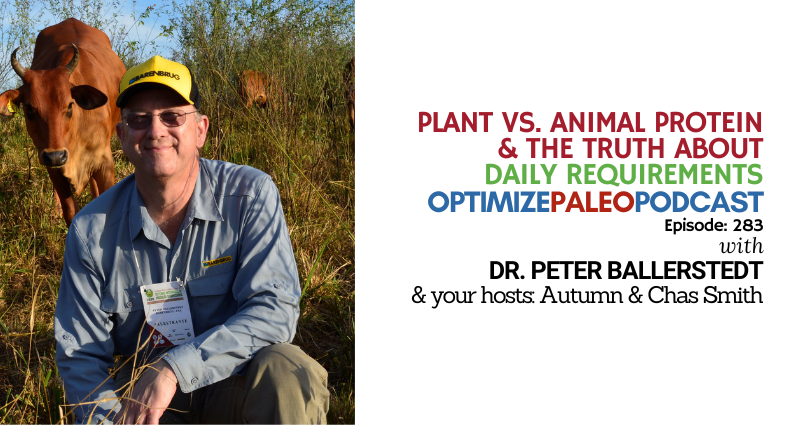 EP283: Plant vs. Animal Protein and The Truth About Daily Requirements with Dr. Ballerstedt
According to recent research, nearly 40% of older Americans are not getting enough protein.

Current protein recommendations also represent a minimum rather than an ideal protein intake and the highest quality sources of protein (animal products) are often demonized.

As a result, many of us are under-eating protein which can cause a number of deleterious symptoms such as cravings, overeating, weight gain and a loss of muscle mass.

Tune in to this week's podcast with protein expert, Dr. Peter Ballerstedt, to learn all about the often-ignored nuance in the protein conversation and how you can leverage protein's superpowers to optimize your health and feel your best.

Here are some of my favorite takeaways…
Why the "meat is harmful" message is dangerous
The problems with our current protein recommendations
How much protein you really need
Crude protein vs. true protein (and why it matters for your health!)
The health benefits of plant vs. animal proteins
Symptoms of protein deficiency
How to identify a high quality protein
The link between amino acid deficiency and back pain
Why tracking protein in percentage of calories is a bad idea
Why processed food products contain less protein than the label says
The surprising world's #1 source of protein
What taking your daily MEDS means to Dr. Ballerstedt

Increasing the amount of protein in my diet has been a game changer for me and many of my clients so please listen in and share this information with anyone you think may benefit.
Valuable Resources:

Peter Ballerstedt - Grass Based Health Blog
>>> Learn more about Peter's work HERE!

Paleovalley 100% Grass Fed Beef Sticks
>>> Try Paleovalley Beef Sticks for just $4.99 TODAY!
Bio:
Peter Ballerstedt (aka Don Pedro, the Sodfather of the Ruminati) earned his bachelor's and master's degrees at the University of Georgia and his doctorate at the University of Kentucky. He was the forage extension specialist at Oregon State University from 1986 to 1992. He currently works in the forage seed industry.
Peter's personal experience has led him to re-examine human diet and health. What he has learned doesn't agree with the advice given for the past several decades. Peter is an advocate for ruminant animal agriculture and the essential role of animal source foods in the human diet. He strives to build bridges between producers, consumers, and researchers across a wide variety of scientific disciplines – increasing awareness of metabolic health and ruminant animal agriculture's essential role in social, economic and ecological sustainability. Peter has spoken at many different events in the US and internationally. Many of his presentations are available on YouTube. Peter and Nancy live in western Oregon with their two dogs, Conor and Noni (and their new puppy Iris!).
Thanks for Listening!
Thanks so much for joining us this week. Have some feedback you'd like to share or a question you'd like to ask? Email us at [email protected]!
If you enjoyed this episode, please share it using the social media buttons you see in this post.
Also, we'd love it if you would leave an honest review for The Optimize Paleo Podcast on iTunes! Ratings and reviews are super helpful and greatly appreciated as it helps us expose this show to a wider audience and spread this information to more people who need to hear it. We read every review so we look forward to hearing from you!
And finally, don't forget to subscribe to the show on iTunes to get automatic updates…see you next time!
Click the button below to subscribe on iTunes: