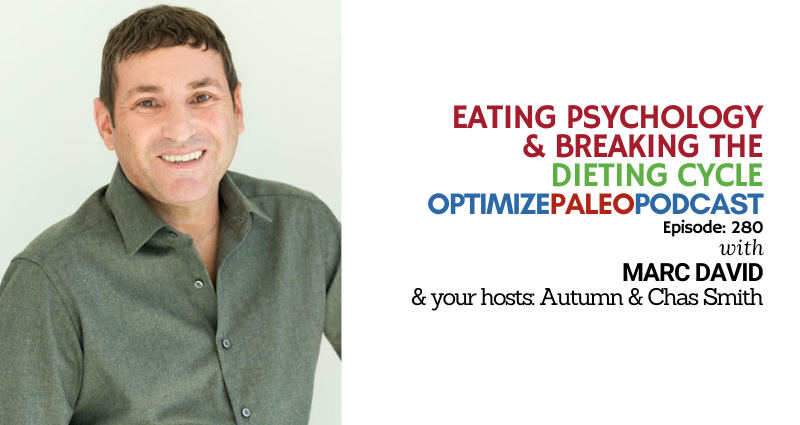 EP280: Eating Psychology & Breaking the Dieting Cycle with Marc David
It's often cited that 95% of those who lose weight on a diet will gain it all back within one year.
Why might this happen?
Perhaps because most diets only address WHAT you are eating - but not WHY you are eating.
How can you break the vicious dieting cycle? Listen to this week's podcast with eating psychology expert, author and founder of the Institute for the Psychology of Eating, Marc David!
Here are some of the fascinating tidbits we cover…
What an eating psychologist eats for breakfast
Why binge eating and emotional eating is on the rise
Why willpower is not the issue
Why we often reach for food when we are stressed
3 simple ways to reduce emotional eating
Why food is not the issue
Toxic nutritional beliefs and how to overcome them
The antidote to binge eating
Why how fast you eat matters
Marc's #1 dietary rule
Three ways to start improving your relationship with food
And so much more!
I completed Marc's eating psychology training and it is one of the best things I've ever done! Please share this podcast with anyone you think might benefit and I hope you love it as much as I did.
Valuable Resources:
Mind Body Eating Coach Certification Training by Marc David
>>> Click HERE to Register for the FREE Live Event Series NOW!
Fuel Your Body & Brain with Paleovalley Superfood Bars
>>> Try Superfood Bars RISK-FREE + Get up to 18% Off TODAY!
Bio:
Marc David is the bestselling author of the books, Nourishing Wisdom and The Slow Down Diet, a frequent speaker and consultant, and host of the celebrated Psychology of Eating podcast. Marc is also the founder of The Institute for the Psychology of Eating, the world's only health coaching program devoted to teaching the principles of Eating Psychology and Mind Body Nutrition. With students in well over 100 countries, the Institute champions an uplifting, inclusive approach to food and body that honors each individual's unique physiology and psychology, and that sees eating challenges as a doorway to personal growth and self-actualization.
Thanks for Listening!
Thanks so much for joining us this week. Have some feedback you'd like to share or a question you'd like to ask? Email us at [email protected]!
If you enjoyed this episode, please share it using the social media buttons you see in this post.
Also, we'd love it if you would leave an honest review for The Optimize Paleo Podcast on iTunes! Ratings and reviews are super helpful and greatly appreciated as it helps us expose this show to a wider audience and spread this information to more people who need to hear it. We read every review so we look forward to hearing from you!
And finally, don't forget to subscribe to the show on iTunes to get automatic updates…see you next time!
Click the button below to subscribe on iTunes: