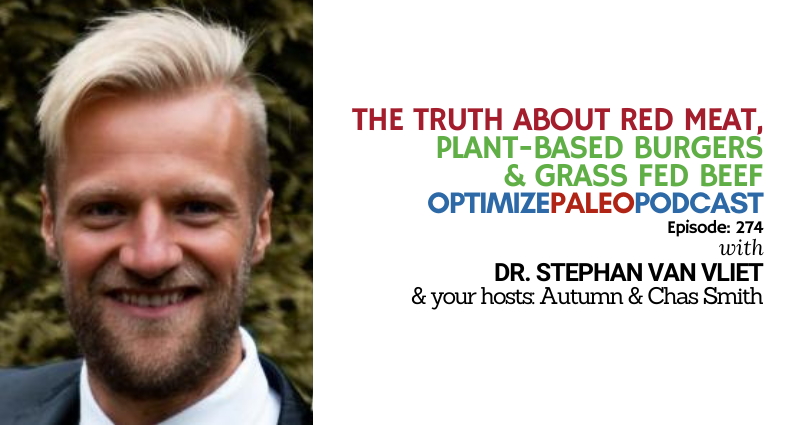 EP274: The Truth About Red Meat, Plant-Based Burgers & Grass Fed Beef with Dr. Stephan van Vliet
There are many hotly-debated questions in nutrition today including…
Is grass fed beef healthier than conventionally raised beef?
Are plant-based burgers nutritionally equivalent to grass fed burgers?
Does eating red meat really increase risk for disease?'
How many grams of protein do we need each day?
And while almost everyone has an opinion on the topic, in today's podcast you can learn about ground-breaking research conducted by Dr. Stephan van Vliet, a nutrition expert and researcher from Utah State University, that provides fresh insight to these important questions.
His research chips away at dietary dogma and dangerous misconceptions that have created massive dietary confusion and I could not be more excited to share it with you! Here are some of the highlights.
Is grass fed beef healthier than conventionally raised beef?
How much protein do we really need each day?
The importance of secondary compounds (And why they matter for human health.)
Does red meat increase the risk of disease?
Eggs whites vs. whole eggs for muscle building
The little-known deleterious effects of vegan diets in kids
The health-promoting nutrients exclusively found in meat
How plant-based burgers differ nutritionally from real meat
Does TMAO actually cause disease?
And so much more!
PLEASE share this episode with anyone you think it may surprise or excite.
Valuable Resources:

Dr. Stephan van Vliet
>>> Learn more about Dr. van Vliet's work HERE!

Paleovalley Beef Sticks
>>> Make the switch to grass fed with Paleovalley 100% Grass Fed Beef Sticks HERE!
Bio:
Dr. Stephan van Vliet is a nutrition scientist with metabolomics expertise in the Center for Human Nutrition Studies at Utah State University. Dr. Stephan van Vliet earned his PhD in Kinesiology as an ESPEN Fellow from the University of Illinois at Urbana-Champaign, and received training at the Washington University in St Louis School of Medicine and Duke University School of Medicine.

Dr. van Vliet's research is performed at the nexus of agricultural and human health. He routinely collaborates with farmers, ecologists, and agricultural scientists to study critical linkages between agricultural production methods, the nutrient density of food, and human health. In his work, Dr. van Vliet uses metabolomics and proteomics to study the presence of bioactive compounds in foods and their impacts on human metabolic health. His work has been published in the American Journal of Clinical Nutrition, Scientific Reports, the Journal of Nutrition, and the Journal of Physiology.
Thanks for Listening!
Thanks so much for joining us this week. Have some feedback you'd like to share or a question you'd like to ask? Email us at [email protected]!
If you enjoyed this episode, please share it using the social media buttons you see in this post.
Also, we'd love it if you would leave an honest review for The Optimize Paleo Podcast on iTunes! Ratings and reviews are super helpful and greatly appreciated as it helps us expose this show to a wider audience and spread this information to more people who need to hear it. We read every review so we look forward to hearing from you!
And finally, don't forget to subscribe to the show on iTunes to get automatic updates…see you next time!
Click the button below to subscribe on iTunes: