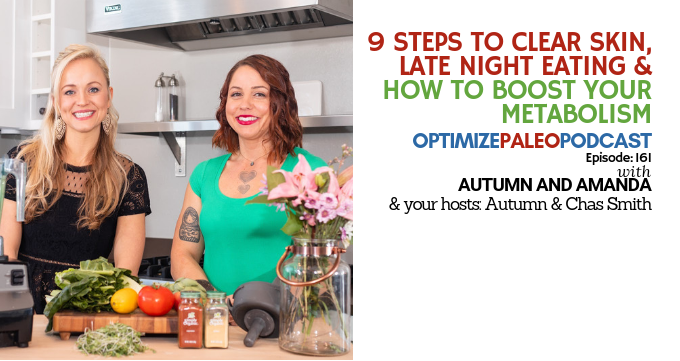 EP161: 9 Steps to Clear Skin, Late Night Eating & How to Boost Your Metabolism With Autumn Smith & Amanda Montalvo
IN THIS EPISODE:
I suffered from acne for over 12 years. Not just the occasional pimple either, but the kind that stole my confidence and made me want to hide out in my house.
At first it was "just something I had to deal with as a teen," but when I got into my 20's and 30's and it was STILL lingering, I knew it was time to do something to get the root of my skin issues.
Acne is NOT something you just have to deal with, it's a sign of imbalance, and now that I've identified and addressed my imbalances, I'm acne free! (unless I eat garlic, that is!)
So if you've got skin issues listen (or know or love someone who does) tune into this week's podcast to see what I (and my dietician friend and fellow FDN-P practitioner, Amanda Montalvo) did to clear up our skin for good!
<3
Thanks for listening!
Thanks so much for joining us this week. Have some feedback you'd like to share or a question you'd like to ask? Email us at [email protected]!
If you enjoyed this episode, please share it using the social media buttons you see in this post.
Also, we'd love it if you would leave an honest review for The Optimize Paleo Podcast on iTunes! Ratings and reviews are super helpful and greatly appreciated as it helps us expose this show to a wider audience and spread this information to more people who need to hear it. We read every review so we look forward to hearing from you!
And finally, don't forget to subscribe to the show on iTunes to get automatic updates…see you next time!
Click the button below to subscribe on iTunes: