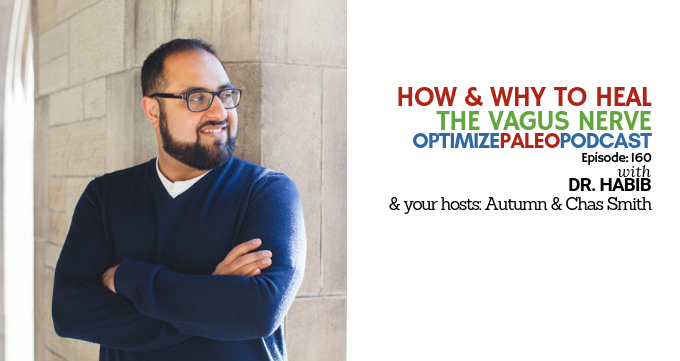 EP160: How & Why to Heal the Vagus Nerve with Dr. Habib
IN THIS EPISODE:
Do you know how to activate your vagus nerve?
If you said "no" you may be missing out on one of the most underutilized strategies for healing things like:
Digestive issues
Gallbladder dysfunction
Food sensitivities
Anxiety & Depression
Autoimmune disease
In fact, according to author and functional medicine specialist, Dr. Habib...
"100% of those with autoimmune issues and digestive issues have vagus nerve dysfunction."
That's crazy, right? I know from personal experience. In fact, I used to pass out due to a condition called cardioneurogenic syncope in high school which is basically vagus nerve dysfunction.
(Ohhhh how I wish I knew Dr. Habib then!)
Dr. Habib reports that many people who have tried EVERYTHING, finally heal after learning how to strengthen their vagus nerve.
And while it sounds complicated or like it probably involves expensive equipment there are many simple exercises you can do in the comfort of your own home.
Like singing at the top of your lungs.
Yes, it's THAT simple to activate your vagus nerve and the benefits are profound.
So if you have lingering digestive issues, food sensitivities, mood disorders or autoimmune disease that just won't quit, drop what you're doing and listen to this week's podcast with the author of Activate Your Vagus Nerve, Dr. Habib!
The simplicity and efficacy of his techniques cannot be overstated, so listen in and share this invaluable information with everyone you know and love.
It might be their missing piece.
<3
Thanks for listening!
Thanks so much for joining us this week. Have some feedback you'd like to share or a question you'd like to ask? Email us at [email protected]!
If you enjoyed this episode, please share it using the social media buttons you see in this post.
Also, we'd love it if you would leave an honest review for The Optimize Paleo Podcast on iTunes! Ratings and reviews are super helpful and greatly appreciated as it helps us expose this show to a wider audience and spread this information to more people who need to hear it. We read every review so we look forward to hearing from you!
And finally, don't forget to subscribe to the show on iTunes to get automatic updates…see you next time!
Click the button below to subscribe on iTunes: