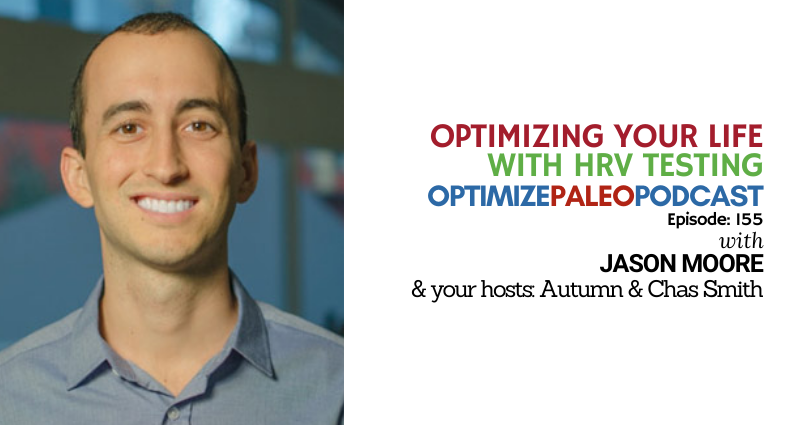 EP155: Optimizing Your Life with HRV Testing with Jason Moore
IN THIS EPISODE:
Have you ever heard of HRV testing?
If not, you're going to want to keep reading ESPECIALLY if you want to optimize your diet and lifestyle without spending thousands of dollars on expensive testing.
Since the day I learned about heart rate variability testing (HRV), I've been obsessed! Literally. Elite and Olympic athletes have been using this measurement for decades to optimize their performance. We also know that a low HRV score is associated with 9/10 of the deadliest diseases in America today and that heart attacks are often precipitated by a drop in HRV.
Put simply, HRV is a simple measurement you can take every day to better understand the current state of your overall health.
Taking this simple measurement every day has allowed me to identify...
How my body handles organic wine
Whether or not I should work out or rest on a particular day
How many hours of sleep I really need
Whether or not I'm truly sensitive to brussels sprouts (like my food sensitivity test said)
Basically, HRV helps you personalize your diet and lifestyle in a way no other single measurement can. The coolest part? You can take this reading every day in 2 minutes right in the comfort of your own home!
Ready to learn more? Tune in to this week's awesome podcast with the creator of Elite HRV, Jason Moore for all the juicy details (plus how to get a sensor to measure it for 10% off!)!
Show Notes:
Check out the coresense sensor here!
HRV course, use code "Paleovalley" for 10% off!
Bio:
Director and Instructor of National Academy of Sports Medicine and National Strength and Conditioning Association accredited coursework on Heart Rate Variability
Founder and CEO of Elite HRV – the Heart Rate Variability platform now used by Olympians, pro sports, doctors, first responders, and over 150,000 health and performance seekers.
Over the past 5 years he's been researching and using HRV technology, and through active collaboration with the aforementioned groups, is continuously exposed to the latest scientific research and methods for making the best use of HRV and other biomarkers. He's used this experience to help thousands of people and hundreds of organizations implement HRV into their lives and careers.
Prior to founding Elite HRV, Jason specialized in designing and implementing large scale data analysis systems for the Oil and Gas industry, focusing on making complex data actionable. Jason has also been a health and performance coach and personal trainer, and truly enjoys teaching others how to optimize their health and performance to become their best self.
Jason holds a Bachelor's degree in Information Systems from Texas A&M University and has been invited to speak about his work at many conferences and venues, including:
Scottish High Performance Sports Forum: Quantifying Recovery in High Performance Athletes, 2015
PGFit Guest Lectures: Tailoring Training Load for Health-focused Trainees, 2015
Ancestral Health Symposium: Allostatic Load and Heart Rate Variability, 2013
Paleo f(x): Theory to Practice: Biohacker's Panel, 2014
Paleo f(x): Theory to Practice: Identifying Nutrition Plans That Work, 2013
A multitude of webinars and podcasts on Heart Rate Variability and related topics
SAP Best Practices for Oil & Gas: User Experience Development, 2012, 2014
Enterprise Asset Management SAP-Centric: Enhancing Decision Making With The Right Data, 2013, 2014
SAP SAPPHIRE: Data Acquisition and Display With Mobile Platforms, 2013
Thanks for listening!
Thanks so much for joining us this week. Have some feedback you'd like to share or a question you'd like to ask? Email us at [email protected]!
If you enjoyed this episode, please share it using the social media buttons you see in this post.
Also, we'd love it if you would leave an honest review for The Optimize Paleo Podcast on iTunes! Ratings and reviews are super helpful and greatly appreciated as it helps us expose this show to a wider audience and spread this information to more people who need to hear it. We read every review so we look forward to hearing from you!
And finally, don't forget to subscribe to the show on iTunes to get automatic updates…see you next time!
Click the button below to subscribe on iTunes: