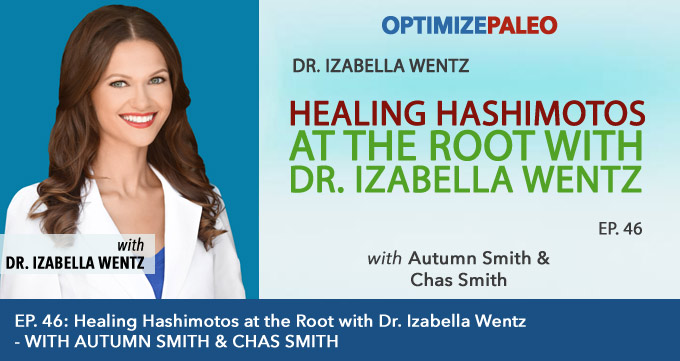 EP. 46: Healing Hashimotos at the Root with Dr. Izabella Wentz
What to eat to support thyroid function and prevent autoimmune conditions
IN THIS EPISODE:
Izabella Wentz, Pharm.D., FASCP is a passionate, innovative and solution focused clinical pharmacist as well as our 46th podcast guest. She has had a passion for health care from a very early age, inspired by her mother, Dr. Marta Nowosadzka, MD.
After being diagnosed with Hashimoto's Thyroiditis in 2009, Dr. Wentz was surprised at the lack of knowledge about lifestyle interventions for Hashimoto's, hypothyroidism, and autoimmune conditions. She decided to take on lifestyle interventions as a personal mission in an effort to help herself and others with Hashimoto's.
An avid learner and goal-oriented student, she received the PharmD. Degree (Doctor of Pharmacy) from the Midwestern University Chicago College of Pharmacy at the age of 23. Additionally, she is also a NY times bestselling author.
Here's what you'll learn:
What is Hashimotos?
Why 90% of those suffering from hypothyroid issues have Hashimotos.
Why Hashimotos is not actually an issue with the thyroid
Why surgery and medications are not effective long term
Symptoms that suggest you may be suffering from Hashimotos
The most common root causes of Hashimotos
Why traditional thyroid testing is inadequate
Which tests you needs to have to accurately diagnose Hashimotos
What you need to know if you're going to take medications
A common food that PALEO dieters eat that causes Hashimotos for some people
Why acid-blocking drugs may increase your risk of Hashimotos
The type of probiotic you need to take if you've taken antibiotics
The condition that 90% of those she works with suffer from
How to test your adrenal function at home
What to eat to support thyroid function and prevent autoimmune conditions
Supplements that will help prevent and reverse Hashimotos
Why taking iodine may do more harm than good
What you need to know about water if you want to avoid Hashimotos
Her best piece of advice for preventing Hashimotos
And much more!
SHOW NOTES:
Get Your Free Book Chapter, Thyroid Diet Quick Start Guide And Ten Nutrient Dense Thyroid Friendly Recipes here:
http://thyroidpharmacist.com/gift
Check out Dr. Izabella's best selling book here:
http://amzn.to/2dXbUYD
Thanks for listening!
Thanks so much for joining us this week. Have some feedback you'd like to share or a question you'd like to ask? Leave a note in the comment section below!
If you enjoyed this episode, please share it using the social media buttons you see in this post.
Also, we'd love it if you would leave an honest review for The Optimize Paleo Podcast on iTunes! Ratings and reviews are super helpful and greatly appreciated as it helps us expose this show to a wider audience and spread this information to more people who need to hear it. We read every review so we look forward to hearing from you!
And finally, don't forget to subscribe to the show on iTunes to get automatic updates…see you next time!
Click the button below to subscribe on iTunes: