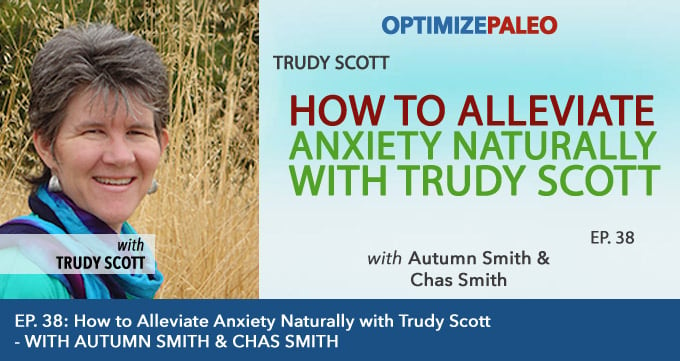 EP. 38: How to Alleviate Anxiety Naturally with Trudy Scott
Don't let anxiety ever be an issue again!
IN THIS EPISODE:
Food Mood Expert Trudy Scott is a certified nutritionist on a mission to educate and empower anxious individuals worldwide about natural solutions for anxiety, stress and emotional eating.
Trudy also presents nationally to nutrition and mental health professionals on food and mood, sharing all the recent research and how-to steps so they too can educate and empower their clients and patients.
Trudy is the author of The Antianxiety Food Solution: How the Foods You Eat Can Help You Calm Your Anxious Mind, Improve Your Mood and End Cravings (New Harbinger 2011) and host of The Anxiety Summit.
Here's what you'll learn:
Why rates of anxiety tripled between 1990-2000
How to know if you are suffering from anxiety (it's not always as obvious as you'd think!)
Why diet can work even for severe anxiety
The shortcomings of our current treatment models
The dangers of the #1 most commonly prescribed anti anxiety med
The common anti anxiety medicine that significantly increases children's risk of future addiction
Why addressing anxiety issues is important for children with attention issues
Foods that could be triggering your anxiety
A nontoxic natural anxiety therapy that works in under 5 minutes for many people!
And much more!
SHOW NOTES:
Check out Trudy's Anxiety Summit here:
http://www.theanxietysummit.com/
Grab Trudy's amazing book, The Anti-Anxiety Food Solution here:
http://amzn.to/2a9kAdb
Check out Trudy's favorite Tryptophan supplement here:
http://amzn.to/29UgGYV
Connect with Trudy on Facebook here:
https://www.facebook.com/TrudyScottAntianxietyFoodSolution/?fref=ts
Thanks for listening!
Thanks so much for joining us this week. Have some feedback you'd like to share or a question you'd like to ask? Leave a note in the comment section below!
If you enjoyed this episode, please share it using the social media buttons you see in this post.
Also, we'd love it if you would leave an honest review for The Optimize Paleo Podcast on iTunes! Ratings and reviews are super helpful and greatly appreciated as it helps us expose this show to a wider audience and spread this information to more people who need to hear it. We read every review so we look forward to hearing from you!
And finally, don't forget to subscribe to the show on iTunes to get automatic updates…see you next time!
Click the button below to subscribe on iTunes: