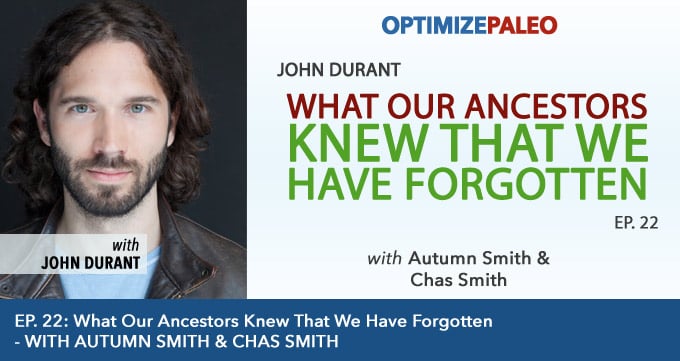 EP. 22: What Our Ancestors Knew That We Have Forgotten
The reason why Paleo is so effective!
IN THIS EPISODE:
John Durant, the author and self-proclaimed "professional caveman", (as seen on The Colbert Report) is the guest of our 22nd podcast!
Durant is not only an incredibly well-known author and entrepreneur in the paleo space, but he studied evolutionary psychology at Harvard and was named one of the 100 Most Influential People in Health & Fitness. When he's not busy working he's running barefoot through Central Park, experimenting with intermittent fasting and doing polar bear swims in the Atlantic.
In other words, he's credentialed, walks the talk (for 10 years) and has exciting information that every paleo enthusiast should know. If you're dying to know exactly why the paleo diet is NOT a fad or how you can merge an ancestral approach with cutting-edge health strategies to optimize weight loss and overall health, then this little chat is for you!
Here's what you'll learn:
Why the Paleo approach makes perfect sense
What gorillas in captivity teach us about how to eat
What ancient remains teach us about what not to eat
Why Moses from the Bible was a Microbiologist
What computers teach us about how to solve our health issues
A simple at-home trick you can do each day to lose weight
Listen up and feel re-invigorated by your love for the wisdom of paleo approach!
SHOW NOTES:
Check out John Durant's book 'The Paleo Manifesto' here.
Connect with John Durant on Twitter:
@johndurant
Thanks for listening!
Thanks so much for joining us this week. Have some feedback you'd like to share or a question you'd like to ask? Leave a note in the comment section below!
If you enjoyed this episode, please share it using the social media buttons you see in this post.
Also, we'd love it if you would leave an honest review for The Optimize Paleo Podcast on iTunes! Ratings and reviews are super helpful and greatly appreciated as it helps us expose this show to a wider audience and spread this information to more people who need to hear it. We read every review so we look forward to hearing from you!
And finally, don't forget to subscribe to the show on iTunes to get automatic updates…see you next time!
Click the button below to subscribe on iTunes: