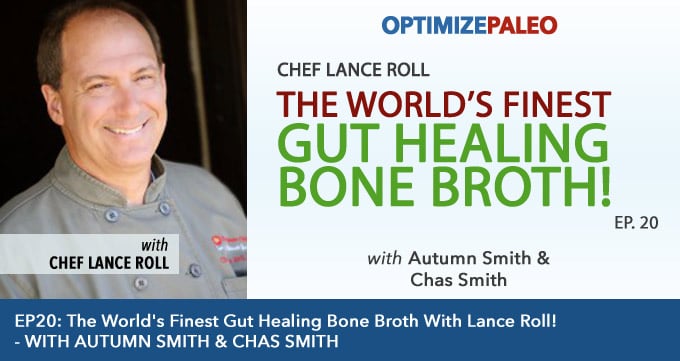 EP. 20: The World's Finest Gut Healing Bone Broth With Lance Roll!
The only bone broth recipe you'll ever need...
COUPON CODE: pv10
IN THIS EPISODE:
Chef Lance is a certified executive chef and spent 3 years teaching professionally at The San Diego Culinary institute. Chef lance was dubbed the Flavor chef During this time by Students and Faculty at SDCI. In 2007 Chef Lance began his entrepreneurial venture opening up The Flavor Chef, a catering and personal chef service company. That same year chef Lance met His first mentor Paul Chek who introduced him to the work of the Weston A. Price foundation. In November of 2007 Chef Lance received what he dubs Direct inspiration to bring Bone broth to the market and he's been making organic bone broth ever since!
In today's show you'll learn:
Why he was inspired to bring bone broth to the masses
Why the ancient practice of drinking bone broth fell out of favor
How bone broth can heal your gut
How bone broth can help heal your bones (hint: it's not because of the calcium!)
How to source the perfect bone broth ingredients
Why roasting your bones creates a richer flavor
What type of water he uses for his broth
What bones you should be using for maximum collagen content
How you can get organic bone broth delivered straight to your front door
He also provides a 10% discount for our listeners!
SHOW NOTES:
Check out Lance Roll's website below and use coupon code "pv10" at checkout:
https://www.bonebroth.com/
Connect with Lance on Facebook:
https://www.facebook.com/TheFlavorChef/
Thanks for listening!
Thanks so much for joining us this week. Have some feedback you'd like to share or a question you'd like to ask? Leave a note in the comment section below!
If you enjoyed this episode, please share it using the social media buttons you see in this post.
Also, we'd love it if you would leave an honest review for The Optimize Paleo Podcast on iTunes! Ratings and reviews are super helpful and greatly appreciated as it helps us expose this show to a wider audience and spread this information to more people who need to hear it. We read every review so we look forward to hearing from you!
And finally, don't forget to subscribe to the show on iTunes to get automatic updates…see you next time!
Click the button below to subscribe on iTunes: